Belle and Sebastian : The Third Eye Centre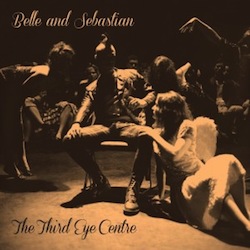 Buy at iTunes | Buy at Insound (vinyl)
Before 2003 Belle and Sebastian worked off a consistent blueprint, and for the most part you were either with them or you weren't. You could have called them stylistically refined, or too effete. You could have considered them thoughtful and clever, or arcane and bookish. Their level of cult acclaim duplicates that of The Smiths in that they have feverish adherents and indifferent detractors. I, for one, pretty much love every album they've ever put out. But I've been wearing the same fedora for five years.
After Trevor Horn — who produced, among other things, Yes' "Owner Of a Lonely Heart" — got to B&S in 2003 for their album Dear Catastrophe Waitress, something in their sound expanded. There was a lascivious swagger to "Step Into My Office Baby," a trebly assertiveness to "I'm A Cuckoo." And the following year we got the EP Books and the most head-snapping changeup Belle and Sebastian ever threw: "Your Cover's Blown," a three-movement suite of urban disenchantment that moved through disco, private-eye distemper and worn resolve. The university was left in the rear-view mirror.
The Third Eye Centre collects Belle and Sebastian's non-album tracks, remixes and outtakes from 2003 onward. I love it, but you knew I would. However it bears almost no resemblance to the comparatively conservative band on Tigermilk or If You're Feeling Sinister. Some might be inclined to charge it as schizo, whereas I think the genre-hopping ultimately works to Belle and Sebastian's advantage. It's a nice thing to have on one's resumé.
Take the first three songs. You've got the Avalanches' remix of "I'm A Cuckoo," Belle and Sebastian's first Top 20 U.K. single. The bright pop shuffle of the original track is completely replaced with African drums, pipes and tribal singing by Sudanese refugees in Melbourne, Australia. Only Stuart Murdoch's lead vocal was retained. "Suicide Girl" is a surprisingly aggressive nod to '80s-style synthesizer rock. "Love On the March" is gently built on a samba guitar lick straight outta Jobim. That's just the first three songs. Put together in that sequence, it reveals a range of ambition that didn't always come across on any of their very planned studio albums.
Even so, they still leave their calling cards all over the place. Stuart Murdoch's unaggressive singing has only undergone the slightest development in 17 years. He's always been a singer more defined by tone than edge, and his voice is as inseparable from the ethic of Belle And Sebastian as anything. It underscores the quiet malaise of the startlingly political, ska-inflected "The Eighth Station of the Cross Kebab House," and reflects the shot nerves of a reluctant sexual experimentalist in the nearly farcical "Meat and Potatoes."
The three remixes work to varying degrees. The above-mentioned redrafting of "I'm A Cuckoo" is simply a different song, retaining just enough roughness to distinguish it from a Graceland bonus track. Richard X's remix of "I Didn't See It Coming" – one of the most beautiful songs Belle and Sebastian ever put out — puts Sarah Martin's lilting lead vocal to a rolling electro-dance track. It's a predictable, logical extension of the song's central line, "Make me dance, I want to surrender." That doesn't mean it doesn't work. Miaoux Miaoux's treatment of "Your Cover's Blown" is kind of overdressed and unnecessary, although the creeping tension of the middle third benefits from a hyperactive keyboard.
Odds-and-sods albums being the uneven diaspora they are, The Third Eye Centre calls out more specific references to certain styles than Belle and Sebastian's more structured output. The rolling duet of "Stop, Look and Listen" bears more than a passing similarity to "Mrs. Robinson," "(I Believe In) Travelin' Light," conjures "Everybody's Talkin'," "Long Black Scarf" needles Burt Bacharach. That's part of the fun or the exasperation, depending on your taste in sweaters.
Belle and Sebastian would never argue for their own importance. To chart Stuart Murdoch's growth as a lyricist you'd have to assess the proper albums, and the persistent stream of EPs and singles that most of these songs came from. (It's over an hour long.) The Third Eye Centre will probably work best for those already aware, and fans, of the greater context of Belle and Sebastian. But it does have moments of revelation, and is an impressive map of how much is possible within their design. More significantly, it begs for a new Belle and Sebastian album. Once everyone's gotten twerking out of their systems, I look forward to hearing it.
Similar Albums:


Belle and Sebastian – Push Barman to Open Wounds


Camera Obscura – Desire Lines


Jens Lekman – Oh, You're So Silent Jens
Paul Pearson
Paul Pearson is a writer, journalist, and interviewer who has written for Treble since 2013. His music writing has also appeared in The Seattle Times, The Stranger, The Olympian, and MSN Music.