Bench Warmers: 10 Under the Radar Albums of 2012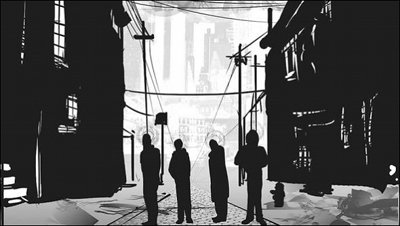 Tis' the season: The year is wrapping up, and we at Treble have been hammering away like caffeine-junkie elves to put together our big list of 2012's top albums. And trust me, it's a swell collection of records this year. But, nobody's perfect, and every year a few albums slip under our collective radar. For instance, I didn't hear anything by Wild Flag (who released their self titled debut in 2011) until early this year, and as a Sleater-Kinney fan that's some sort of mortal sin. So this year, we gathered up a handful of LPs that didn't make the cut, but still deserve a listen. Before we crack open the eggnog and celebrate our end-of-the-year list, take a moment to sit back and appreciate a few of these gems before they're yesteryear's news.
Icky Blossoms – Icky Blossoms (Saddle Creek)
Omaha, Nebraska-based Saddle Creek Records is known for launching local indie-rock talent (including the likes of Bright Eyes, The Faint and Cursive) to national success. Though, beyond the pulsing techno-goth of The Faint, the label hasn't made a huge mark in the ever-growing corner of dance-rock. Icky Blossoms' debut album is a significant step in that direction. With pulsing beats, an engaging lyrical drive, and innovative composition, it's a great pick for pop-lovers and serious-listeners alike. Plus, the energy at their live shows is explosive, and you'll simply look silly if you don't know the words to sing along to.
Listen: Icky Blossoms – "Heat Lightning"
---
Robert Glasper Experiment – Black Radio (Blue Note)
Hip-Hop owes a lot of its history and spirit to jazz, but in modern times, the two genres don't always see eye to eye. This year, jazz pianist Robert Glasper (already known for pushing jazz boundaries) attempted to bridge that gap. Boasting standards ("Afro Blue" and "Smells Like Teen Spirit") and originals alike, pianist Glasper and his band add an urban touch to their well-polished sound, with a great cast of vocalists (including the likes of Erykah Badu and Lupe Fiasco) to seal the deal. Plus, did I mention that there's a hip-hop jazz cover of Nirvana's "Smells Like Teen Spirit" on this record? Yes? I thought I did.
Listen: Robert Glasper Experiment – "Always Shine" (feat. Lupe Fiasco and Bilal)
---
Dan Deacon – America (Domino)
Like many artists on this list, Deacon has been releasing music for quite a while at this point, so it's understandable that his later work is slipping under some radar. However, even the devout Deacon-ite can find new things to appreciate in on his latest effort. As an experienced composer in both electronica and contemporary classical traditions, Deacon lets his influences bleed into one another, creating epic landscapes that make use of live orchestral recordings (arranged by Deacon, not sampled), as much as they display Deacon's electronic prowess. After all, at heart, Deacon is a classically trained artist. On America, that training shines through in beautiful and unexpected ways.
Read full review
Listen: Dan Deacon – "Lots"
---
Funeral Suits – Lily of the Valley (Model Citizen)
Electronic elements have been bleeding into rock music for decades, but there was a time when bands like The Cure and Depeche Mode were doing something truly innovative. Since then, the influence of gothy new wave has been paramount (see Interpol, My Chemical Romance, etc.), but with few exceptions (read: The Horrors), most of those bands have not quite captured the dark, drab essence that made sulky, guy-liner enthused synth rockers so captivating. However, with a solid debut album and a live show that could be mistaken for "An Evening with Young Robert Smith", Funeral Suits do not disappoint. On top of their effective aesthetic, these boys are quality songwriters, and they approach their performance in a solemn manner, lacking the camp of the aforementioned Horrors. So, while the sound may not be entirely original, it is rather well done. As Yuck did with garage-grunge in 2011, Funeral Suits may very well be capable of bringing dark, moody new-wave into the vocabulary of a younger generation.
Listen: Funeral Suits – "Health"
---
Animal Collective – Centipede Hz (Domino)
Before Animal Collective found a perfect balance between noise and pop on Strawberry Jam and Merriweather Post Pavillion, I remember falling in love with 2003's Here Comes The Indian. That album, while boasting pop sensibilities, was a gorgeous, somewhat muted, opus of psychedelic noise. This year's Centipede Hz marked the Collective's return to chaotic noisescapes, while maintaining a certain respect for angular pop-songwriting. So, while this album might not live up to the expectations of the band's more recent bandwagoners, long-time listeners are missing out if they ignore this kooky LP.
Read full review
Listen: Animal Collective – "Today's Supernatural"
---
Dntel – Aimlessness (Pampa)
James Tamborello (aka Dntel) suffers the curse of an artist highly applauded at the beginning of his career. The surprise success of his work with Ben Gibbard on The Postal Service, and the subsequent attention his 2001 release, Life is Full of Possibilities, set high expectations for consistency that no creative type should be expected to meet. So, a decade later, if you're expecting Dntel to be cranking out the same lo-fi glitch work, you're bound to be disappointed. However, if you respect the growth that more than ten years can have on one's creativity, your open ears will be rewarded by a blissful hour of gorgeous electronic narratives. The genius on this work is subtler, but ultimately more rewarding.
Read full review
Listen: Dntel – "Santa Ana Winds"
---
And You Will Know Us By The Trail of Dead – Lost Songs (Richter Scale/Superball)
As a music-obsessed native of Texas, I'm a huge fan of Austin-based indie-art-rockers …Trail of Dead. But everything they produced after 2006's So Divided took off in a direction that I just couldn't follow. Their work became a bit too self-absorbed, without following through on the "high-art" elements that the band has always prided themselves on. So, to be honest, it was a fluke that I heard Lost Songs in the first place. But, with the album's grounded, driving sound, as well as a return to lyrical and thematic precision, I was very pleased that I stumbled upon this record. Some are calling it the band's "punk-album". I'm calling it their best effort in half a decade. Either way, it's probably worth a try for any fan of the indie-rock or post-hardcore variety.
Read full review
Listen: And You Will Know Us by the Trail of Dead – "Catatonic"
---
Foxy Shazam – The Church of Rock and Roll (I.R.S.)
I'll be the first to admit that, lately, one-time `glam-core' rockers Foxy Shazam are sounding more like The Darkness than I ever would have expected. But high production values and wild-good-time-rock-and-roll aren't the worst things in the world. And, among all the hair-metal flashbacks present on The Church of Rock and Roll, there are plenty subtle references to the band's post-hardcore roots. Besides, Eric Nally is one of few vocalists these days who successfully channels Freddie Mercury without sacrificing sex appeal for sugar-pop (sorry, Mika). So, grow your hair out, grab a boombox, and let's have a ruckus with Foxy Shazam.
Listen: Foxy Shazam – "Holy Touch"
---
The Helio Sequence – Negotiations (Sub Pop)
It's true, introspective indie-rock albums are a dime a dozen these days, but few recent releases feature as much thought and care put into thematic and production-based elements alike as The Helio Sequence's fifth studio album does. It's a consistently gentle record, and the strongest moments are delicate and easily missed upon first listen. However, the album's commitment to analog production techniques, as well as singer Brandon Summers' switch to reflective self-meditations over his traditional narratives, makes this effort worth a try.
Read full review
Listen: The Helio Sequence – "October"
---
Death Grips – NO LOVE DEEP WEB (Self-released)
It seems pretty ambitious for a noise-rap-punk trio of this magnitude to exist, much less release two full-length albums in one year. But, after huge critical success with The Money Store earlier this year, that's exactly what Death Grips did. So, if you missed their second full-length effort (which the band self-released in digital format, violating their contract with Epic) you should Google "death grips no love deep web" immediately. It's noisier and, in my opinion, more fulfilling than The Money Store. Besides, the historical nature of its release should be enough to beg a listen. And, yes, that's a cock on the cover.