Benny Bock : Vanishing Act

"I'm trying to join the synthetic and organic worlds as much as possible," says Los Angeles keyboardist Benny Bock. On his debut release Vanishing Act, after collaborating with The Weeknd on Dawn FM earlier this year, Bock experiments with blending minimalist jazz somewhere between Brad Mehldau and Philip Glass with weird, spacey sounds that often have the vibe of a video game soundtrack.
The first track, "Erwin's Garden" starts off with piano backed with humming, sighing strings. It transports the listener to staring out the window on a rainy day. Written for one of his first teachers—jazz pianist Erwin Helfer—it shows off the young composer's ability to create a more traditional piece. It is nearly romantic, as if part of a film score for a black-and-white French New Wave film. But the quiet, breezy piano soon dissipates, and Bock moves on, away from the orthodox.
As Bock plays with echo and synths, the album departs from traditional, structured music with a clear beginning, middle, and end. Instead, something fun and dreamy (and a bit techno-inspired) comes into being. "Eight Below Zero" still uses piano, but it also explores slightly trippy soundscapes—more like The Comet is Coming. The melancholy synths are joined by pedal steel, drums, upright bass, and trumpet and flugelhorn. Bock says it's a nod to the Sonny Boy Williamson song "Nine Below Zero," and there are definitely bluesy themes woven in.
Mid-way through, one strange track, "…And Yet…" comes and goes like a tumbleweed. Over a backdrop of rushing water, flute-like synths trill by. It's almost like an animatronic version of a bird singing. It's as if technology is seeking to mimic the organic rather than the human-made or human-controlled. This quick but important composition accomplishes Bock's blending of synthetic and organic worlds. And the very fact that it is a momentary noise makes the song all the more innovative and powerful. Like the effervescence of a bird's song, "…And Yet…" is also here then gone—as if out of the ether and back.
The majority of the tracks have a similar tone and feel to them. They echo about, and the sound sort of wobbles, never stable—very computer/machine-like. However, Bock doesn't seem too bothered by form or structure. There's a fluidity that swims through Vanishing Act. Yet, the listener is never entirely lost, ungrounded. Bock keeps their attention by playing with sound, adding something new here and there (like a celesta in "Little Hill"), fading out, distorting. Though these tracks may seem more experiment than polished and linked compositions, they are intriguing. They prove that Bock is a synth innovator and ready to mix his way to something edgy, new, exciting. Vanishing Act may not be a perfect debut with sonic variety or earworm melodies, but he's not trying to play it safe. Bock is finding his voice, his sound, his musical self—and there's something wonderful in being a part of that.
---
Label: Colorfield
Year: 2022
---
Similar Albums: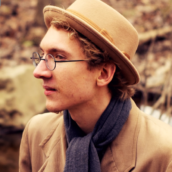 Konstantin Rega
Born in Krasnoyarsk, Russia, Konstantin Nicholas Rega currently attends East Anglia's famous MA in Creative Writing with the Ink, Sweat and Tears Scholarship. He is a professional musician, the former host/producer of Jazz Jams on CSRfm 97.4, and twice a Dan Veach Prize for Younger Poets finalist. He is the Fiction Editor for Crack the Spine and a contributor to The Black Lion Journal. He also blogs.