A Beginner's Guide to the best Your Old Droog albums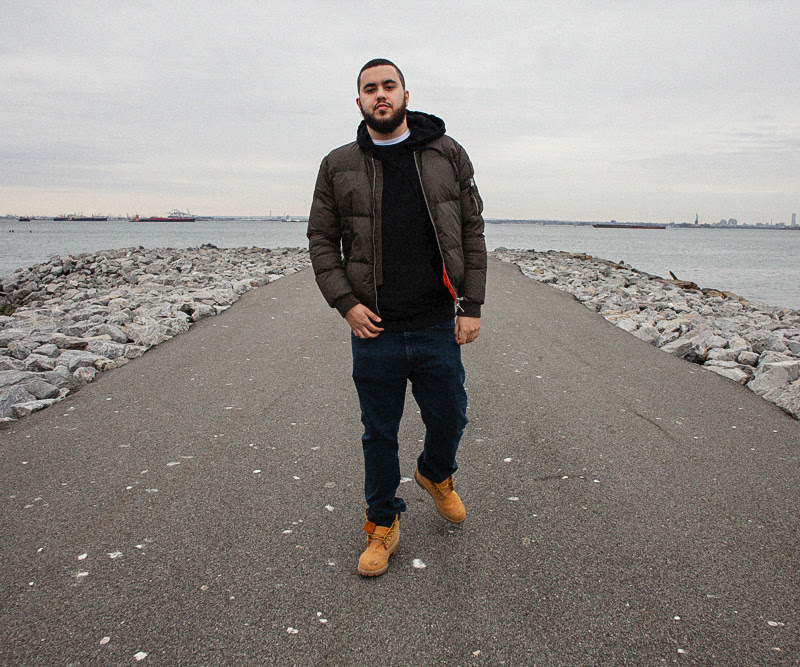 Of the innumerable bars Brooklyn rapper Your Old Droog dropped over the past two years, the one that summarizes him best is "Keep it moving with the movement, no delusions of grandeur, I'm gonna make a billion dollars, still dress like Adam Sandler." It encompasses his sprezzatura, his indifference toward mainstream tastes, and his prolificacy, the latter of which has seen him scorned for producing too much music in too short a time frame. Though that's a shortsighted way of looking at it. More YOD can only be a good thing, because he's yet to miss. Every release has, at worst, proven his consistency, while at their peak they've revealed another aspect of his game. His fundamentals-only approach opens pathways through time, the cosmos, and the New York metro.
Early coverage surrounding Your Old Droog was laden with comparisons to Nas. That frame of reference helped establish him, and Droog successfully used them for press, but they're relics from nearly a decade in the rearview mirror. It doesn't matter that people thought Droog was Nas because they sounded similar. This disproven theory is best left in the past because it's the least interesting thing about Droog. His backstory of a Ukrainian-Jewish child emigrating to New York City when he was only four, battle rapping since his early teens, and gaining traction online following favorable comparisons to noted genre progenitors is interesting, but it doesn't capture YOD in 2023. His daily life is one of simple pleasures like playing ball, watching Seinfeld, eating shrimp fried rice, and a metric ton of writing. That's not to say that the man isn't remarkable; it's to stress that addressing any of this before his music is a disservice to his art.
Let's be clear: it's not just Droog's productivity that begets fanaticism. Compare him to two of his closest collaborators, the lyrically reclusive yet multi-dimensional Mach-Hommy or billy woods, who relies on dense imagery and allegory. Droog, bluntly, is funnier than both of them. He isn't in love with language as much as they are. When possible, he favors economy over showmanship. It's through observations, revelations, and humor that you piece together Droog. He's frosty but charming like Black Dynamite assuring you that he is smiling. The point isn't that he buries his meaning; it's that you might miss what he said because you're still caught on his last bar.
Then, there's his technique. Entire bars ring out as if YOD is only moving a single part of his mouth. Internal rhyme schemes drip with references to basketball, professional wrestling, and television but they are always placed in the context of Droog's life. For example, when he raps "I'm in her bed listening to Portishead" it's in service of the narrative. He uses references because of their relevance to his life, never to impress anyone but himself. He's not stressed about that because Droog doesn't break a sweat.
Likewise, the production Droog favors is rarely performative. Even the most out-there beats (which, relatively speaking, aren't by any means out-there) he raps over are free from additives. If there's an element to production that could drive the focus away from the bars, Droog doesn't rap over it. This isn't to say that he plays it safe but that he values clarity over claustrophobia.
It's thus not the music that can be overwhelming for newer fans but the velocity and frequency at which Droog releases it. In the past two years alone he's dropped ten projects; two full-length LPs, seven EPs, and three collaborations with Tha God Fahim. He is never not working. When you've finally ingested the references, punchlines, and anecdotes of his newest release, he'll reveal his next move. The issue that presents itself among deep catalogs established in short spans of time is that those uninitiated can feel intimidated rather than intrigued. To streamline the onboarding process, here are five albums to acquaint you with Your Old Droog.
---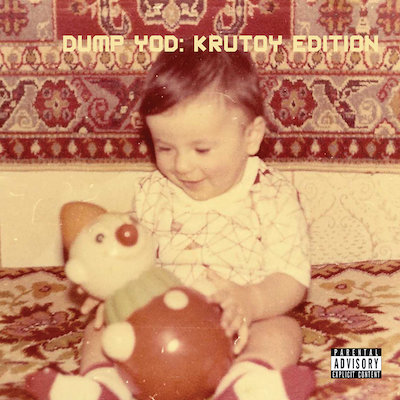 Dump YOD: Krutoy Edition
For what it's worth, 2020's Dump YOD: Krutoy Edition is Droog's most distinctive album as it delves into his Ukrainian heritage, and no track does that better than "Matryoshka." On it, Droog tackles five beats in a grand slam performance that he's yet to replicate. He's rarely this ambitious on a single track, which is a shame considering how much personality and humor he wraps into "Matryoshka." Elsewhere, posse cut "Pravda" serves as a wonderful introduction to first-time Droog listeners as he stands toe-to-toe with El-P and Black Thought alongside his business partners Tha God Fahim and Mach-Hommy. Then there's "Ukraine," wherein Droog details his internal conflicts with his Ukrainian lineage before describing himself as a legal alien and finding strength in his upbringing. It also contains an all-time great line that references Droog's heritage, the Nas comparisons, and his boom-bap preferences, "And ain't no English man in New York, I really am from New York/ How else are you supposed to sound when you talk?"
Listen: Bandcamp
---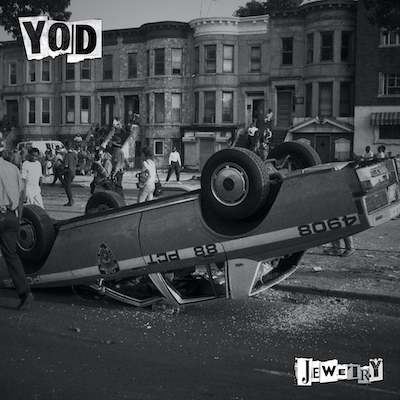 Jewelry
Jewelry was the third full-length album Droog released in 2019 and, as his most direct work from that period, it's best summarized by a line from "Mrs. Cloutfire," "My new aesthetic/ iI you don't like Droog then you're antisemitic." Whereas Dump YOD: Krutoy Edition was a celebration of Droog's Ukrainian roots, Jewelry is a proclamation of his Jewish identity. The beats are a consistent string of jabs to the chin and Droog doesn't mince words. Instead of digging into what it means to be Jewish, Droog sets up punchlines about Larry David and Jon Stewart, which has the knock-on effect wherein Jewelry is outwardly confrontational and proud. Droog is exceptionally tight here, commanding respect and projecting his quills at anyone outside his clique. As such, it's the best Droog album if you like your hip-hop lean, dry, and macho.
Listen: Bandcamp
---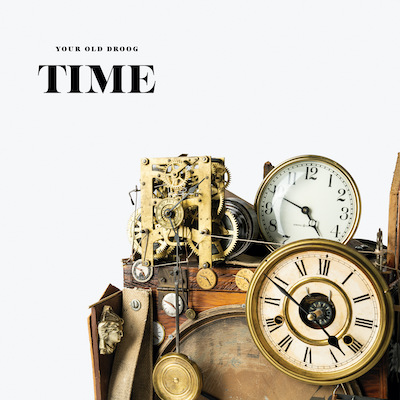 Time
Time may be the most important album Droog's released. It features the essential "Please Listen to My Jew Tape," in which he dryly recounts his journeyman trek through studio hallways and auditions, inches away from major label contracts, before connecting with Tha God Fahim and Mach-Hommy. Its place within Droog canon is integral because he explains why he was rejected. He was too antiquated, he lacked zest, he'd be better off as an independent artist. The most interesting aspect of "Please Listen to My Jew Tape" is that it's best listened to after acquainting oneself with Your Old Droog. It's only then that you appreciate his trials and recognize that he cultivated his demeanor after the fact. He absconds his punchlines and tough love inflection for a brittle story laced with anecdotes about the most important people in his life. On its own, "Please Listen to My Jew Tape" is a diary entry from someone you've never met, but it transforms into a revelation once you are familiar with Droog's artistry.
As a whole, Time is like that. As Droog's longest and most conventional release, it logically follows why someone would turn to it as their first Droog listen. However, that's not the correct path. Time is a concept album that toys with its titular concept, from the sci-fi Twilight Zone-esque hijinks of "The Magic Watch" to Droog's experiences with carrying a knife around as a child on "Dropout Boogie." These are realms Droog doesn't visit elsewhere in his discography, so it's best to meet Droog as he is today to before appreciating Time.
That being said, "You're So Sick" exists as Time's centerpiece, so hearing Droog beg to fornicate with a woman's armpit is, by any stretch of the imagination, essential.
Listen: Bandcamp
---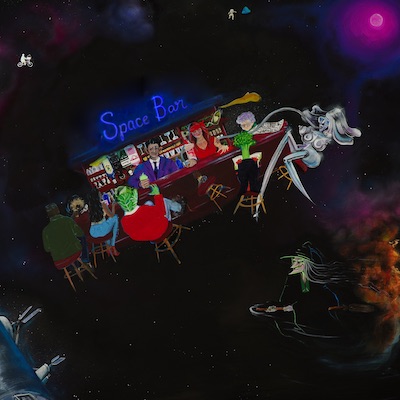 Space Bar
Before spending 2022 dropping EPs at a breakneck pace, Droog released his most adventurous album, Space Bar. It boasts the disorienting "Meteor Man" featuring Lil Ugly Mane and billy woods and "Yuri" wherein Droog spits over a psychedelic rock guitar solo. Although the beat is unlike anything else in his discography, Droog never falters. Space Bar is looser than his other full-length from 2021, Time, with Droog's flexibility on display as he wraps over jazz and funk. His nonchalant canter brings the production down to earth, which is par for the course with Droog, but the distinction is that the beats require a grounding element on Space Bar. Though his flow may be familiar, his vocal heft tether Space Bar's ambitions.
Listen: Bandcamp
---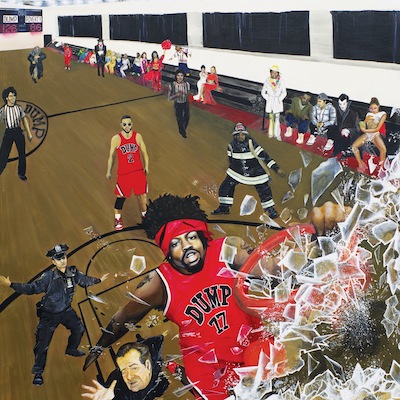 Tha YOD Fahim
From a performance perspective, Droog's collaborations with Tha God Fahim are consistently among his best. It's with Fahim on Tha Wolf On St 1 and 2 alongside Tha YOD Fahmin that Droog becomes an elevated version of himself. He throws around punchlines as if he never wrote them down. It's not improvisational as much as it is inspired. He laces references to Review of the Week between bars of single mothers working three jobs, doubling down on his gruffness to counteract Fahim's vocal timbre. By virtue of being in the same studio at the same time, Droog alchemizes their camaraderie to become his most-realized self.
Specifically, Tha YOD Fahim has a pop and a pulse that's livelier than his 2022 solo releases. One can credit Fahim's snazzy beats for this, evidenced by cuts like "Charles Barkley." Here, Droog is buoyant, bouncy, witty, and effortless. His and Fahim's hard work grindset comes to fruition as they've earned their right to boast their dedication by virtue of being that damn good. They reflect upon a work ethic that brought about the words they're rapping and the flow they're riding. The work's process and result are synergistic; the fact that one exists only to flaunt the other is earned because Droog flaunts so damn well.
Listen: Bandcamp
---
Also Recommended: Then, there are the five EPs from last year, YOD Wave, YOD Stewart, Yodney Dangerfield, The Yodfather, and YOD Presents: The Shining. Released individually over the course of 2022, it's best to take them as one lengthy project. Combined, they offer roughly 100 minutes of boom bap as frigid as a New York sidewalk in February. They are the purest Droog available with YOD Stewart distinguishing itself as particularly vulnerable due to its rich storytelling. Each release has its own quirks, but they pair so well that these differences are minuscule in the project's overarching face. They're bread-and-butter Droog, both personal and pragmatic. YOD Stewart ekes out the others for being the most stripped-back of the bunch. It presents Droog as Droog, an economic offering from an already economic artist.
---
Advanced Listening: When looking back at everything Droog's released, it's a hidden blessing that his progression is slow-burning. His flow hasn't changed too much since his early releases. What primarily varies between his works is the theme. Transportation is dedicated to its namesake and bounces along with the regular and somewhat soothing rhythm of a subway car. It's great commuting music. Then there's Packs, which features two of Droog's biggest singles "Bangladesh" and "Grandma Hips" alongside guests like Danny Brown, Heems, Chris Crack, and Anthony Jeselnik. Looking back on it, Packs seems out of place for Droog, though not for lack of quality. It reflects a laidback side of Droog that's fallen by the wayside, although one could argue that makes sense considering that nowadays Droog would rather put out a new release than sleep, so there's no time for him to lay back.
---
Treble is supported by its patrons. Become a member of our Patreon, get access to subscriber benefits, and help an independent media outlet continue delivering articles like these.
Colin Dempsey
Colin Dempsey is a Toronto-based writer with publications at Consequence, Invisible Oranges, Spectrum Culture, and more. There will always be more to write about, and he wants to cover it all.