Bleeding Rainbow : Interrupt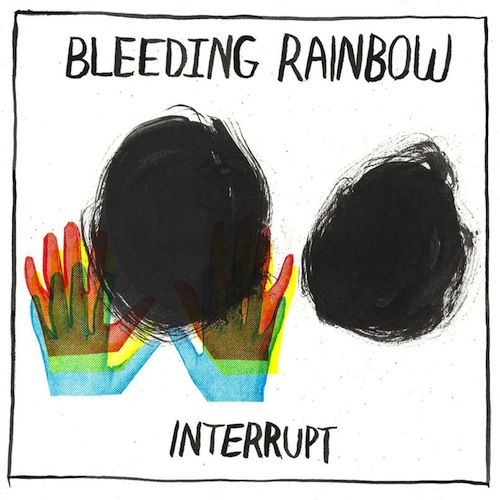 Buy at iTunes | Buy at Insound (vinyl)
On their previous album, 2013's Yeah Right, Philadelphia's Bleeding Rainbow freely admitted they were wearing their glory years of college radio influences on their cut-off sleeves. And that formula led to one of  2013's more underrated singles, the joyously terrific "Waking Dream," with its Paisley Underground vocals and a catchy, bash-bashing  chorus. Now, almost precisely a year later, Bleeding Rainbow's second record as a quartet (singer Sarah Everton and guitarist Rob Garcia released two albums as duo under the moniker Reading Rainbow), finds them down the shaft for another early '90s mining expedition.
In contrast to the pop-rock of last year's effort, Interrupt is a heavier lode, and takes its cues from the bottomless creativity of My Bloody Valentine and especially the late 80s-early 90s Sonic Youth. And that means guitars burst in distorted  crisp psychedelic fall colors amid an often propulsive rhythm section, but those looking for obvious hooks will probably lose some patience with the album. While some of the material here does eventually warm up and start to talk you, there's not an easy way to begin the conversation and overall there's an impenetrable quality to the songs.
Now, Interrupt starts out impressively, with the zesty "Time & Place." It's beautifully sung by Everton and matters  get even better with "Tell Me," which will have you flipping to Swervedriver albums for comparison shopping and bringing Bleeding Rainbow to the register. Also worth coming back for is the good handling "Dead Head," which careens through verses before the band taps the accelerator on the straightaway choruses. "Images," sounds like a lost collaboration between Lee Ronaldo and Toni Halliday from Curve and really can't be played loud enough.
All this by way of saying that Interrupt suggests that Bleeding Rainbow are really built for the stage so there's also a certain "do we have to stay inside and do homework" quality to the album. Not helping thing is down-the-tracklist cut "Monochrome," a meander into sonic dullness where at least it'll have a companion in "Out of Line." There's probably a better Interrupt happening on stage every time the band plugs in.
Similar Albums:


Wild Nothing – Gemini


Deerhunter – Monomania


Diiv – Oshin