Bleeding Rainbow : Yeah Right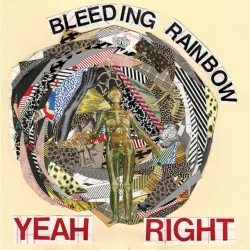 Buy at iTunes | Buy at Insound
"Yeah right" is the kind of sarcastic, taciturn phrase that's perfect for teens and twenty-somethings; it communicates an acknowledgement of the situation along with an unwillingness to participate. The apathetic, do-nothing-and-like-it schtick has been covered by bands for decades, but Bleeding Rainbow come across a bit smarter than their laconic album title would suggest. Lead singer Sarah Everton is constantly torn between facing the large, life-altering questions and a enjoying the nowness she feels slipping through her fingers. In some cases, the indecision itself is troublesome: "I don't breathe, I just sigh/ constant drowning of each day, makes my mind drift away."
Bleeding Rainbow is the newly minted moniker of the band formerly known as Reading Rainbow. The group reportedly made the switch after Carrie Brownstein of Sleater-Kinney told them their name needed a little revision. The word swap cuts any association with that lovable cartoon schoolbus from our youth, and replaces it with… blood. But after spending time with the album, "bleeding" feels much more closely tied to a blending of styles than anything violent. Yeah Right lands somewhere on the intersection of dream pop, indie rock, and shoegaze. Sonically, most tracks edge closer to the shoegaze side of things, but as the wave of guitar distortions and reverb rises, Everton quells the mood with calm, graceful vocals. It's mostly on the more placid instrumental tracks where Everton tightens her grip and supplies the necessary verve.
The balancing act works texturally, but also exposes some unsettling inconsistencies on the album. At one point, Everton sings, "All that's left are the dark clouds and rain," but later it's "Sunshine is all I see." It's a minor example, but each temperamental mood shift undercuts the mindful, secure personality that Everton crafts on other tracks, such as the impressive closer, "Get Lost."
For all the time I've spent on the mood of the album, Yeah Right has some pretty darn catchy songs—the choruses are easy to grasp and bound sneak into your head after repeat spins ("Drift Away" and "Waking Dream" are prime candidates). However, the extra sugar on top may take away from what could have been a darker and more affecting album. Yeah Right finds Everton picking at some substantive subject matter such as social isolation and emotional attachment; and while a sweetly-coated exterior makes these topics easier to digest, it also unfortunately makes them easier to forget.
Similar Albums:


Tamaryn – Tender New Signs


Braids – Native Speaker


Weekend – Sports