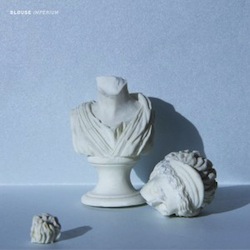 Buy at iTunes | Buy at Insound (vinyl)
Portland's thriving music scene boasts some incredible diversity, having given birth to everything from the sophisticated metal of Agalloch to the more commercial folk-rock of The Decemberists. Earlier this year, Treble reviewed one of Portland's more impressive 2013 offerings — II by Unknown Mortal Orchestra — and concluded that the city had, again, delivered. Now Blouse, which is slightly lesser known but counts among its members Jake Portrait (also in Unknown Mortal Orchestra), has delivered their annual submission, titled Imperium with apt majesty, in a bid to outdo their 2011 self-titled debut. Whether or not it does so is my concern here.
The official press release for Imperium ascribes all manner of influences to Blouse, from the Velvet Underground to Neu! I am sorry to say that Imperium definitely does not evoke Neu!, though the case for VU might be easier to make. What instead comes through most strongly on this record is the sound of '90s alternative, specifically the Pixies and the Smashing Pumpkins. Part of this is due to Imperium's more stripped-down, guitar-centric approach, which is substantiated by some truly impressive riffing and dual-guitar interplay (listen to "Arrested" and eat your heart out, Tom Verlaine). But the other part of it is a matter of retention, i.e. the dream-pop vocal style that Blouse employed on Blouse; the same that the Pumpkins re-appropriated from My Bloody Valentine and made their own with such facility. One of Blouse's primary strategies on Imperium is to create counterpoint by juxtaposing these two elements — raw, heavy guitar playing and distant, ethereal female singing — and, when they're at their sharpest ("Eyesight," "Arrested,") they prove themselves to be worthy wielders of this '90s stylistic staple. At other moments, however, their channeling of that era becomes monotonous and even leans towards hollow imitation. The drumming, in particular, suffers from this, often indistinguishable from that found on precedents such as Surfer Rosa.
What makes this record — otherwise (as explained above) a hot-and-cold affair —interesting is the wonderfully peculiar closer "Trust Me." On this amorphous track, which is bipartite but separates its two halves with a bizarre interlude, lead singer Charlie Hilton finally validates her potential and soars to the expressive heights of Nico. Every part of the song is arranged perfectly for her to shine, and she does, moving from the sinister lurch of the opening to the stony spoken-word of the middle and finally to the suspended echoing that closes the song. It is fitting that Blouse should end an inconsistent Imperium with this convincing case for themselves; so fitting, in fact, that when Hilton exhorts us to trust her, I find her hard to deny.
Similar Albums:


Still Corners – Strange Pleasures


Frankie Rose – Interstellar


Pixies – Surfer Rosa