Bob Dylan announces 17th Bootleg Series box, Fragments featuring music from the Time Out of Mind sessions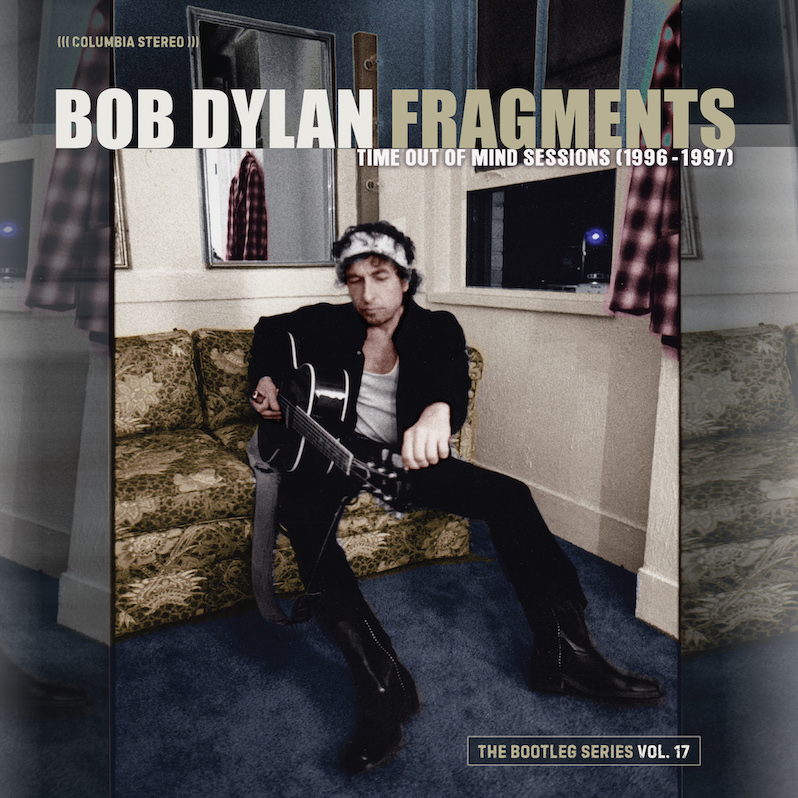 Bob Dylan has announced the 17th installment of his Bootleg Series, this time focusing on the '90s era music around his Grammy-winning album Time Out of Mind. Fragments – Time Out of Mind Sessions (1996-1997): The Bootleg Series Vol. 17 will be released January 27 on Columbia/Legacy. It includes a 2022 remix of Time Out of Mind, outtakes and alternates, a live performance and other bonuses, comprising five discs total. Hear a previously unreleased second take of "Love Sick," and check out the full tracklist below.
Read our 25th anniversary feature on Bob Dylan's Time Out of Mind. We also discussed Bob Dylan in our Cue Sheet podcast episode on the music of Mad Men.
Bob Dylan Time Out of Mind. Fragments – Time Out of Mind Sessions (1996-1997): The Bootleg Series Vol. 17 tracklist:
Disc 1 (Time Out of Mind 2022 remix):
1 Love Sick
2 Dirt Road Blues
3 Standing in the Doorway
4 Million Miles
5 Tryin' to Get to Heaven
6 'Til I Fell in Love with You
7 Not Dark Yet
8 Cold Irons Bound
9 Make You Feel My Love
10 Can't Wait
11 Highlands
Disc 2 (outtakes and alternates):
1 The Water Is Wide (8/19/96, Teatro)
2 Dreamin' of You (10/1/96, Teatro)
3 Red River Shore, version 1 (9/26/96, Teatro)
4 Love Sick, version 1 (1/14/97, Criteria Studios)
5 'Til I Fell in Love With You, version 1 (10/3/96, Teatro)
6 Not Dark Yet, version 1 (1/11/97, Criteria Studios)
7 Can't Wait, version 1 (1/21/97, Criteria Studios)
8 Dirt Road Blues, version 1 (1/12/97, Criteria Studios)
9 Mississippi, version 1 (1/11/97, Criteria Studios)
10 'Til I Fell in Love with You, version 2 (1/16/97, Criteria Studios)
11 Standing in the Doorway, version 1 (1/13/97, Criteria Studios)
12 Tryin' to Get to Heaven, version 1 (1/18/97, Criteria Studios)
13 Cold Irons Bound (1/9/97, Criteria Studios)
Disc 3 (outtakes and alternates):
1 Love Sick, version 2 (1/14/97, Criteria Studios)
2 Dirt Road Blues, version 2 (1/20/97, Criteria Studios)
3 Can't Wait, version 2 (1/14/97, Criteria Studios)
4 Red River Shore, version 2 (1/19/97, Criteria Studios)
5 Marchin' to the City (1/5/97, Criteria Studios)
6 Make You Feel My Love, take 1 (1/5/97, Criteria Studios)
7 Mississippi, version 2 (1/11/97, Criteria Studios)
8 Standing in the Doorway, version 2 (1/13/97, Criteria Studios)
9 "'Til I Fell in Love with You, version 3 (1/16/97, Criteria Studios)
10 "Not Dark Yet, version 2 (1/18/97, Criteria Studios)
11 "Tryin' to Get to Heaven, version 2 (1/12/97, Criteria Studios)
12 "Highlands (1/16/97, Criteria Studios)
Disc 4 (live, 1998-2001):
1 Love Sick (6/24/98, Birmingham, England)
2 Can't Wait (2/6/99, Nashville, Tennessee)
3 Standing In The Doorway (10/6/00, London, England)
4 Million Miles (1/31/98, Atlantic City, New Jersey)
5 Tryin' to Get to Heaven (9/20/00, Birmingham, England)
6 'Til I Fell in Love with You (4/5/98, Buenos Aires, Argentina)
7 Not Dark Yet (9/22/00, Sheffield, England)
8 Cold Irons Bound (5/19/00, Oslo, Norway)
9 Make You Feel My Love (5/21/98, Los Angeles, California)
10 Can't Wait (5/19/00, Oslo, Norway)
11 Mississippi (11/15/01, Washington, D.C.)
12 Highlands (3/24/01, Newcastle, Australia)
Disc 5 (bonus disc, previously released on The Bootleg Series Vol. 8: Tell Tale Signs: Rare and Unreleased 1989–2006)
1 Dreamin' of You (10/1/96, Teatro)
2 Red River Shore, version 1 (1/19/97, Criteria Studios)
3 Red River Shore, version 2 (1/8/97, Criteria Studios)
4 Mississippi, version 1 (9/96, Teatro)
5 Mississippi, version 3 (1/17/97, Criteria Studios)
6 Mississippi, version 2 (1/17/97, Criteria Studios)
7 Marchin' to the City, version 1 (1/5/97, Criteria Studios)
8 "Marchin' to the City, version 2 (1/6/97, Criteria Studios)
9 Can't Wait, version 1 (10/1/96, Teatro)
10 Can't Wait, version 2 (1/5/97, Criteria Studios)
11 Cold Irons Bound, live (6/11/04, Bonnaroo Music Festival)
12 Tryin' to Get to Heaven, live (10/5/00, London, England)