Brendan Benson : My Old, Familiar Friend
Back in grade school, I used to ride the #8 bus. Our bus driver was Betty, a woman who was 80 if she was a day. But, our sweet octogenarian did reward us for good behavior on occasion, by letting us listen to the Mighty 690. In Southern California, this radio station was not the cutting edge. That post was held by 91X, in San Diego, or KROQ, in L.A. The Mighty 690, an A.M. station if you couldn't tell by the call numbers, would be more welcome in this day and age, as it was a `hits of the '70s and '80s' kind of station. The kids on bus #8 would revel in these hits, from Queen to ELO, Cheap Trick to Devo, and "Pac-Man Fever" to "General Hospi-Tale." (Don't tell me you don't remember that cheesy ode to the famous soap opera by the Afternoon Delights!) Between the Mighty 690 and my K-Tel collections, I have very warm feelings about popular music of the time. I'd venture to say that so too does Brendan Benson.
Brendan Benson released three critically successful, yet commercially unimpressive, albums before gaining fame with the Raconteurs. And, even though his influence tempered Jack White's overindulgent demons, adding a lush pop flavor to White's garage-y darkness, it was still known as Jack White's side band. As a Benson fan, it pained me. I was happy to hear such great music, as anything that he touches turns out compelling, but that happiness was downgraded due to Benson's continued obscurity. This is why I was overjoyed to learn of his return to solo work. My Old, Familiar Friend is Benson's fourth solo album on as many labels, proving that business has little to do with great art. The title is amazingly apropos, taking on meanings on many different levels.
Even after brushes with fame, longer tours, and bigger selling records, its nice to know that Brendan Benson can be counted on when it comes to presenting a pure retro pop album. Songs on My Old, Familiar Friend almost act as a K-Tel compilation in itself. Benson, without mimicking, hits touchstones such as ELO ("Garbage Day"), Paul McCartney ("Gonowhere"), the Cars / Weezer ("Poised and Ready"), and Joe Jackson ("Misery"), while putting every song in his own distinctive style. There is no denying the effect of Benson's incredible songcraft. From the opener, "A Whole Lot Better" to the driving "Poised and Ready" and my personal favorite, "You Make a Fool Out of Me," you can't help but sing along with this engaging artist. The latter track is an astonishingly straightforward and gorgeous song that truly highlights both Benson's skill and sensitivity. Remember the way you felt when you heard "Maybe I'm Amazed" for the first time? That's what this one's like. Benson seems to possess what a lot of today's songwriters seem to be lacking, the ability to create a simple yet memorable hook. From one song to another, you are entreated to an entirely new and distinctive melody, with choruses you'll be humming for days. Seriously, try to listen to "Don't Wanna Talk" and see if you're not recalling it for the next month.
A few years ago, I heard one of the sweetest and catchiest, yet most heartbreaking breakup songs ever written in Brendan Benson's "Cold Hands (Warm Heart)." It was so warm and sunny; I almost put it on a mix CD for my significant other. The songs on My Old, Familiar Friend are equally as complex in the glowing presentation of dour sentiment. The aforementioned "Don't Wanna Talk" and "Misery" both present shiny veneers of pop bliss, covering up the sadness underneath. Not many people can do that. And so, with Benson's amazing songwriting, I am transported back to a happier, more innocent time. Bus 8, no relation to R.E.M.'s "Driver 8" as far as I know, was a place where we could bask in the glow of warm harmonies and classic tunes before heading into the drudgery of the classroom, and now My Old, Familiar Friend, in more ways than one, is acting as that respite from real life. I had forgotten, for a while, why I cared so much about music. Brendan Benson reminded me.
Similar Albums:
Paul McCartney – McCartney
Joe Jackson – Look Sharp!
ELO – Out of the Blue
Download at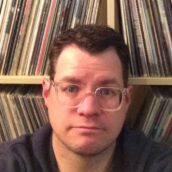 Terrance Terich
Terrance Terich firmly believes that 1985 is the best year for music. He lives near Seattle with his books, movies, and music.