Stephen Brodsky is a prolific artist whose career has yielded a long list of collaborations and recordings with half a dozen bands, the biggest of which, Cave In, has never done anything close to repeating itself. Over more than two decades, the Boston group have progressed from the Hydra Head era of technical, sludgy metalcore on 1999 debut Until Your Heart Stops to the heavy, melodic space rock of Jupiter in 2000, and explorations of the vast stretch of sound between those two endpoints ever since. Their latest album Heavy Pendulum, out Friday via Relapse, feels as much like a career summary as a new era for the group, featuring some of their most progressive material and some of their most accessible alike. In a career of massive-sounding material, it feels like the biggest yet.
Heavy Pendulum is a landmark album for Cave In in a lot of ways. It's the band's first album to feature Converge bassist Nate Newton, who joins Brodsky, guitarist Adam McGrath and drummer John-Robert Conners after the death of the band's longtime bassist, Caleb Scofield. It's also their first album to be recorded in a studio setting since 2005's Perfect Pitch Black, following two albums captured in looser sessions in their rehearsal space. As such, it's a more ambitious and, for that matter, longer—spanning 70-plus minutes. It finds the band inspired and reinvigorated, which sprung from one of the most prolific periods of songwriting in the past decade.
"The DNA of the songs is sort of heavily embedded in my fingers, my brain, my mouth. But it was the engagement that the band had to the original solo demos I was making in my New York apartment lab and sending to the guys, and the feedback that I got from sharing this material and the enthusiasm for wanting to work on it, it kept me going 20-25 songs deep into the writing process," he says. "But the songs really became Cave In songs once we were able to get into a room together and everyone was able to have a hand in what was happening."
We spoke to Brodsky about Cave In's new album Heavy Pendulum, honoring Caleb Scofield's wishes for the band, Converge's Bloodmoon: I, and other highlights of a prolific couple of decades.
---
Treble: Heavy Pendulum feels like one of Cave In's biggest records. Was that one of the goals you sought to achieve, something epic and ambitious?
Stephen Brodsky: The band hadn't made a proper studio record in several years. We'd just been doing renegade rehearsal space recordings. And White Silence was really fun to make for that reason. It actually sort of reinvigorated our bond not only as a band but as friends getting together on a weekly basis to set up shop in our rehearsal space. It's not necessarily the best sounding Cave In record, but it's probably my favorite, second only to Heavy Pendulum, because working in that environment was very liberating.
Fast forward ten years, and when the band started to become a creative entity in 2017, sort of looking to take the next steps of our creative evolution, Caleb started to outline this checklist of things he wanted to get out of the band at that point. Aside from all the musical bits he wanted to focus on, he was very adamant that he wanted Cave In to return to the studio. We never got to do that with Final Transmission. The record was mixed at a studio, but all the recordings are from rehearsal space jams and get-togethers and such. So yeah, I think just the simple fact of the matter being getting into a studio to make a record, we felt like we could really stretch our wings, and the other part of it is once I started to get into a creative writing flow, with the sound and the vibe of the songs, it just kept coming. And I think the pandemic, followed by a lockdown, was very much responsible for that too. Because I had an incredible degree of focus and lack of distraction because nothing was on my calendar. I just wrote and wrote. And that's also probably why it's a 70-plus minute record.
Treble: Was honoring Caleb's intentions also one of your primary goals with this record?
SB: For sure. And it's interesting, because, in his own way—I don't want to speak for Caleb, obviously, but it's interesting he went to those places because he joined the band about 3-4 months before we recorded Until Your Heart Stops, but the bulk of the songs were written by then, so it was more a matter of just getting him up to speed before we went into the studio. That was kind of a crazy time for the band because it felt sort of like we had a revolving door of members going in and out, and it wasn't until Caleb joined the band and we started writing with him that the lineup really sort of crystallized that felt as if there was a staying power, a longevity to it.
You know, it started with Creative Eclipses but it came into its own on Jupiter. So I feel like Caleb might have wanted to hit reset for the band and go back to that time which was special for us for a number of reasons. Caleb joining the band, the lineup feeling like it was this consistent thing that, like I said, had a staying power to it. And the creative doors were just kind of blown open. So yeah, just kind of revisiting that time period was maybe something on his mind. And to go back to your point just about the importance of honoring a vision of his, the meaning of Cave In and doing this band at this point, has also changed. And it has a lot to do with that, going out and playing Caleb's songs and singing his lyrics and being in the presence of friends that I've had for 25 years that predate the existence of this band. But all the shared memories we've had, Caleb being the vehicle for the preservation of these things brings a new meaning to the band. So yeah, I think the more Caleb that we have at this point, moving forward, the better. Just honoring his vision for what a new Cave In record should be is just one of those ways of keeping his memory alive.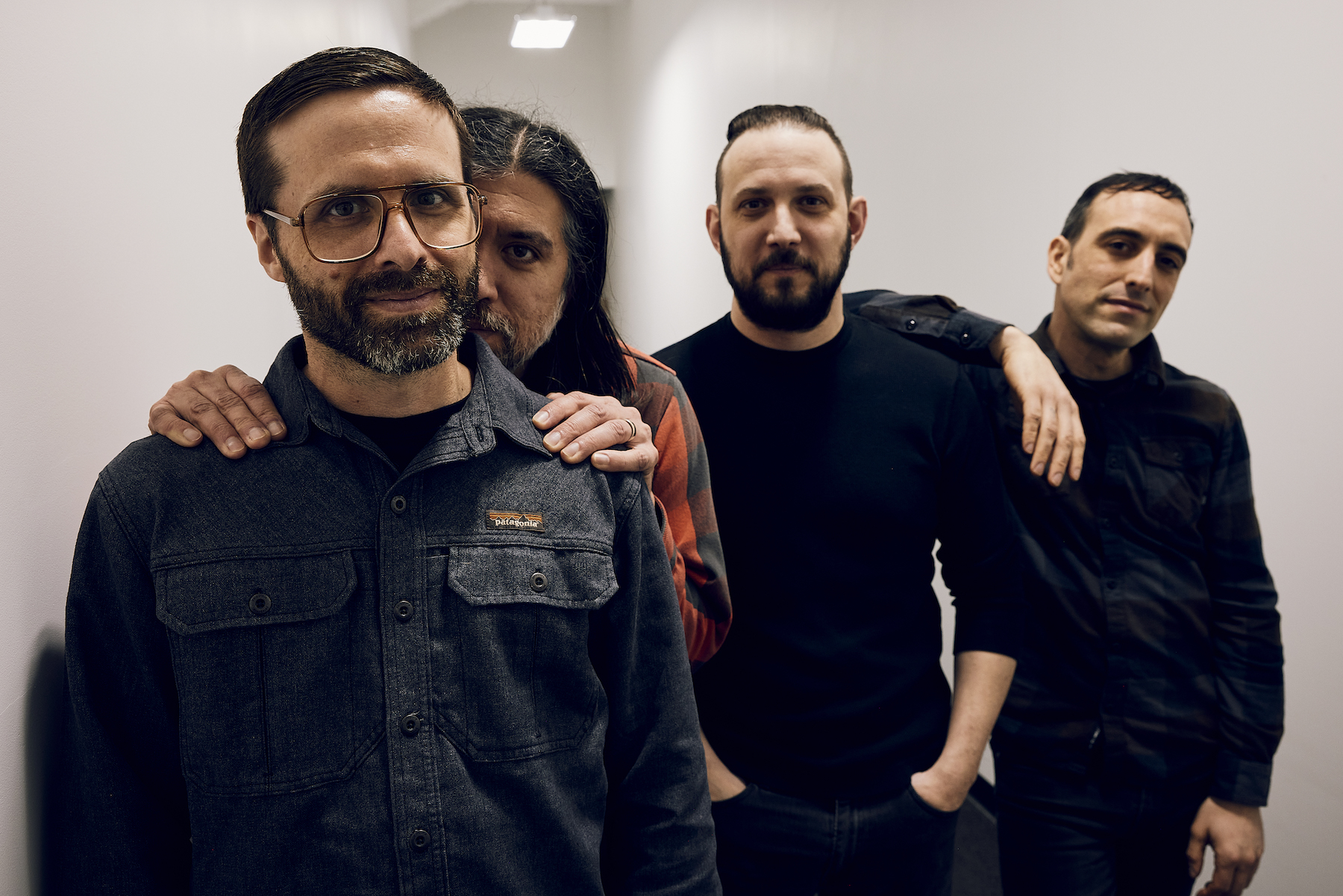 Treble: This was your first record with Converge's Nate Newton. When it came time to determine who best to join the group as a new bassist, did that decision just come automatically?
SB: Nate really applied himself to the band when it came time to put together those Scofield benefit shows in 2018. He was a huge part of the logistics for the whole operation, besides just learning Cave In songs and just getting up there and playing with us. Putting together all the donations and the logistics involved of putting together a large bill and having bands from all over the country play and having a raffle involved. There are so many levels to managing those shows to making sure they were not just run well but that they were above and beyond in terms of their awesomeness, because we wanted them to be as awesome as Caleb was. So that was a tall order. And just knowing that Nate was going through something more or less the same as what we were going through at the time. Nate and Caleb played in Old Man Gloom together, so Nate was also losing a band member and friend. And we were able to level with each other in that way.
There were other people we had in mind to join the band if Nate felt like he wasn't able to commit or just wasn't able to do it for some reason. But it was a short list and no one was really able to hold a candle to Nate. He's a real creative force in his own right. He's got one of the most recognizable vicious voices in all of heavy music. Just look at Converge pre-Nate Newton. Their songwriting changed and they became more consistent in their delivery and transformed into the band that they are today. We've been fans of his bands since the beginning. The first time we heard Channel was mind-blowing. Just crushing, heavy, memorable shit coming from south of New England.
Treble: You also worked on the Bloodmoon: I project together, which had a lot of people involved. How did that work, logistically?
SB: Prior to the pandemic, there was about a week where Converge Bloodmoon minus Chelsea [Wolfe] and Ben [Chisholm] from her band, we just got together at Godcity Studio and just played music. It was a mixture of stuff that people had been kicking around, and there was plenty of room for spontaneity, if someone just happened to be playing something that sounded cool. And if other people jumped in, it turned into a song. That's how "Flower Moon" came about. Just playing that riff for a little while and trying it in different keys, I think Kurt [Ballou] was playing bass, and Ben [Koller] on drums. It started as a little three-piece demo jam we had. Kurt was calling out replacement changes as we went along after I worked up a few guitar toplines after working out that main riff. So when we started making the record, we had this document of this pre-pandemic demo recordings. So instead of having to guess tempo and feel, we had this roadmap laid out for us to the point that Kurt was able to map out those rehearsal recordings to document or match the BPM in the verse almost exactly how Ben's feel was. And then the chorus and the bridge as well.
The intention was always to make the record as a full band, but because we chose to work on it in lockdown and a lot of it, if not most of it, was done remotely, we were able to avoid that trapping of trying to guess what the feel was like. The way Kurt put this thing together was insane, he mapped the BPM and used his drum program to match pretty much all of Ben's drumming and was basically able to drop out Ben's drumming, so in the grid, we had a click, we had a BPM and then this canned Ben robo-drum base to build on top of. So that's when the guitars started to get recorded remotely. Again, I was doing this remotely from my little New York City music lab. We did most of the vocals in the studio. But it's very strange listening to that record knowing that the drums were the last thing to be recorded, which is probably cool for Ben because instead of a scratch track, he had this whole guitar armada to play along to, and he could get more into the songs that way. When you're a drummer, building track by track, you're lucky to get a scratch track or like a fuckin' cowbell.
Treble: You've done a lot of projects outside Cave In in recent years—touring with Quicksand, collaborating with Marissa Nadler, playing with Mutoid Man as the Two Minutes to Late Night band. Are you the type of artist that's always in search of a new or challenging experience?
SB: I just have a hard time saying no. (Laughs.) Historically, I've always found that playing music with other people, it does create insight into things that might not have discovered within yourself just yet. And also helping people to discover new musical boundaries to push, to see other people discover that amongst themselves is very rewarding too. So I think there's a give and take with that. Feeling that inspiration and giving that inspiration. Especially to musicians whose work I'm a fan of, that's definitely the case with Marissa. Her music has blown my mind for years, so the opportunity to work together was very cool, and I think she was particularly attracted to the fact that I have a relationship with the BMG publishing company. So the idea was then to explore creating soundtrack music, and it's not that we had a particular movie or show or commercial we were pitching for, but knowing that the company does offer those services to pitch for that reason, it gave us a cool sort of direction to go in. It created some boundaries for us, for something to materialize. Instead of just blindly going into a music project without any other objectives or goals.
Treble: The Droneflower project also involved a lot of covers. Did those have some particular significance to both of you? Or were they just simply songs you both liked?
SB: Probably the most popular cover that Droneflower did was "Estranged," and Marissa and I definitely bonded over Guns 'n' Roses. That's one of the reasons I play guitar: I wanted to look as cool as Slash. (Laughs.) When I was at a very young age and my self-esteem was at its lowest, I was maybe 12 years old, that's a hard age for little dudes. Trying to figure things out and their voice is cracking. I was fortunate enough that I had support in pursuing an instrument. Trying my hand at sports, I realized I didn't have so much of an outward sense of competition as an inward sense, so music lent itself to that trait. That's a super long tangent about me getting into Guns 'n' Roses. But it was just cool to imagine something that wasn't there.
As one of the longest Guns 'n' Roses songs, we thought, what would that sound like if it was approached by Pentangle after a night out at a goth club? (Laughs.) I think maybe even Marissa had tweeted about wanting to cover that song and I sent her a snippet of a version I worked up and we just ran with it. To play a song like that with a finger-picking sort of interpretation was not only tricky, but to do that for nine minutes without fucking up, there's a challenge in that on its own that was sort of attractive to me as well.
Treble: You also recently reissued the Sacrifice Poles record, which has been unavailable for a long time, and probably new to a lot of people, even though it's 20 years old. What prompted you to revisit the record?
SB: The move to Relapse signaled an opportunity to the band to collect as much of its recorded output as possible and redistribute it under a single umbrella of streaming. And just the optics of Relapse, the visuals, and I'll be honest: It's the best way to get paid, too, if you can have all your music in one place and there's less chasing money from different people. Not that there's a ton of money out there for some of these releases. But it's much easier to manage your affairs when your work is streamlined under a single entity. And I'm glad we were able to give people an opportunity to have easier access, for fans of that record, and for people who had never heard it before.
A big influence on that record was the Fugazi Instrument record. I think if you put them back to back you'd hear a lot of parallels for the intent of each release. People got to see and hear a side of Fugazi that they'd only hinted at. The movie itself was super riveting and just a great document of a band that still has a ton of mystery, and they found a way to put something out there visually that kept things mysterious but pulled you in just enough to get a glimpse of what was going on. With Sacrifice Poles, it's the sound of Cave In getting comfortable with this new lineup and working in the shadows, essentially, without super great ambitions in terms of sonically documenting things. That record was done on a cassette four-track machine. But the immediacy of having a setup so simple and humble at our disposal to try new ideas and record the first thing out of our amps at a rehearsal space, because sometimes those moments are really fruitful and special when you're still just warming up the tubes in your amps. What happens in those moments of acclimation, there's something cool about having those documented.
Treble: After more than two decades, is there a moment that stands out most in Cave In's catalog to you?
SB: White Silence stands out because it's very much the sound of Caleb and Adam coming into their own as writers. When Caleb was living on the west coast for four years and then moving back to New England, it was his idea to regroup the band and start writing new music, and what followed after a four-year hiatus, you can hear in White Silence the sound of the band getting on its feet. You can also hear Caleb flexing his writing skills after finding a new voice for himself through Old Man Gloom and Zozobra, also Adam with Clouds, his old band. So that's one of the first Cave In records where I took a step back in terms of being heavy handed in the writing and did everything I could to bolster the writing skills of Caleb and Adam. "Sing My Loves" is one of, if not the best Cave In song. It's cool, after 25 years with the band, feeling like we can look back at this series of releases and consider it a wealth of stuff to go through and pull influence from, take the best of that, smash it together and come out with something like Heavy Pendulum to honor all the twists and turns.
---
Support our Site—Subscribe to Our Patreon: Become one of our monthly patrons and help support an independent media resource while gaining access to exclusive content, shirts, playlists, mixtapes and more.