Celebrate the Catalog: Sonic Youth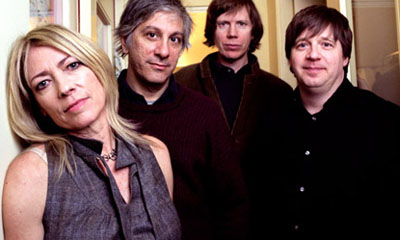 In this, the sophomore edition of 'Celebrate The Catalog' there's no sign of second album trouble as we examine one of the most prolific, enviable and most celebrated back catalogs in Indie Rock. Spat out of the death rattle of New York's No Wave scene, Sonic Youth were art-rock heirs apparent to the Velvet Underground. The cliched 'Underground' adage says that "not many people listened to The Velvet Underground, but everyone who did started a band." You get the impression that a lot more people listened to Sonic Youth while they were in their ascendency, but were so blown away by their prescience that starting a band seemed entirely futile. Here are the complete Sonic Youth albums rated, ranked, evaluated and given a closer, in-depth look.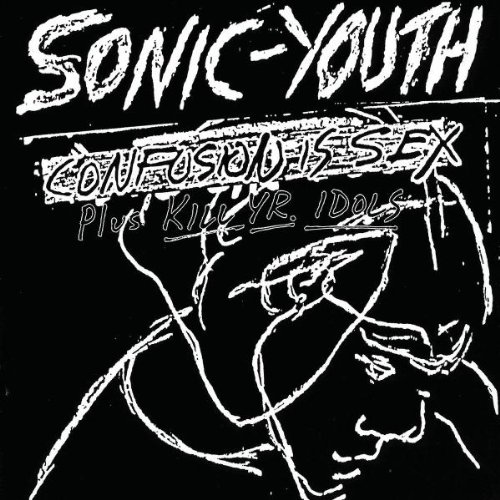 Confusion Is Sex (1983, SST)
As is to be expected from a band as long lastingly idiosyncratic as Sonic Youth, their birth was not an easy thing. Confusion Is Sex is sparse and brooding, shot-through with the screeching molestation of electric guitar that would underpin their sound for the duration of their career. Cultured in the shadow of avant garde guitarist Glenn Branca, in whose band Lee Ranaldo learned his trade, their first album proper (after their eponymous release, not tackled here due to its long lack of availability) is also steeped in the ambient experimentation of their No Wave influences, and cuts a twisted figure. When at 1:38 into the ominous drone of "Freezer Burn" a cover of the Stooges' "I Wanna Be Your Dog" smashes through, scaring the bejeesus out of you, it's as though this juxtaposition is a formula for everything to come.
Rating 7.2 out of 10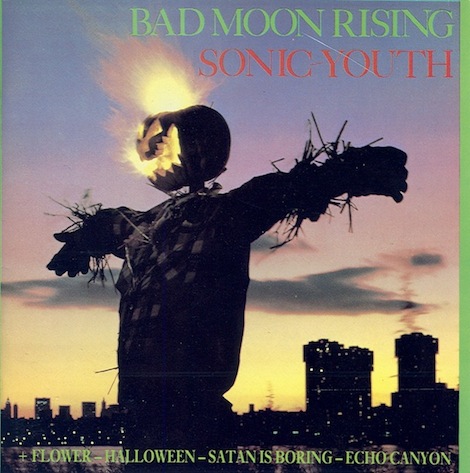 Bad Moon Rising (1985, SST)
As its cover suggests, Bad Moon Rising is, on the whole, something of an ominous affair despite the rousing intro of "Brave Men Run (In My Family)." For example, never before has a song with a title like "I Love Her All The Time" sounded so bereft of sincerity or hope. Even its 'hit' "Death Valley '69" is humming with an evil undercurrent. While still definitely effective, the malevolent pretensions of Bad Moon Rising are, as it's CCR referencing title hints, somewhat cartoonish compared with the genuine Eraserhead-level anxiety evident on Confusion Is Sex, and the album marks the transition into more palatable offerings on the dichotomously titled…
Rating: 7.6 out of 10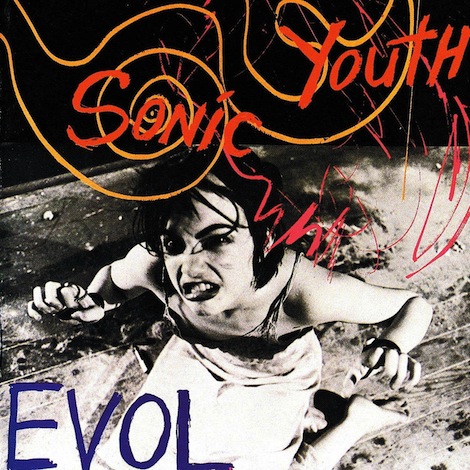 EVOL (1986, SST)
"We're gonna kill the California Girls"
Seemingly picking up where Bad Moon Rising left off, "Tom Violence" laconically rings-in EVOL. "My Violence is a dream…" It's followed by the raindrop-reminiscent notes of the presumably Hitchcock-inspired "Shadow Of A Doubt," which marks the first steps of a departure into a blissful, if still sinister, direction, before "Starpower" blasts through leaving any doubt, in the dust. Immediately after, Lee Ranaldo introduces his beat-inflected talking tunes to the band's texture. While the majority of the album remains somewhat overcast, in the 7 minutes and 20 seconds of "Madonna, Sean & Me" (AKA 'The Crucifixion of Sean Penn', though more widely known as "Expressway To Yr Skull") Sonic Youth metamorphose into the overall form we now know and love.
Rating: 7.8 out of 10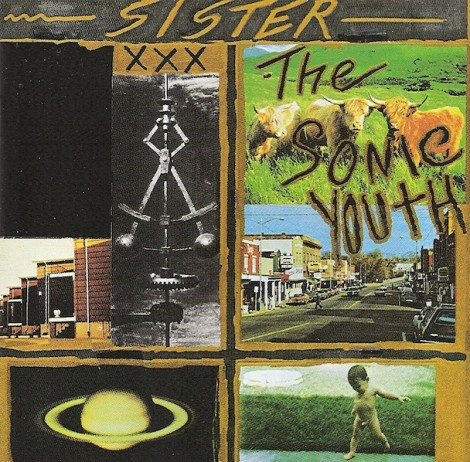 Sister (1987, Blast First-SST)
"Feel around in the dark until you get the idea"
After the woozy introduction of "Schizophrenia," Sister thunders along with blistering intensity courtesy of "(I've Got A) Catholic Block" and "Stereo Sanctity," with Kim & Lee's inimitable styles separating them. When Thurston introduces a more conventional sounding 'rock song' in the form of a cover of Crime's "Hot Wire My Heart," they make it sound more aurally deformed than anything else on the record. The schizophrenia is brought full-circle when on album closer "Master Dik" Thurston confirms that they were musically moonlighting as Ciccone Youth for The Whitey Album.
Rating: 8.2 out of 10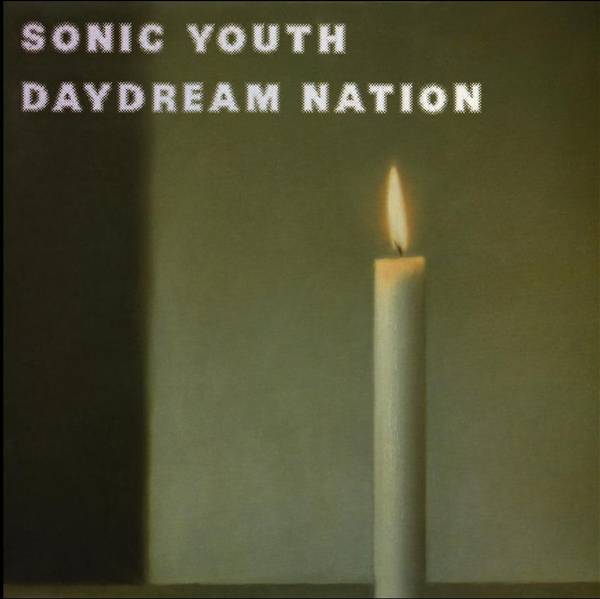 Daydream Nation (1988, Blast First)
"Kids cruise away, pack of chickenshits
This guy is ours, dark stains on his pants
Enough to make a butcher out of the bone Take a walk in the park? Shit, yeah!"
It's easy to let Indie idealism get the better of you when reflecting on Sonic Youth's back catalog – and where better for it to settle than on their double LP, and last before signing to a major label. For those of us lucky enough to have fallen in love with its four sides of vinyl Daydream Nation is crystallized as the epitome of everything Sonic Youth represented and were best at. "Teen Age Riot" comes across as though they decided to write a musical explanation of their name. While the songs are sometimes abrasive, the production is austere and each song perfectly grounded, each existing in the same beige space as though lit simply by the cover's sole candle, yet somehow as it unfolds it manages to transcend everything, until part three (or c.) of "Trilogy," "Eliminator Jr." kicks the shit out of yr head, before just as swiftly leaving, wondering what the fuck you just listened to.
Rating: 9.5 out of 10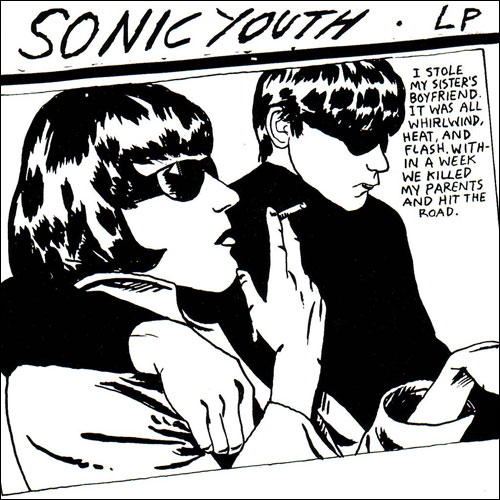 Goo (1990, DGC)
"…whirlwind, heat and flash…"
Goo marked Sonic Youth's departure from indie labels for the next 18 years, and blazed the trail for Nirvana to follow, prophesied by the kid in the video for "Dirty Boots," which hits the hat-trick of consecutive monumental openers. The cover would go on to adorn a thousand uncaring wearers, and is arguably more famous than the material contained within, but Goo is a concise summation of the Sonic Youth sound and a firm favorite among fans, and for some is, along with Daydream Nation, the high water mark.
Rating: 8.3 out of 10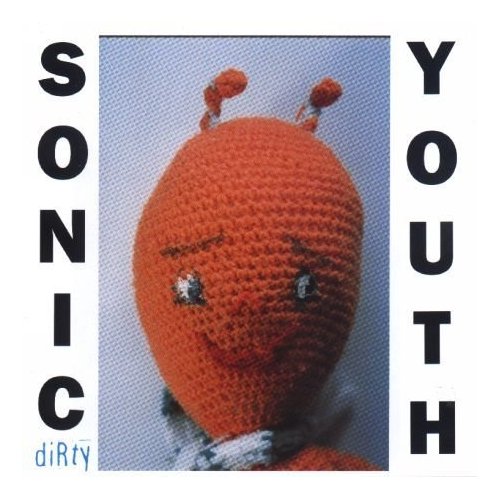 Dirty (1992, DGC)
"Yeah the President sucks, 'cos he's a war-pig fuck."
While Goo was their first excursion on a major label, it actually sounded more like a sibling of Sister, with some of the breadth of Daydream Nation's epic pretensions. Dirty, while boasting arguably catchier tracks marking it for greater mainstream acclaim, does so among so much coruscating wire wool whirlwind, rendering the rockier riffs mostly unpalatable to mainstream audiences, and loading the album's first side with the tremendous head fucks of, "Swimsuit Issue" "Theresa's Soundworld" and "Drunken Butterfly." In the midst of all this however are some of their most traditional sounding rock songs such as "Sugar Kane," "Purr" and "Chapel Hill."
Rating: 7.9 out of 10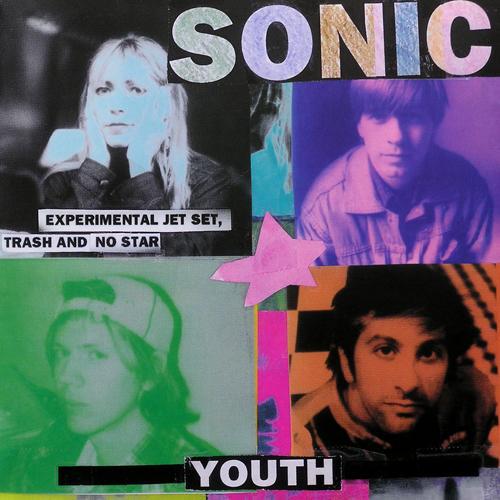 Experimental Jet Set, Trash & No Star (1994, DGC)
"Jesus is screaming yr name!"
The acoustic "Winner's Blues" is the preamble to an album that many were foolishly hoping to find solace in, just a month after Kurt Cobain's suicide. The fairly delicate and mildly unsettling "Bull in the Heather," its lead single, is opening track proper, chugging along with Steve Shelley's trademark maraca bashing, before "Starfield Road" jack-hammers things into more familiar territory, before being prematurely snuffed-out. Fittingly, the album itself is a bit of a Limbo, trailing off into murk after "Screaming Skull," but salvaged by gorgeous closer "Sweet Shine."
Rating: 7.2 out of 10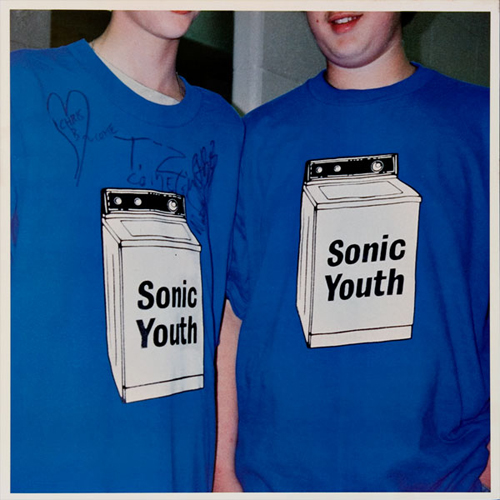 Washing Machine (1995, DGC)
"Twister, Dustbuster, Hospital Bed, I'll see you, see you, see you on the Highway!"
Seldom is it said by anyone but me, so I suppose I'm in the minority…but this is my article so I'm thrilled to be able to announce that Washing Machine is unequivocally the most mercurial, transcendent, emotional, surreal thing in the Sonic Youth catalog so far. It takes me places Daydream Nation cannot. "Junkie's Promise" indirectly addresses Cobain's death, "Saucer Like" echoes The Byrds' 'Eight Miles High' in its gliding overview of New York City, "Washing Machine" trips out of its spiky psychosis in to a blissful epiphany, Thurston's lullaby "Unwind" hums lusciously like the space between dreams in a summer field while the maintaining the level of malevolence inherent within the album as a whole, "Skip Tracer" sounds like the song God plays to you when your soul spills out of your head on a City sidewalk and "The Diamond Sea" is…well, "The Diamond Sea."
Rating: 10.0 out of 10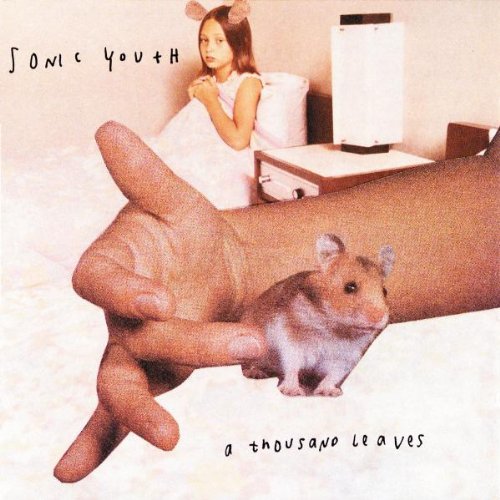 A Thousand Leaves (1998, DGC)
"Mille Feuille"
The destination to be reached on the other side of the Diamond Sea could never really live up to expectations, and A Thousand Leaves finds SY reverting back to the meandering saggy midriff that beset Experimental Jet Set. Thurston's "Sunday" comes fairly close to taking things up a notch, lurching the record forward with purpose after its mysterious, gawky opening chords. "Hits of Sunshine (For Allen Ginsberg)" and "Karen Koltrane" are somewhat mired by being too clichŽd in their over reliance on bare-boned stalwarts from the SY musical lexicon.
Rating: 7.7 out of 10
NYC Ghosts & Flowers (2000, DGC)
"The Kids Are Up Late, Dreaming Quiet Questions in a Graceful Mood"
The promise of the inclusion of Jim O'Rourke for the first of a three-record residency as bass master and general noise master in chief, and a William Burroughs painting emblazoning the cover perhaps raises expectations for what is ultimately a fairly desolate record. From the breezy scene-setting "Free City Rhymes" through the spartan heart of its four middling cuts to Lee Ranaldo's spooky title track – NYC G&F floats in and out of your consciousness like a Ghost until you question whether or not it actually exists. The record is punctuated by the mad-as-a-raft-of-mustaches "Lightning," a trumpet-underpinned experiment.
Rating: 7.0 of 10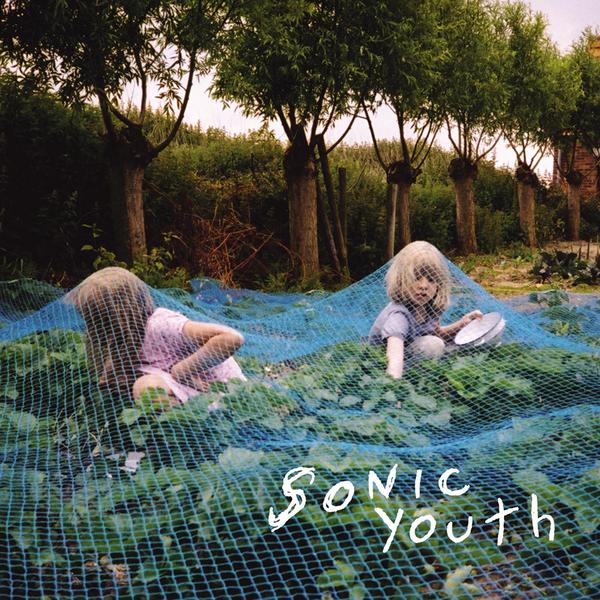 Murray Street (2002, Interscope)
"You smashed your head in the mirror baby, and kissed the frozen ground…yr ripped-up sound."
Had it been released in Murray Street's place, NYC G&F would have perhaps made a lot more sense. Sonic Youth's Murray Street studio 'Echo Canyon' was just a few blocks away from The WTC and O'Rourke was squirreled-away inside when the September 11 attacks took place, with Lee Ranaldo at his nearby home. Rather than dwell on the horror wrought on their postcode mistress, Murray Street chimes in as though nothing happened before thundering triumphantly into "The Empty Page," one of the most righteous and satisfying songs Thurston has ever yelped out. Unfortunately the rest of the album never quite reaches these heights, and like its predecessor, its single-figure tracklisting leaves it feeling a little bit lacking.
Rating: 7.6 out of 10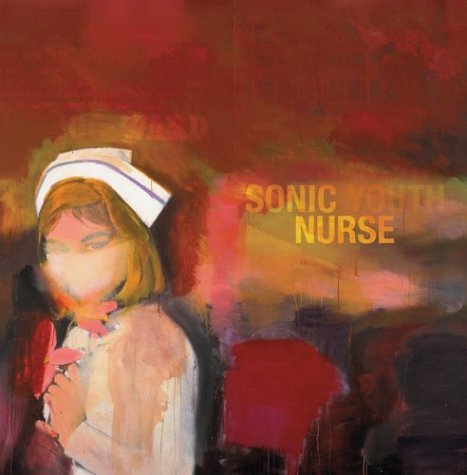 Sonic Nurse (2004, Interscope)
"Single fold sick insert design in junk"
Jim O'Rourke's last album as auxiliary seems to see them stop trying too hard to be themselves or anything else, and manages to plug the problem of lack of substance that leaves its two predecessors feeling a little lacking. While none of the songs are too insistent in establishing themselves as anything other than the sum of their parts, it is most definitely the most satisfying outing since Washing Machine. Lee Ranaldo's "Paper Cup Exit" and Thurston's "Peace Attack" belatedly and deftly address the country's foreign policy in the aftermath of 9/11.
Rating: 7.8 out of 10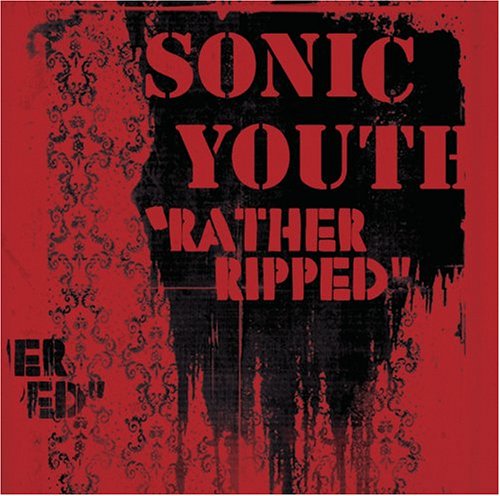 Rather Ripped (2006, Interscope)
"I ripped your heart out from your chest, replaced it with a grenade blast"
Rather Ripped peels-out with Kim's "Reena," which spouts off like a careering relationship's reconciliation after a same-sex indiscretion, while "Incinerate" goes one better and shows that Thurston can still re-write the archetypal exhilarating, fretboard-grating Sonic Youth sound. Confusingly, Jim O'Rourke's departure gifts them the freshness they sought by employing him, and Rather Ripped is easily their most satisfying outing for 10 years. Thurston's "Pink Steam" rains down one of the most interesting and heart-wrenching songs of their entire back catalog, garroting the whole thing from slipping into sickeningly saccharine with its teenage lyrics.
Rating 8.1 out of 10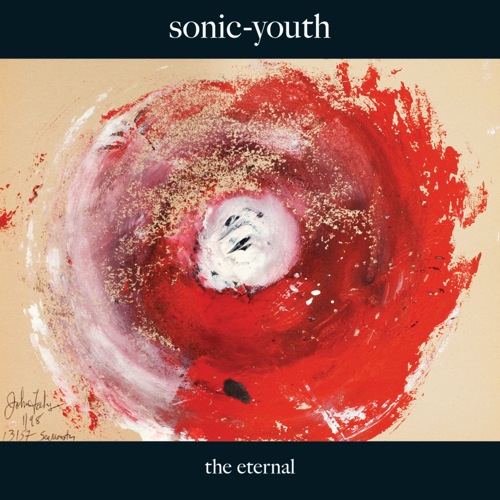 The Eternal (2009, Matador)
It's hard for the listener not to consider the possibility of a change in mentality or approach on Sonic Youth's first indie excursion in 18 years. Ironically The Eternal sounds more like it's trying to hearken back to the big rock riffs and psychedelic feedback up-drafts of Dirty. Kim's strained & strangled vocals seem more prevalent than in any record since Washing Machine. "Leaky Lifeboat (for Gregory Corso)" is a bit of a flimsy dinghy. The Beat poets are perpetually wrecked for us all by each semester's Freshmen. The idea of Sonic Youth having to point-out a song is directed at one of them, let alone spelled out in its title for the listener is a little bit icky…but by this point, it's just that we're spoiled rotten. The Eternal is still a great album by a band that are endlessly inventive, without ever having to have resorted to re-invention.
Rating: 7.6 out of 10
You might also like: