Celebrate the Catalog : Sleater-Kinney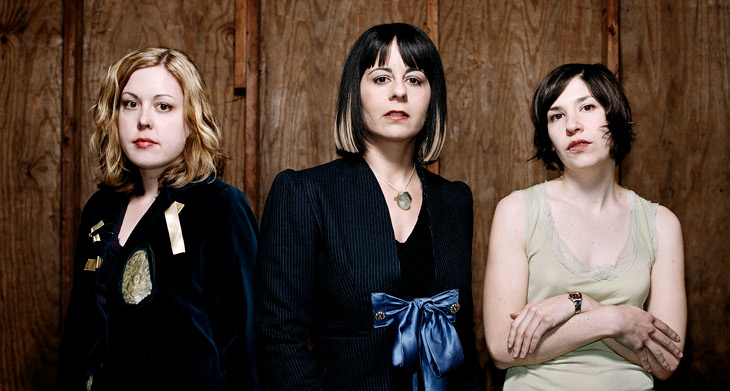 Excerpts of this article were taken from a rejected 33 1/3 proposal.
—
"Sleater-Kinney's aesthetic is not to get up there and be sloppy and go, 'Whoops, we don't know how to play.' We do know how to play." – Carrie Brownstein, Spin, May 1997
A product of the first-wave riot grrrl movement in Olympia, Washington, Sleater-Kinney grew from the same kind of do-it-yourself spirit that characterized punk rock's earliest days. But on a musical level, Sleater-Kinney were doing something that not just anyone could do.
On stage, Sleater-Kinney showcased a kind of magnetism and charisma that rarely surfaced in indie rock circles. Plenty of American bands in the '90s suffered from either terminal aloofness or a complete unwillingness to actually, y'know, move, yet the three women of Sleater-Kinney brought to their live show an explosive energy more typical of musicians whose names alone could fill stadiums. Tucker's manic vocals, arresting enough as they were on record, sounded positively superhuman when experienced up close. Carrie Brownstein, a consummate performer, rocked her axe with dazzling theatricality; Pete Townshend-style windmills were almost always a key part of her repertoire. And Janet Weiss maintained a contrast between primal aggression and grace behind the drums, her neatly trimmed bangs blowing in the breeze provided by a small electric fan she kept next to her kit. And amid all the breathless vocal performances and chaotic punk rock storms, Corin Tucker, Brownstein and Weiss pretty much always looked like they were having the time of their lives.
This can't be emphasized enough. Professionalism, practice and a relentless dedication to perfection can make a band tight, even flawless. With Sleater-Kinney, however, there was something much more. There's a chemistry that studio rehearsals, alone, can't create; the synergy between these three women is something that can't be taught. Watching the band, one truly got the sense that they performed and recorded together for so many years because they truly wanted to. They never succumbed to egotistical flame-outs, eschewed the kind of interpersonal drama that destroyed hundreds of other bands, and saved all of their intensity for the studio and the stage, which is where it mattered most.
With Sub Pop releasing a new box set of the band's discography, titled Start Together, in October, it seemed like the right time to dive into the music that made the band unique — extraordinary, even. We hope that you, in turn, will make your own dive into all seven Sleater-Kinney albums. It's a journey well worth taking.
Rock 'n' Roll Fun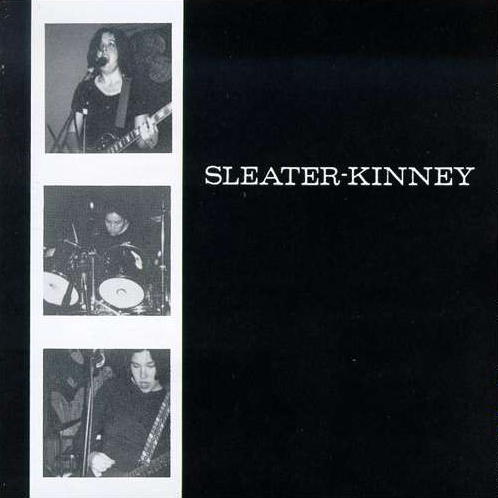 Sleater-Kinney
(1995; Chainsaw)
Sleater-Kinney began ostensibly as part of the "riot grrrl" movement in the Pacific Northwest in the 1990s, their earliest songs blending the feminist politics of bands like Bikini Kill with a uniquely artful take on melody that set them apart early on. And there is an early glimmer on Sleater-Kinney's self-titled debut of what they would soon become, though it wasn't the same band — not exactly, anyway. Recorded with first drummer Laura McFarlane, the album doesn't have the same rhythmic intensity as those recorded with longtime drummer Janet Weiss. It would be a couple years until she would become the group's Keith Moon and John Bonham (sans wrecked hotel rooms), but this is at least a good indication of how much talent the group was packing, even at their most raw.
Now, Sleater-Kinney often tried to distance themselves from being weighed down by the "riot grrrl" tag — which pretty much didn't even apply within two years — but here, it's about as close as they came. Sleater-Kinney touches upon topics like rape and sexism on tracks like "How to Play Dead" and "A Real Man," respectively, and Corin Tucker and Carrie Brownstein attempt a sing-speak-scream cadence closer to Bikini Kill's Kathleen Hanna than on any of their other albums. But Sleater-Kinney evolved quickly and impressively, as we'd find out just one year later.
Rating: 7.0 out of 10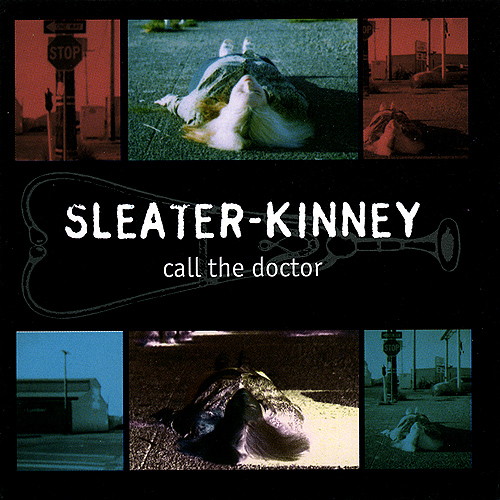 Call the Doctor
(1996; Chainsaw)
Call the Doctor, Sleater-Kinney's second album, is cut from a similar cloth as that of its self-titled predecessor. It's loud, raw and sinewy, for starters, and for all intents and purposes, a punk record with some post-punk and progressive elements. It's hard not to hear it as the band's most abrasive record either; just listen to those distorted screams near the end of the title track. That's some pretty gnarly stuff right there. And "Little Mouth" is nothing if not utterly visceral; I'm pretty sure the actual feeling the band was going for was a punch right in the stomach. And they make that sucker count.
But Tucker and Brownstein are also writing much stronger melodies here; "Good Things" is almost a ballad, and a highly affecting one at that, even if it still sounds a lot like a punk song. "Stay Where You Are" has one of the most immediately infectious choruses of the bunch. And "I Wanna Be Your Joey Ramone"? Well, that was the band's first real classic anthem, and a bit of insight into their personalities beyond the musical persona they put forth. One of the things that always struck me about Sleater-Kinney was how much they carried themselves as fans rather than insiders. You can see Sabbath posters on their album covers, and they'd tell stories about meeting Robert Plant onstage. Using Joey Ramone as the ideal for a hero seems perfectly in character, and a reminder that — even if they're a lot more talented — Sleater-Kinney are coming from the same place as their listeners.
Rating: 8.5 out of 10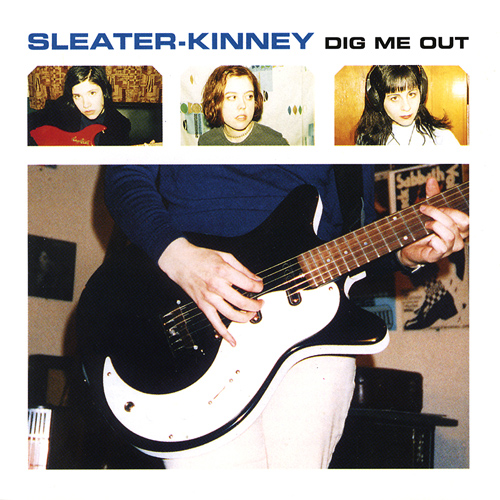 Dig Me Out
(1997; Kill Rock Stars)
After McFarlane left the band, all it took was one rock-solid audition from Janet Weiss in Tucker's basement, and a few months later they would emerge reborn, a band with a sharpened sense of purpose, a stronger willingness to show off their riffs, and a kind of note-perfect harmony that had only existed in more truncated form in the past. Weiss is a kickass drummer — her aggressive, precise dynamic well surpassed the basic need for keeping time — but on Dig Me Out, the group's first for Kill Rock Stars, her addition to the group brought out the best in her bandmates as well.
From Carrie Brownstein's opening clash of chords that start off "Dig Me Out," right through into the snap of Janet Weiss' snare drum, and on into the introduction of Corin Tucker's voice, as she belts out the song's title at maximum lung capacity, every single detail locked into place with simultaneous precision and ferocity. It was loud. It was defiant. It was punk rock.
For Sleater-Kinney, playing their loudest and fastest was just one approach, rather than the entire template. For as much ferocity as Sleater-Kinney exhibited in a razor's edge rave-up like "Dig Me Out" or "Words and Guitar," they sounded much more comfortable in their own skin than on their first two albums. Never before had Sleater-Kinney seemed so huge and powerful, or for that matter, boundless — bold enough to juxtapose ballads like "Buy Her Candy" against full-throttle rockers like "Not What You Want," and treating subjects like listening to records with the utmost importance on "It's Enough," while lampooning gender stereotypes in "Little Babies." The qualities that led Greil Marcus to later dub Sleater-Kinney "America's best rock band" crystallized on Dig Me Out; they were ready to step up to the next level.
Rating: 10 out of 10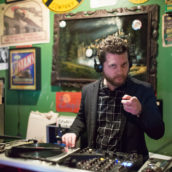 Jeff Terich
Jeff Terich is the founder and editor of Treble. He's been writing about music for 20 years and has been published at American Songwriter, Bandcamp Daily, Reverb, Spin, Stereogum, uDiscoverMusic, VinylMePlease and some others that he's forgetting right now. He's still not tired of it.