Making a Statement: An interview with Cherry Glazerr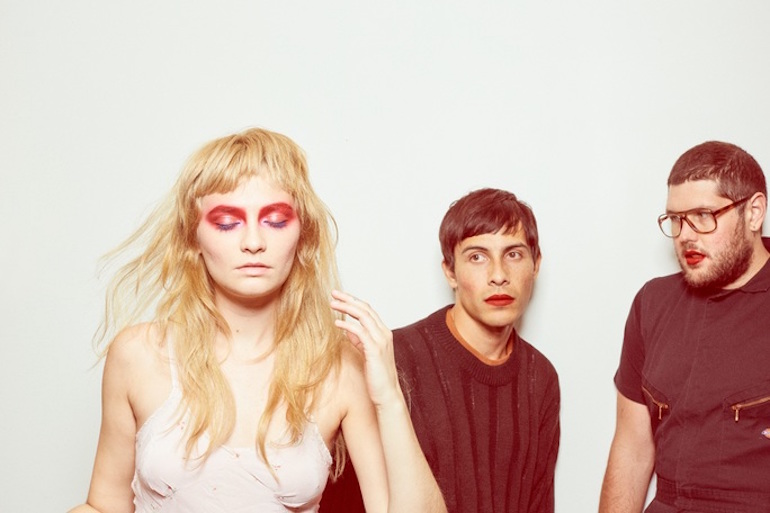 Sometimes an album gets a chance to live a second life. When Los Angeles indie rock trio Cherry Glazerr recorded what was to become their third album Stuffed & Ready with John Vanderslice at Tiny Telephone Studios, guitarist/vocalist Clementine Creevy, drummer Tabor Allen and bassist Devon O'Brien left the sessions not quite satisfied with the end result. It's not that they didn't like what they recorded, as Creevy clarifies, but it wasn't what they had intended it to be. So they regrouped months later with a fresh batch of songs and a new producer partner in Carlos de la Garza, and started from scratch.
That session yielded the band's best record to date, as well as their biggest and most powerful. It's a collection of rock songs that doesn't hold its punches, both in terms of the size of its riffs and Creevy's commentary on issues like toxic patriarchy ("Daddi," "Wasted Nun"). While Cherry Glazerr's every bit as fun and boisterous a band as they've always been, they sound more solid, with a greater purpose. And it kicks ass.
We spoke to Creevy about going back to the drawing board, the intersection of introspection and social critique, and growing up.
Treble: I understand this album was recorded twice, essentially?
Clementine Creevy: Yes, but I see them as totally different sessions, and totally different songs. They're not really the same music. Some of the songs have a layover. But they're different versions, so I don't see it as a re-recording of the first thing. I just see it as its own iteration. I love the other album. It might come out at some point, but for our third full-length, I wanted to put out a record of songs with massive production and bang and energy to them.
Treble: Did you go through a period of writing or rewriting after the first session with John Vanderslice?
CC: I did. Yeah, I would bring in songs…I'm always writing a lot, so I had all these songs from the Tiny Telephone sessions—and John, who I love more than any person on the planet, I love John Vanderslice dearly—basically I had some of those songs and took them into Carlos, and we were going to rework them and stuff. But I also wrote this thing the night before and play it for him, and he'd be like "oh we have to do it that way." "Juicy Socks" came about that way, and "Wasted Nun." A lot of the songs on the album I had written a few days before or a few weeks before. So a lot of the songs feel fresh still.
Treble: Was there more of a concerted effort to push yourself farther on this album, and kind of test your creative limits?
CC: I definitely did. I wanted to push myself in every way. I wanted critique. I wanted to be questioned. I went through a period where I said "We're gonna self-produce this record and it's gonna be fucking sick," and then I'd listen back and say "I think we need a producer, this needs a little work." I felt like it was very fruitful because I was open to a lot of collaboration and we created an atmosphere where we could be free and experiment. Carlos and I have very similar melodic tendencies. I'd write all the pieces, but he'd help with arrangements. Lyrically, I felt like it was the hardest for me but also the most challenging in a good way. I needed to question myself on every song: Why am I writing this, what does this mean, how does this all fit together and become a song in a full conceptualized idea. I was just questioning myself, but also trusting myself. For the first time ever I wasn't surprised when I heard the song. I wasn't saying, "What is this?" It was more like "Yeah, this is what we did!"
Treble: Were you pursuing any explicit theme on the album?
CC: I think it was more subconscious than anything. I just wanted to put the best songs on the album, and that's always been my biggest priority. Music to me, I can't have—I think musically I sort of like sub-perceptually create a theme. It's a product of who I am at that time. So it's more sub perceptual. If I don't force it, then it does create a theme a little bit. I try to think that's not just me being lazy, but it could be a little bit.
Treble: There's a definite balance of introspection and more topical songs, like "Daddi" or "Wasted Nun"…
CC: Yeah, definitely. I think, like I was saying I was a product of the society I'm in, I think that's true of the feelings and the lyrics on the record. I didn't think "I'm going to sit down and write a political song now," but it came out that way, and I think it's just because I am a product of my society.
Treble: Last year you posted on Facebook about the kinds of sexism that the band's endured on the road, and it's easy to see a connection to these songs there. Were you motivated by those experiences to carry that frustration and criticism over into these songs?
CC: I definitely was. I've always expressed it publicly, ever since I wrote "White's Not My Color This Evening," which is the first song I ever wrote. But these are obviously more thoughtful songs. I was 15 when I wrote that song, and then I was 21 when I wrote Stuffed & Ready. I didn't think anyone would care when I made that Facebook post. I didn't think anything would come of that. But then all these websites picked it up and were calling it a "statement" and I was like "yeah, totally, it's a statement for sure! I wasn't just rambling on social media." I guess I think I'm just reflecting something that we all feel right now, and something I've always felt, really.
Treble: What has been the biggest change or transition for the band since you began writing songs as a teenager?
CC: That's a good question. I think I have a much better ear now than anything. I know what I want. When you learn that, it's like the world breaks open. And there's this light that you can see, and it's really magical. I think having more of a trained ear has been really useful in the studio, and I'm way less indecisive than I used to be. I think that comes mostly from touring experience and from having experience in different studios. Just picking up on those sounds.
Treble: How have you changed personally over that period of time?
CC: There was a period of time when I started the band and I was having fun with it, and I had to decide if it was something I wanted to pursue. Like was it just a hobby? I either wanted it to happen or not happen. So when we started working on Apocalipstick I decided that for myself, and it's been really assuring, and it's given me stability that I've chosen this path.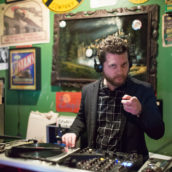 Jeff Terich
Jeff Terich is the founder and editor of Treble. He's been writing about music for 20 years and has been published at American Songwriter, Bandcamp Daily, Reverb, Spin, Stereogum, uDiscoverMusic, VinylMePlease and some others that he's forgetting right now. He's still not tired of it.