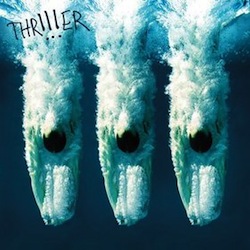 Buy at iTunes | Buy at Insound (vinyl)
Say the word "thriller" and many people automatically play word association with Michael Jackson. His 1982 album named as such is the best-selling album of all time by a sick margin. Money, critical accolades, "King of Pop" title, lifelong fans — you don't just fall into that. So it takes balls for other musicians to invoke that word and refashion it in their own image, let alone live up to its celebrity mystique. Strangely, the name might be the ballsiest thing about Thr!!!er ("thriller"), the fifth studio LP from Sacramento dance-punk outfit !!! ("chk chk chk").
"Sure don't give a shit about the should-haves" is a lyric squirreled away among the first truly funky moments on Thr!!!er, in second track "Get That Rhythm Right." It does more than recall "Like I give a fuck about that motherfucking shit" from "Pardon My Freedom," a beloved cut off of first LP Louden Up Now. It can also stand as the motto or theme for this album: The music still resides in the Astralwerks/DFA/Warp wheelhouse, but with the nagging caveat that it should have more bite and bile.
Thr!!!er seems to suffer from the same issue found on Radiohead's The King of Limbs, music suggesting it was made by just a few band members at a time. "Except Death" and "Careful" eventually descend into deep rivers of funk revisionism, but the looseness of the grooves feels false and forced. Only closing track "Station (Meet Me at the)" sounds live-in-the-studio with everyone, and appropriately grungy.
One wonders how much blame we lay at the feet of the band and how much at the feet of Jim Eno from Spoon, who came to produce this album with a resumé checkered by rock rumbles (Heartless Bastards, Alejandro Escovedo) and eclectic beats (Har Mar Superstar, Telekinesis). !!! once sounded like the only new musical thing in the world. On Thr!!!er, Nic Offer's pitchy hipster falsettos, percolating bass from Mario Andreoni and/or Rafael Cohen, and soulful divas immersed in chugging neo-disco come as no surprise. They're calculated, if not predictable.
On the other hand, the most curious feature of Thr!!!er — when !!! sound like someone else — may actually be the most troubling. Having them recall Wang Chung's "Dance Hall Days" ("Californiyeah"), Phenomenal Handclap Band's "15 to 20" ("Slyd"), or the dark early days of The Fixx ("Fine Fine Fine") is fun, for sure, but it shouldn't be the band's new hotness. Either way, !!! are creeping dangerously close to a sound that's a shadow of a former innovative self.
Similar albums:


LCD Soundsystem – This is Happening


Hot Chip – In Our Heads


Midnight Juggernauts – Dystopia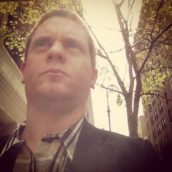 Adam Blyweiss
Adam Blyweiss is associate editor of Treble. A graphic designer and design teacher by trade, Adam has written about music since his 1990s college days and been published at MXDWN and e|i magazine. Based in Philadelphia, Adam has also DJ'd for terrestrial and streaming radio from WXPN and WKDU.