Cold Cave : Cherish the Light Years
Wesley Eisold's Cold Cave project is one of the biggest beneficiaries of a rekindled interest in the edgiest of all things pop — dream, synth, noise, and other hyphenates. To Cold Cave's Love Comes Close debut he brought a made-in-the-garage mindset developed in his earliest hardcore bands and an indie press imprint. On sophomore effort Cherish the Light Years, Eisold exchanges some oif that homespun honesty for more polish and variety.
Comparing the albums' opening tracks alone — "Cebe and Me" from Love, "The Great Pan is Dead" from Cherish — you can sense the group's sharpening of musical edges and closer embrace of melody. To the chagrin of older fans, songs such as "Villains of the Moon" and "Pacing Around the Church" might be treading on straightforward indie-dance territory, although they usually have the good taste to ape the likes of Cut Copy. Only on "Alchemy and You" do they sound wholly derivative, as if sucking at The Bravery's teat.
Yet supported and differentiated by Eisold's despairing drawl and interplay with bandmate Caralee McElroy, even the shiniest and newest of these sonic turns feel like natural artistic progression. Juxtaposing "Underworld USA," its EBM synth line married to guitar plucking lifted from The xx, with the blissed-out "Catacombs" and the deceptively upbeat "Icons of Summer" speaks highly of Cold Cave's chameleon-like abilities.
With the stark exception of "Burning Sage," a nice slice of industrial music at a grimy standstill, end to end Cherish the Light Years seems like a faster, more energetic album than Love Comes Close. That's not so much evidence of improvement as diversification; it's also a hopeful sign that Cold Cave might give Eisold the solid creative career path he's tried to establish before.
Similar Albums:
Cut Copy – In Ghost Colours
Covenant – Northern Light
New Order – Low-Life
Video: Cold Cave – "Villains of the Moon"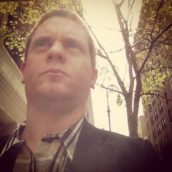 Adam Blyweiss
Adam Blyweiss is associate editor of Treble. A graphic designer and design teacher by trade, Adam has written about music since his 1990s college days and been published at MXDWN and e|i magazine. Based in Philadelphia, Adam has also DJ'd for terrestrial and streaming radio from WXPN and WKDU.