Creeping Death : Boundless Domain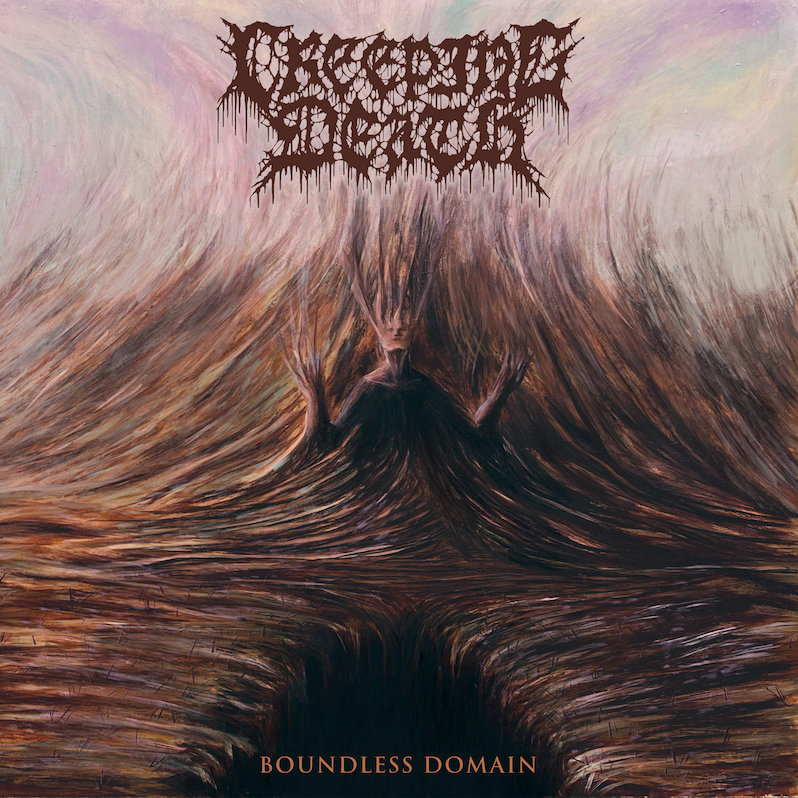 The sophomore full-length from Texas' Creeping Death finds the death metal band's sound a bit more polished thanks to Killswitch Engage guitarist Adam Dutkiewicz sitting in the producer's chair. The old school crossover thrash feel of their 2019 debut Wretched Illusions is dialed back, showcasing Boundless Domain as a clear, unapologetic commitment to classic death metal, made official by the presence of Cannibal Corpse vocalist George "Corpsegrinder" Fisher to guest on the second song, "Intestinal Wrap."
Creeping Death have, since their debut, shown a great deal of promise in their songwriting, and this album finds them making good on their potential. The ever-flowing stomp of double bass at times creates a uniformity to the sonic barrage that requires multiple listens to pick up on the nuances. They stand out more when finding a more deliberate gallop on songs like "The Parthian Shot." This gives their relentless hammering more to hook you in.
One of the album's strongest songs is "Creators Turned Into Prey," featuring a more utilitarian use of vocals. This finds the band going above and beyond the conventions of the genre, wherein it's now become commonplace for the vocals to be an afterthought. Creeping Death takes notes from bands like Obituary or perhaps fellow Texans Power Trip, who write songs with the vocal placement in mind. This interplay of the growls becomes an active part of the song, adding greater value to the riffs. And on the note of riffs, they play off an ever shifting landscape of infectious licks and tempo changes. It's here where we most strongly hear their hardcore influence, as it sometimes leaves you anticipating the breakdown.
Another strength in the more thoughtful use of vocals lies in the greater articulation of Reese Alavi's growls, which allow the lyrics to paint a clearer picture. There is more going on lyrically than just horror movie depictions of violence. Another strength is in how Dutkiewicz pulled more interesting guitar tones from the band, as heard on "Remnants of the Old Gods," where the guitars mimic pedals used on the classic albums from the late '80s, without getting lost in lust for nostalgia. There is never a sense that they are paying tribute to any particular artist, and as such, seem pretty confident in who they are.
On the whole of Boundless Domain, Creeping Death showcase a combination of dynamics, melody and a deep dig into the grim guts of emotion to create an unsettling feeling. They key to making standout death metal is maturing enough to know that songs do not rely on guitar solos or double bass, but are about the collective picture created by all the instruments in motion. Boundless Domain gives death metal fans what they want while streamlining Creeping Death's sound into a more tightly coiled death metal machine.
---
Label: MNRK
Year: 2023
---
Similar Albums: