Crystal Stilts : Alight of Night
Halloween may be over, but for the months that follow, there's always a lingering darkness that trails the year's spookiest holiday. It's getting darker earlier, there's a chill in the air, and even though the costume may be off, there seem to be spirits lurking behind every corner. Hell, one of the most famous ghost stories of all time is Charles Dickens' "A Christmas Story." And if ever there were an appropriate time to break out the Joy Division and the eyeliner, it's during these cold and cloudy months, wherein one can bask in the highbrow, introverted gloom.
Okay, maybe I'm being a bit dramatic here, but when the temperatures drop, sugary pop and filter disco begin to wane in their appeal. It's time for something a bit darker. For those who prefer their goth-flavored pop a little on the upbeat side, however, Brooklyn's Crystal Stilts offer a compromise to please the pop fiends, the fishnet-sleeved crowd, and those who choose to wear their Velvet Underground costumes year round. While Crystal Stilts may not be `goth' in the most conventional sense, they certainly flirt with goth sounds and imagery, from Brad Hargett's reverb-heavy mope vocals to the little bat graphic on the rear side of their debut album Alight of Night. Yet what keeps the band from fully embracing goth is their natural tendency to craft perfect, immediate pop songs.
Within the opening chord progression of leadoff track "The Dazzled," Crystal Stilts immediately slink into a sexy and brooding groove, their dirty guitars jangling over an eerie and reverb-soaked wash of effects and creeping bass. Hargett plays the haunted master of ceremonies immaculately, crooning "I sit in the window watching my days from a safe distance/ Clock towers toll and I am frozen every instant." It's almost over the top in its lurking shadows and lurching gloom, but the band's knack for melody and hooks kicks up the fun factor so much that one could listen to it in any season. It just happens to be that much more fun in the Autumn months. Meanwhile, the band ramps up the surf guitar riffs on the high speed, self-named "Crystal Stilts," a song which finds Hargett cheekily confessing, "we're snorting dreams."
Both the Velvets and the Jesus and Mary Chain loom large over the fantastic "Graveyard Drift," swinging and swaying over a weeping Farfisa hook, while the band opts for more surf-inspired major key bliss on "Prismatic Room," which doubles as both late '60s and early '80s throwback, through a modern garage rock filter. "The SinKing" is a furious, hard rocking suicide mission through psychedelic twists and turns toward a kickass chorus in which Hargett repeats the song's title as he splits and then connects the song title's syllables. Throughout the album, the band is often at their most impressive when they employ subtlety, as they do on the wordless melodica and guitar chorus in "Departure." Likewise the single phrase of creaky descending chords in "The City In the Sea" is deliciously spooky, while "Spiral Transit" closes the album with a bittersweet, Pacific Coast-gazing farewell.
That Crystal Stilts seem to seem comfortable both under a dim red light or basking in the glow of a coastal sunset speaks to their versatility and their seamless ability to blend influences. Sure, it's dark, perhaps even a little morose at times, but above all, it's gloriously crafted and more fun than goth-pop typically allows. The best cure for seasonal affective disorder is sunlight, after all.
Similar Albums:
Vivian Girls – Vivian Girls
Deerhunter – Microcastle
The Jesus and Mary Chain – Psychocandy
MP3: "Crystal Stilts"
Download at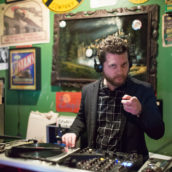 Jeff Terich
Jeff Terich is the founder and editor of Treble. He's been writing about music for 20 years and has been published at American Songwriter, Bandcamp Daily, Reverb, Spin, Stereogum, uDiscoverMusic, VinylMePlease and some others that he's forgetting right now. He's still not tired of it.