Crystal Stilts : In Love With Oblivion
Aesthetically speaking, Crystal Stilts had post-punk gloom nailed on their debut album Alight of Night, but to an unusually enjoyable degree. The Brooklyn foursome's guitars droned when they jangled, and jangled when they droned, mixing their Joy Division with their Jesus and Mary Chain, while faintly echoing Bunnymen. For every shade of darkness that loomed over the band's brooding compositions, however, Crystal Stilts allowed in plenty of lighter moments, injecting hip-shaking thrills into singles like "Departure" and "The Dazzled," and occasionally dropping goofball one liners like "We're snorting dreams." Though they may have mastered the art of fashionable despair, right down to the sunglasses and leather jackets, Crystal Stilts knew how to have a good time.
Since that album dropped, however, the darkly cool New Yorkers have been slowly indicating a transition away from the post-punk textures of their debut and toward a simultaneously more trippy and straightforward sound. On sophomore effort In Love With Oblivion, the band's choice of '80s Liverpool psychedelia has largely been swapped for '60s-style garage jangle and Syd Barrett-style acid pop. A heavy dose of keyboards is to thank for this, providing accents both bluesy and baroque, rather than murky and droning. And reverb exists primarily as a flavor enhancer rather than the main ingredient, indicating a growing sense of confidence from the band to step out from behind their effects, if only temporarily.
Setting their cards on the table early and with a lot of bang and flash, Crystal Stilts begin Oblivion with one of its most heady and psychedelic tracks, "Sycamore Tree." Blazing Farfisa trails a guitar riff heavy on tremolo, like Duane Eddy lost somewhere on the Lower East Side, as singer Brad Hargett bellows detached chants like, "She follows me into the sea… I wanna know why." The words become repeated past the point of carrying much meaning, but it doesn't really matter. It just plain sounds cool. The group takes this newfound exploration of psych-rock to an exaggerated degree on the seven-minute "Alien Rivers," which slowly slinks and slithers from the sound of crickets into a bizarrely alluring dirge of drones and spacious instrumentation. The slightly more compact "Invisible City," meanwhile, is a marching exercise in organ buzz and meandering riffs, more immediately accessible but decidedly much weirder overall.
When Crystal Stilts go pop, however, they produce some of Oblivion's most exciting moments. Juxtaposed against the sprawling opening trip, "Through the Floor" is practically a Beach Boys song, yet much, much fuzzier and without the complex harmonies. After the jarring sound of a car crash, the lite psych-rock of "Silver Sun" visits the mid-'60s California jangle of the Byrds to satisfying effect. But "Shake the Shackles" is the most eye-opening revelation, a fast-paced, minor-key pop gem that not only boasts the album's best melody, but Hargett's most dynamic vocal performance as well. He's actually singing here, rather than merely moaning. It's, perhaps, only a small step, but the song sounds vastly more multi-dimensional and vibrant as a result.
Closing out the album with the explicitly Velvets-sounding "Prometheus At Large," Crystal Stilts make an equally strong case for being '60s-style garage rockers as they formerly did '80s-style post-punkers. The differences between the two lie mostly in the details, and either way the sunglasses and leather jackets aren't going anywhere. Here, however, the band seems a little less averse to sunshine, and a little more prone to crack a smile, even when their vintage jams are floating off in outer space.
Similar Albums:
The Velvet Underground – The Velvet Underground & Nico
Echo & The Bunnymen – Crocodiles
Pink Floyd – The Piper at the Gates of Dawn
Video: Crystal Stilts – "Through the Floor"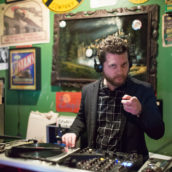 Jeff Terich
Jeff Terich is the founder and editor of Treble. He's been writing about music for 20 years and has been published at American Songwriter, Bandcamp Daily, Reverb, Spin, Stereogum, uDiscoverMusic, VinylMePlease and some others that he's forgetting right now. He's still not tired of it.