Crystal Stilts : Nature Noir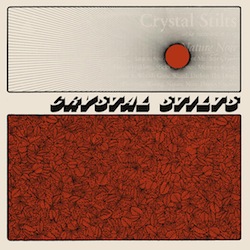 Buy at iTunes | Buy at Insound (vinyl)
Part of what makes Nature Noir — Crystal Stilts' third album — such a pleasure to listen to is frontman Brad Hargett's unflappable cool. He sings with what sounds like a complete indifference towards most things, an effect that's more than just his deep baritone drawl. Hargett has the confidence of a man watching things unfold from a safe distance. No matter the subject, be it mortality or the search for home, Hargett maintains a nonchalance that's captivating at first but turns a bit stale over time.  When Hargett should be making eye contact, his gaze is permanently fixed over the horizon.
Musically, Crystal Stilts' act is airtight. For proof of the focus and economy that comes with ten years of playing together, look to "Future Folklore," a song that flies down its well-oiled rails over the course of a brisk two and a half minutes. But while "Future Folklore" cuts fast and to the point, the Stilts can blow it out as well; waves of reverb and slow rolling keys create plenty of room for Hargett to drift off on "Spirit in Front of Me." Slightly closer to Earth is "Darken The Door," a jangly psych-pop tune that puts Crystal Stilts in close company with label-mates The Fresh & Onlys.
While the above tracks come highly recommended, the aforementioned nonchalance can sometimes leave weaker tracks feeling phoned in. "Sticks and Stones" and "Worlds Gone Weird" stumble along and lack the pull to draw me in any deeper than the surface. There's a fine line between this slightly annoying disinterest and the pithy cool that Hargett hits on other tracks. The musical context may be the determining factor; a wonderfully fluid guitar riff rounds out dreamscape ballad "Memory Room," and spunky string melodies make "Star Crawl" one of the album's highlights.
On "Future Folklore," Hargett describes his social withdrawal and unapproachability as a kind of skill: "I ride with a thousand faces / so we can disappear with no traces." Crystal Stilts have quite the collection of masks; their influences range from post-punk to psych-folk and space rock. But while each disguise is undoubtedly well crafted and finely tuned, the lack of an identifying face for Nature Noir dampens the impact of what should be engaging subject matter and memorable melodies. Nevertheless, the LP's longevity will come with its place in Sacred Bones' discography, an increasingly impressive collection that will live on regardless of any one band's desire to disappear.
Similar Albums:


The Fresh and Onlys – Long Slow Dance


Dum Dum Girls – Only In Dreams


Wild Nothing – Nocturne