The Top 50 Albums of 2008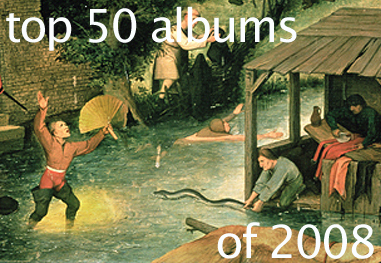 Every year it seems our `best of' lists get even better. It seems impossible, but our humble staff of writers manages to put together lists that seem more balanced, more interesting and just plain more with each passing year. 2008 is no exception.
I have never seen a more disparate, yet strong set of albums on one list in my life. Yes, it's that good. Not only did every writer's list display each person's individual tastes, with no two lists even remotely resembling each other, but there were only three albums that were duplicated as number one choices. In other words, we had eleven different albums voted as the best of the year. Now, that's diversity. In that way, our lists were like snowflakes, no two alike.
And, in this time of supposed holiday cheer, minus of course the worries of a depressed economy and job slashing, there is also hope. The people of the United States voted for diversity and change this year, and in a way, so did our writers. From dance to noise rock, folk to disco, and new wave to psychedelic rock, this list has it all. Old veterans, some having been active for over three decades and one having been noticeably absent for eleven years, rub up alongside wily youngsters and relative newcomers.
But, back to that holiday cheer. There seems to be a virtual nativity scene of animals involved in this year's list. We have foxes that are fleet, a parade of wolves, a department of eagles, and shearwaters. And, just as Santa ordered, Deerhunter, Deerhoof, and to spoil their party, a Blitzen Trapper. Let's hope Rudolph has a flak jacket, that nose isn't doing him any favors.
In the final analysis, it is not just the diversity that makes this list great; it is what unites all of these albums, a shared quality of greatness. Every album on this list seemed to push the limits of what could be done with popular music, in its scope, its abilities and its attraction. These are the best of the best, and all worth having in your collection.
50. Neon Neon – Stainless Style (Lex)
If Neon Neon didn't accidentally predict the auto industry's implosion, they accidentally picked the right year to fetishize a carmaker done in by his own darkness. Stainless Style, for its part, is a party record nonpareil, see what they did there? It's also the most widely varied allocation of tastes I heard all year, satisfying club kids ("I Lust U"), hip-hop acolytes ("Sweat Shop," "Trick For Treat"), the official Cars fan club ("I Told Her On Alderaan," I just got the irony of this!!) and me (all of the former). Collaborations between a gearhead (OMG!) and a psychedelic fur(ry) shouldn't be this good, but neither should concept records, although the underrated concept of Stainless Style is, clearly, WTF. Combining '60s guitar with Casios—there's a concept. – Anthony Strain
Review
49. R.E.M. – Accelerate (Warner Bros.)
It's been difficult being an R.E.M. fan during these past few years. When I mention this to friends and music enthusiast amigos they roll their eyes in disgust. Since when did R.E.M. get such a bad rap? Don't tell me it's all backlash because of "Shiny Happy People?" I was one of the few who have stood by the band before their critically labeled resurrection on Accelerate. Songs like "Living Well is the Best Revenge" and "Man Sized Wreath" added a much-needed shot of adrenaline that was missing from the R.E.M. of recent years. There were some internal creative tensions that did permeate within this Athens, Ga trio during the last few years, which finally got resolved before Accelerate came to fruition. As a result, Accelerate showcases a rejuvenated R.E.M. that you hear in Mills' vibrant harmonies, Buck's electrified riffs and Stipe's more refined lyrics which come to light on the first single "Supernatural Superserious." The anthem for a teenage geek generation, "Supernatural" is one of my favorite songs of the year. I recall hearing it in Rome during a vacation this past Spring (those Europeans have taste). Michael Stipe sings "Music will provide the light/ you cannot resist" on the fiery finale "I'm Gonna DJ." You hear this flame burn throughout Accelerate, as some songs like "Houston" burn on low while others like "Man Sized Wreath" explode to eleven. Sometimes quiet and often loud, Accelerate sparks a new phase in the life of this dynamic and enduring entity whose future is thunderously bright. Now those same amigos understand why I've stood behind one of my favorite bands after all of these years. Back in the glow of glorious acclaim, this isn't a comeback—Buck, Mills and Stipe have returned to unleash Accelerate and reclaim their mantle of greatness on their road towards immortality. – Adrian Cepeda
Review
48. Girl Talk – Feed the Animals (Illegal Art)
One of the joys that art can provide is recontextualizing things that are familiar. Assemblage and collage does this all this time, as in the works of people like Man Ray, Robert Rauschenberg, and Joseph Cornell. Such works make us ask questions about our relationship to objects in the world, serving as aesthetic delights as well as phenomenological quandaries. Less highfalutin', they are just plain cool when done right. In the case of Girl Talk's Feed the Animals, the medium is different but the results similar (and just plain cool). It even makes us ask questions, mainly of the "How'd he come up with that?" or "How'd he do that?" variety. – Hubert Vigilla
Review
47. Lykke Li – Youth Novels (LL)
Likely no artist on this list has as interesting a background as Sweden's Lykke Li. Born to a photographer mother and a musician father, she's lived in Nepal, Portugal and India, danced on Swedish TV, and managed to release one of the best pure pop albums of the year before her 23rd birthday. Youth Novels, Lykke Li's debut, is somewhere between Feist and Robyn, with glamorous diva sass and a low-key sort of charm, not to mention exquisite production and arrangements thanks to Peter Björn and John's Björn Yttling. In "I'm Good I'm Gone," "Breaking It Up" and "Little Bit," she has three perfect singles. In "My," she does a stunning jazzy ballad. And in "Dance, Dance, Dance" she makes a compelling case for pirouetting while the coffee percolates early in the morning. And if that isn't the coolest looking album cover of the year, I don't know what is. – Jeff Terich
Review
46. Destroyer – Trouble in Dreams (Merge)
Always the enigmatic figure, swinging from outsider artist to supergroup success with New Pornographers, Dan Bejar seems to have finally settled stride in his solo engine Destroyer with his eighth full-length Trouble in Dreams. Nearly void of the slippery, ever-shifting tones that marked 2006's masterstroke Destroyer's Rubies, Bejar's latest effort instead opts for the hushed ballads of "Foam Hands" or opener "Blue Flower/Blue Flame," and the meditative passages of tracks like "Shooting Rockets." Firmly grounded in sustained piano melodies and crisp acoustics, yet packed with Bejar's dense lyricism and grandiose vocal delivery—elongating certain lines while rushing through others, or breaking into a spasm of verse mid-song—Dreams is often baffling, but brimming with meaning in each turn of phrase. – Dustin Allen
Review
45. Lindstrøm – Where You Go I Go Too (Smalltown Supersound)
As its title suggests, the first official release from Norwegian disco-technician Hans-Peter Lindstrøm is a journey, an epic one that he wishes to embark on with the listener. At merely three tracks in length, Lindstrøm has evolved past simple songs and created something that moves, breathes, and changes right before your ears. The title track alone is packed with more ideas and movements than half of the albums on this list, yet never feels bloated or self-indulgent, simply alive. We may not know Lindstrøm's ultimate destination yet, but if the journey remains this thrilling and rewarding, where he goes, I will too. – Robert Huff
44. Kelley Polar – I Need You To Hold On While the Sky Is Falling (Environ)
Few modern musicians combine classical scholarship and a yen for the avant-garde like Kelley Polar. To revive some dead terminology, he puts the 'I' in IDM. Tracks like "Entropy Reigns (In The Celestial City)" and "A Dream In Three Parts" are exercises in the most gorgeous space-disco while "Zeno Of Elea" is kinda Flashdance, somehow. Never losing sight of the dance floor when your arrangements are this sparse is the trickiest kind of balance but Polar's particular minimalism celebrates the body every bit as much as it does the brain; to wit, the supple sexuality of "We Live In An Expanding Universe." Even "Chrysanthemum," essentially a murder ballad ("make a chrysanthemum of every human head/ make a chrysanthemum and kill them in their beds"), begins with rapid breathing and moves on to a sexual pulse about which no mistake can be made. If you don't feel it, you haven't got one. – Anthony Strain
Review
43. Crystal Stilts – Alight of Night (Slumberland)
Alight Of Night is a woozy head-trip, like a buzzing Velvet Underground vivisection. Brooklyn's Crystal Stilts affect surf-infused guitars to the brim of malevolence. Brad Hargett's brooding vocals teeter on the edge of listless languor. Somehow it balances itself out. On "The Dazzled," meta-physical urgings ramble restless on an insidiously catchy riff. "Graveyard Orbit" purges its slow dance with enough reverb to wake the dead. "Prismatic Room" is unabashed psychedelia, right down to the moaning organ. For all the daze, Night is fluid and coherent, a bright splash of sunshine in an otherwise dismal season. – Mars Simpson
Review
42. The Gutter Twins – Saturnalia (Sub Pop)
To paint with a broad stroke about The Gutter Twins, you can get pretty damn dark and still be sexy, and you can get pretty damn sexy and still be dark. Mark Lanegan and Greg Dulli have been doing it throughout their careers and on Saturnalia they are both doubly so. They live up to their billing as The Satanic Everly Brothers. They pile on gloom on "The Stations," all smoke and slow, sinister looks. It slips into "God's Children," which crawls across the floor before flashing its bold bright spots like a chorus off Black Love. "Idle Hands" comes on the strongest, with a powerful riff to accompany the dirge vocals. "Bete Noire" brings the slinky groove. They close it with "Front Street," which starts out desolate but then billows out into a bleak, frightening, hedonistic refrain of "We're gonna have some fun." What kind of fun? They're going to break lovers and get boozed. They're going to do the devil's business. Whatever it is, it's going to be pretty damn dark. As much as you may hate to admit it, it's also going to be pretty damn sexy. – Hubert Vigilla
Review
41. The Ruby Suns – Sea Lion (Sub Pop)
The Ruby Suns' frontman Ryan McPhun has traveled around the world, listening to the music being played, and what he learned he has been generous enough to share in Sea Lion. From the jangly and instantly enjoyable tribute to the Mojave Desert and Joshua Tree in "Oh Mojave" to the Maori sung "Tane Muhuta," the songs on Sea Lion are influenced by music from around the world but never come off as generic World Music. This isn't banal background music being played in the Nature Store, the songs are effervescent with life and there is an optimistic sense of a world community that glows within each song. The effortless and wildly entertaining blending of musical styles evoke a utopian ideal and, for even just a minute, makes the idea of a worldwide utopia seem feasible. – Jackie Im
Review