Cut Copy : Free Your Mind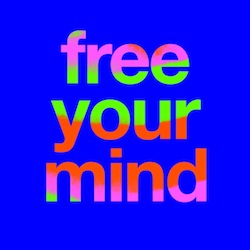 Consistency — that's the first thing that comes to mind every time I listen to any of the items in Cut Copy's catalog. With any artist, there comes the inevitable challenge of retaining excitement in the music they play, but over time there's also the challenge of keeping up some kind of consistency in their work. It's one thing to keep plugging away at the same sound without building to it or pursuing some kind of growth, but to keep the core of what made that artist special — that's an entirely different story.
Consider Cut Copy. While the band's catalog is limited, there's ample ground to cover, because each album is distinctive. Their low-key debut, Bright Like Neon Love, features an impressive sampling of their early, hook-laden gems. In Ghost Colours borrowed heavily from the new wave and more modern club sounds, which allowed the band to make inroads into the mainstream. Meanwhile, on 2011's Zonoscope, the band sought to break away from the club-inspired jams and opted for a much grander scope, which yielded some incredible results. Free Your Mind continues the group's tradition of crafting addictive, almost supernaturally catchy songs while retaining cohesion as a self-contained, full-length unit. Inspired by both the Summers Of Love in both the United States and the UK (in 1967 and 1988, respectively), Free Your Mind is a blend of house and pop music with infectious melodies spread throughout.
The title track interpolates live instrumentation backed with a perfectly fitting sample, yielding an exciting house track a bit reminiscent of what The Rapture did on "How Deep Is Your Love?" Yet Cut Copy integrates their own unique musical techniques to end up with a catchy song with more than enough to get a party moving. "Let Me Show You Love," one of the record's earliest singles, is even more potent in the context of the album than as a standalone track, with the pounding synthesizers and deep allowing for a broader expanse of space, sounding all the more organic when juxtaposed against the other songs on the album.
There's a clear nod to early '90s acid house on "Footsteps," a track seemingly ripped from the past, but reintroduced and recontextualized for a younger audience. Similarly, "Meet Me In The House Of Love" borrows from some of the same foundations, building up to a solid house jam. And though the '60s influence isn't as immediate on Free Your Mind, it creeps into the sounds of "Dark Corners & Mountain Tops," "Walking In The Sky" and "Take Me Higher." The psych-rock and acid-house influences become intertwined on "Dark Corners" (listen for the sax), while "Walking In The Sky" and "Take Me Higher" comprise a pair of gorgeous ballads, all the while maintaining the dance aesthetic that has propelled Cut Copy to being indie pop heavyweights.
Free Your Mind is a record littered with surprises. While Zonoscope and In Ghost Colours made some high marks for the band, Free Your Mind doesn't retreat from those highs, some of which take repeat listens to grab onto — keep listening, they're there. Cut Copy intended for the LP to bring a ray of hope and positivity through some insightful songs. They sought to free everyone's minds and it's a liberating experience.
Similar Albums:


Cut Copy – Zonoscope


The Rapture – In the Grace of Your Love


Hot Chip – In Our Heads