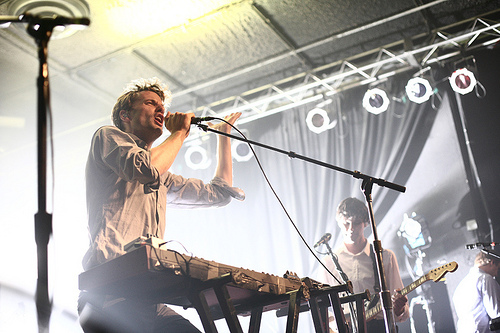 San Diego's unique geographic location in the Southwest corner of the country makes it a frequent point from which bands either begin a tour of the United States, or the spot at which a tour comes to an end. And when Australian synth-pop heroes Cut Copy landed in town for a live performance at 4th & B, they were wrapping up not just a few weeks circling the country, but an entire 9 months worth of touring.
After a three year absence from San Diego, their last show here (to the best of my recollection) being a small afternoon club performance in conjunction with a Red Bull event, their audience has grown considerably, with the success of their last two albums In Ghost Colours and Zonoscope landing them headlining spots at festivals and much bigger venues with each successive circle around the globe. Fittingly, they packed in nearly 1,000 giddy fans at 4th & B, the enthusiasm, sweat and energy radiating out of its doors and onto the downtown streets.
Given that this was a tour-ending performance, Cut Copy and their two openers, Washed Out and Midnight Magic, offered overflowing words of nostalgia and gratitude. In fact, members of all three bands crowded the stage for the final song in Midnight Magic's set, kicking off a funky disco party nice and early, even if the relatively subdued sounds of Washed Out temporarily halted the momentum. Suffice it to say, neither of the opening acts came even close to match the energy and intensity of Cut Copy's performance.
On record, Cut Copy have a streamlined, albeit infectious kind of new wave disco sound, polished but still edgy. Yet as a live act, they're a lot louder, a little more raw, and they certainly make it impossible to sit still, their grooves hitting with maximum impact. Kicking off their set with Zonoscope standout "Take Me Over," the band charged through a set made up almost entirely of unstoppable jams. They revealed their raw, noisy side on a particularly fierce rendition of "So Haunted," got the entire club jumping up and down for "Lights & Music," and set every pair of hips wiggling to "Hearts on Fire."
Earlier that night, various online outlets had reported that Thurston Moore and Kim Gordon of Sonic Youth were parting ways after 27 years of marriage, which was sort of a bummer introduction to an otherwise incredible evening. And, fittingly, Cut Copy, when returning to the stage for a stellar encore performance of "Need You Now," dedicated the song to indie rock's first couple. And that's the funny, unique thing about Cut Copy. As much a band concerned with physical movement, they have a strange knack for emotionally gripping songwriting.
View the full photo slideshow here.