Every artist, every musician, has to have at least a little bit of ego to get ahead in entertainment. You wouldn't be noticed if you didn't have the wherewithal to stand up in the first place and say "Notice me," give yourself a stage name, go out on tour and such. I dare say that anyone would apply to Los Angeles producer Alfred Darlington — that's Daedelus to you and me — such a pejorative as narcissistic, even in the face of his recent "concept" EP, the clunky and overindulgent Righteous Fists of Harmony. Daedelus assembles more of his languid, lanky beats into another topical release called Bespoke, but this time he delves into the autobiographical, albeit in a sly manner.
In just about the oddest twist on thematic electronica this side of Matthew Herbert, Bespoke references textiles and fashion from album art to track names ("In Tatters," "French Cuffs," "Tailor-Made") to title (it's an adjective often used to describe custom-fit clothing). Daedelus dresses onstage in dapper Victorian outfits — anathema as it may be to his postmodern beatmaking — so Bespoke seems as close as we've come to hearing an album about Daedelus himself.
If this is indeed the case, then maybe Daedelus should make personal albums more often. Many of the beats here are light and airy. You might end up surrounded by cooing guests and loops (Inara George's old-school pop on "Penny Loafers," Busdriver's half-speed house on "What Can You Do?") or by a matrix of beachy psychedelia and dubstep swooshes ("Sew, Darn, Mend").
Daedelus makes other aggressive and successful sonic reaches, his samples and arrangements suggesting classical strings and vocals here, '70s crime-drama TV there. Some of Darlington's recent releases have promised the world, and even this one is a bit of a grower, but Bespoke might be just the right fit.
Similar Albums:
The Avalanches – Since I Left You
Caribou – Swim
RJD2 – The Colossus
Stream: Daedelus – "Sew, Darn, Mend"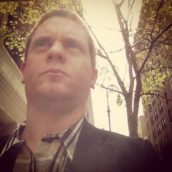 Adam Blyweiss
Adam Blyweiss is associate editor of Treble. A graphic designer and design teacher by trade, Adam has written about music since his 1990s college days and been published at MXDWN and e|i magazine. Based in Philadelphia, Adam has also DJ'd for terrestrial and streaming radio from WXPN and WKDU.