Dälek : Abandoned Language
Newark's most ominous hip-hop duo Dälek is best known for their ability to harness blood curdling noise, venomous lyrics and fat beats into an intense and frightening apocalyptic whole. Since the release of debut EP Negro, Necro, Nekros, Dälek (the MC) and Oktopus have been attacking hip-hop with a decidedly unconventional arsenal, more likely to sample Faust and Flying Saucer Attack than Curtis Mayfield or Diana Ross. From Filthy Tongue of Gods and Griots and Absence merely took their sound a step further, adding bricks and barbed wire to their menacing wall of sound, while taking on topics of race and religion with ferocity. Before the release of third album Abandoned Language, some had feared that the group had gone "ambient," reverting to an album devoid of the harsh, grinding noise of before. Some of the noise has dissipated, and the torrent of clangs and crashes has moved on, but what's left is a sky of noxious clouds; "ambient" this ain't.
A little more accessible than Absence, which was more accessible than its own predecessor, Abandoned Language is still miles away from the hooks and nursery rhyme aping within the realm of mainstream rap, or even the backpackers for that matter. Where anyone from Lupe Fiasco to Madvillain to Outkast would begin their albums with a short intro track, Dälek starts off an hour-long set with a ten-minute long song. That lengthy title track starts out simply enough, even coming across as somewhat normal by the duo's standards. A solid beat, a minimal bed of backing samples, Dälek unleashing an onslaught of cynical verses like "Fuck the pretty niggas with the silk fabrics" and "the only thing we feel is mad rage." But amidst the venomous indictments of the government and harsh commentary on racial struggles, there is one slight gleam of optimism: "If younger heads quote this then it ain't all hopeless." That said, this is some dark shit, like the rap equivalent of Scott Walker's The Drift, and much like many of that album's harrowing tracks, "Abandoned Language" progressively swells with sound, distortion gradually added to the mixture until it becomes an intense and confusing mass, virtually unlike the low-key sound from which it began.
Once the opening opus has passed, the songs become shorter and relatively more accessible, but only by Dälek's standards. "Bricks Crumble" employs a simple, throbbing bassline, while "Paragraphs Relentless," a slight return to their distorted, discordant tactics is the closest thing to a single here, a comment on hip-hop itself, Dälek heavily declaring "life which once resembled renaissance/ becomes fraud when taken from hands of true gods." The blaring bleats of horns and god knows what else during the chorus are, at first, ugly and horrific, but the skill with which Oktopus wields them creates a hypnotic and powerful force. To cop a cliché, this is some next level shit.
Though there are no deafening squalls in Oktopus' production in "Content to Play Villain," his dissonant tapestry provides a bizarrely melodic contrast to the vocals, which are distorted nearly beyond comprehension. The instrumental "Lynch," which is as fucked up and horrific as its namesake, provides a contrast to the comparatively low-key "Stagnant Waters" and "Starved for Truth," though the latter bears its own sense of disorientation and horror, employing a sickly saxophone and various other sounds, which could only come from outer space. Back on earth, however, "Isolated Stare" takes a turn for the cinematic, giant swells of strings flowing in and out in epic fashion, building for several minutes before Dälek even touches the mic.
Those strong enough to endure the pummeling from Oktopus' heady production or Dälek's brutal lyricism will find an equally harsh but sublime conclusion in "(Subversive Script)." The beats strut just a touch faster than most on the record, and it carries a groove just funky enough to throw on at a party. Of course, heads will turn once the violent waves of noise rush in during the song's climax.
While few will argue against classifying Dälek as hip-hop, few will agree that that's exactly what they are. Even with their most accessible set of songs to date, Abandoned Language is something far too distant and dissonant for classicist heads, essentially creating a genre of its own. This isn't even next level shit, it's next galaxy shit.
Similar Albums:
Cage – Hell's Winter
Tricky – Pre-Millennium Tension
El-P – Fantastic Damage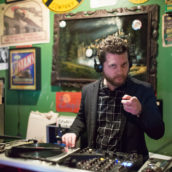 Jeff Terich
Jeff Terich is the founder and editor of Treble. He's been writing about music for 20 years and has been published at American Songwriter, Bandcamp Daily, Reverb, Spin, Stereogum, uDiscoverMusic, VinylMePlease and some others that he's forgetting right now. He's still not tired of it.