Death Grips : NO LOVE DEEP WEB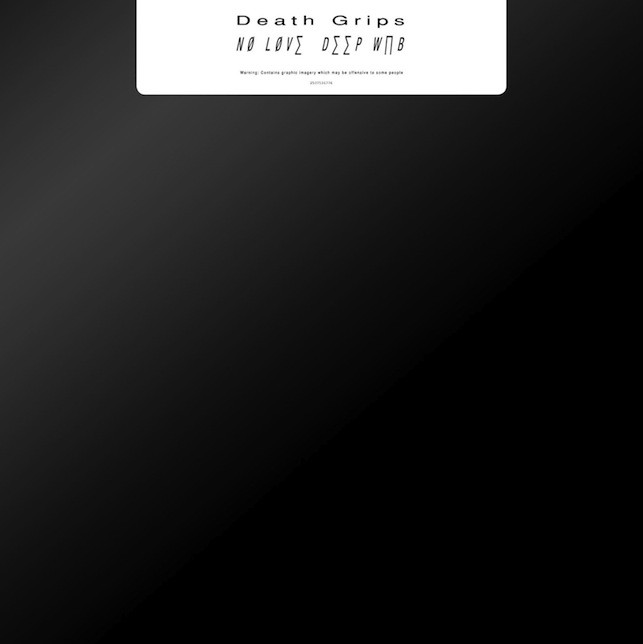 From the beginning of their career, Death Grips have covered an impressive amount of ground in relatively little time. Their mixtape Exmilitary was like an atomic bomb dropped on hip-hop in the middle of Odd Future's stunt parade. Then, out of nowhere, the group signs with Epic and releases The Money Store this past April to critical acclaim. And only a few months later, the group arrives with this, NO LOVE DEEP WEB, an album that was guaranteed to be released in the fall, and it looks like they've kept their word. But amid all this activity, one important question bears asking: Who, exactly, are Death Grips?
Much more than just a musical group, Death Grips are a uniquely chaotic phenomenon. Their samples and methods of recording are unconventional, and sonically overwhelming, not to mention loud. As a hip-hop entity, they alienate purists completely. Critics often talked about how to take Odd Future (if you'll excuse the second, inevitable, comparison) because of their antagonistic, misanthropic content, but upon examining Death Grips' artistic shrapnel, it would appear that the former doesn't have shit on the latter. For starters, a penis is actually on that album cover. This isn't necessarily surprising for a trio whose prevalent theme is alienation. And maybe a giant photo of human genitalia isn't menacing, but this image is.
Hours before the album was uploaded, an earlier version of that image was posted via the group's Facebook. It says a lot, but remains mysterious. And the explanations they provided through their Twitter and Facebook, confirmed that NLDW was going to be pushed back. To Death Grips, this wasn't an option. So despite the delay on the official release, they released it anyways without giving a fuck. NLDW is exactly how Death Grips described it earlier this summer — minimal and bass heavy. It not only features some of the most vicious and aggressive lyrics ever put to record, but the production on it complements Stefan Burnett's vocals quite well. The production that both Flatlander and Zach Hill provide is simple, but slaps hard. If The Money Store was like getting a head smashed on a cinder block, NLDW is that very same experience, chased by a plummeting anvil from above.
"Come And Get Me" begins with this bass and synth heavy intro, diving into Ride's vicious and suicidal lyrics: "I'm in an eight high abandoned building/ no daylight one midnight lamp/ lit twenty-four seven/ murdered out windows two exits/ street or nosedive to the next life in seconds." "Black Dice" features a solid groove compounded by some head-nodding rhythms, proving even Death Grips can rock a party when the mood strikes them. On "Stockton" — which features the catchiest hook, "I'm bouncin' WHOOP WHOOP" — Burnett gives a shout out to Edgar Allen Poe and offers views on being a paranoid schizo while stuck in Stockton. "Artificial Death In The West" closes the album with the slowest and even most emotional track as Ride howls, "Where you runnin now?!"
NLDW offers a deeper insight into a group that has virtually remained mysterious ever since the release of their first mixtape. More interestingly, tracing the steps up to this release proves pretty astounding — it's been hyped since the release of The Money Store and not to mention, the group utilized various outlets on the Internet to plant its seeds. So far, what Death Grips have shown to their audience is that they are much more complicated than simply an unconventional outfit for hip-hop. A lot of their work focuses on the dark side of human nature, and does so in a pretty confrontational way. But NO LOVE DEEP WEB, at its purest is very simple and well crafted. It may be situated under the presence of a massive phallus, but NO LOVE DEEP WEB is the clearest answer yet to who, or what, Death Grips really are.
---
Label: Third Worlds
Year: 2012
Buy this album at Turntable Lab
---
Similar Albums: