Devendra Banhart : Rejoicing in the Hands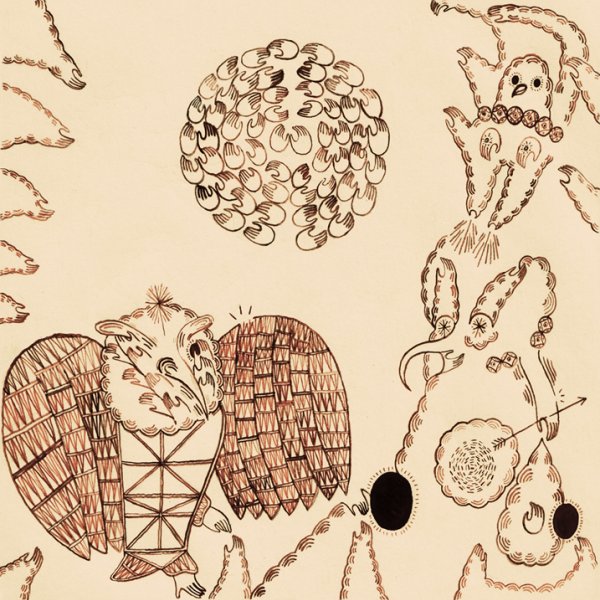 Just like the bluegrass-rooted Soggy Bottom Boys, Devendra Banhart has been steeped in old timey music. Heck, he's silly with it, in more ways than one! Everything from the material to the artwork and the lyrics in the booklet seem like an anachronism. The only reason it's really not is because of the huge resurgence of folk music in indie rock today. Artists such as Iron & Wine, Will Oldham, and Sufjan Stevens have brought `old timey music' back into prominence. But no one so far can out-old timey Mr. Banhart.
"This is the Way" starts off silly with lyrics like "This is the soup that I believe in / This is the smoke that I've been breathin'," but then gets a little more serious with words like "We knew we had a choice / We chose rejoice." But what's enjoyable about this song, and indeed the rest of the album might take some getting used to, namely Devendra's warbling voice. The lone guitar and the fuzz of background noise evident in homemade recordings lures us in, so that we want to sit at the base of his rocking chair as he spins musical yarns by a cozy cabin fire. Devendra's voice is beautiful, but the way that his voice trembles, purposely, is not something people will be used to, unless you were a fan of Tiny Tim.
Nowhere does Devendra put his style better than in the song "It's a Sight to Behold", a song about love where the lyrics are put simply over complex guitar and string accomp…uh, accomp…uh, backup. When he speaks of love, he says "It's like finding home in an old folk song." Now, that's nice. This particular song reminds me of Jeff Buckley's "Lover, You Should Have Come Over". I've heard and read lots of comparisons, to everyone from Nick Drake to Tim Buckley, and I think I can safely throw in some of the above artists and others such as Pete Seeger musically and Neutral Milk Hotel lyrically. One sings of golden corn and one of carrotflowers. They should collaborate on an album about vegetables.
"Poughkeepsie" is one of those songs that really put you into a different time and place. I felt like I was in a 30's Southern musical. Do those exist? Well, they do now. The album was recorded in the Georgia home of Lynn Bridges and thank goodness it was. Like Will Oldham and Sam Beam, Devendra has captured the feel of the South, just the South of a different time. Just listen to that short guitar song "Tit Smoking in the Temple of Artesan Mimicry". One of my favorite songs on the album is the busiest. "Fall" has more instrumentation than any other song on the album and it is a wonder to listen to. Hypnotic percussion and overlapping vocals make it a unique centerpiece.
Having spent some of his more formative years in Venezuela, Banhart adds a little Spanish to the mix with "Todo los Dolores", another great solo guitar song with one of those human touches that you will either love, or it will piss the hell out of you. He messes up the song in the beginning and has to start over. I found it interesting just to hear what his voice sounds like when he's not in tremolo, but others find that kind of thing cheesy and unnecessary.
"When the Sun Shone on Vetiver" has more agricultural reference. Vetiver is a wild grass used to make aromatherapy oils. The grass is found in Java, Haiti, Japan, Indonesia and South India. It is also the name of Devendra's side project with Andy Cabic (of the Simple Machines) and guests including Hope Sandoval and Colm O'Ciosoig (of My Bloody Valentine). The project is supposed to revolve around the telling of fairy tales to, you guessed it, old-timey music! If he continues to make songs as beautiful as the last track on the album, "Autumn's Child", then he can do whatever he damn well wants.
Similar Albums:
Nick Drake- Time of No Reply
Jeff Buckley- Live at Sin-É: Legacy Edition
Iron & Wine- The Creek Drank the Cradle