The Divine Comedy : Office Politics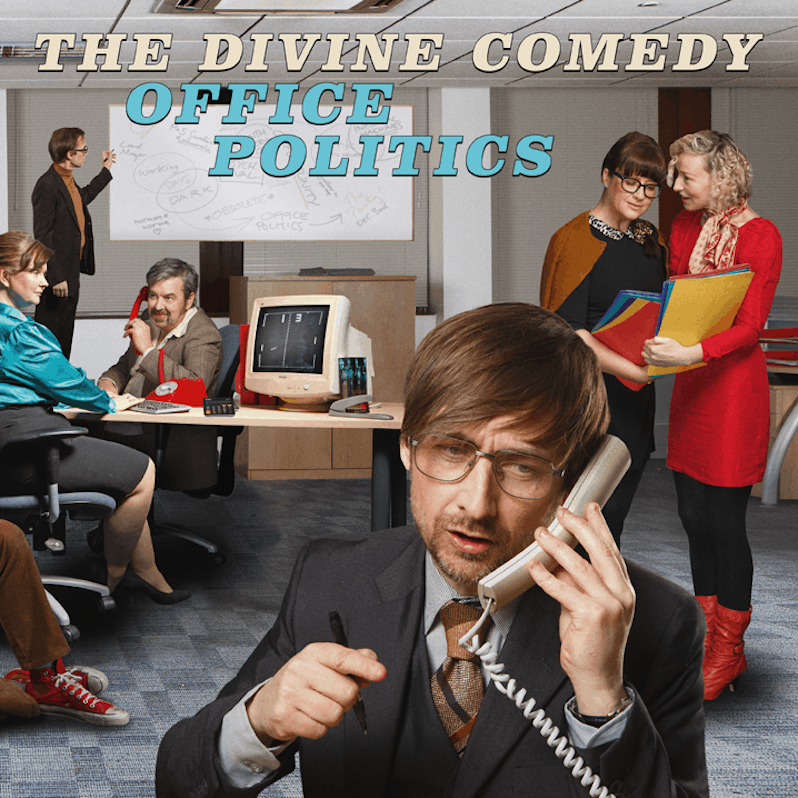 "I'm sorry it's all so crazy," says Neil Hannon, better known as The Divine Comedy, of his new "double album" (even though it all fits onto one CD), Office Politics. "I do try to make normal pop records. But it always seems to wander off into odd territories when I'm not concentrating." And this should come as no surprise. After all, this is the guy who wrote the theme tune to Father Ted and The IT Crowd, the guy who performed a techno version of Noël Coward's "I've Been To A Marvellous Party," the guy who has released not one but two concept albums about cricket, the guy who had a top-ten hit in the UK with a song about a certain British coach company. With Office Politics, Hannon turns his bardic hand to romance by the water dispenser, bringing us PowerPoints and photocopiers, violins and vocoders, synthesizers and songs about synthesizers.
Lyrically, he's on top form as usual, armed with the shrewd wordplay and well-read whimsy we all know and love. The title track is a classic piece of goofy caricature from Hannon, as he makes cartoonish observations of a typical office scene: "Intern chokes on his gooseberry fool / Consternation in the typing pool," or later "See that PowerPoint presentation / Worthy of a BAFTA nomination." It's followed by rhyme-heavy love-song "Norman and Norma," which is an absolute delight, following a pair of East Anglian old flames, whose passion is reignited when they're involved in a Norman and Saxon historical re-enactment in Clacton.
At times, it feels like we're getting an insight into Hannon's personal notebooks. On the Kraftwerk-esque "Psychological Evaluation," Hannon is interrogated by a robot vocoder about his mental state, his musical tastes, his reading habits, perhaps taking aim at the invasive nature of Amazon's Alexa devices. Or there's "Philip and Steve's Furniture Removal Company," which begins with a tape of Hannon having an "idea for a sitcom" while out walking, based on minimalist composers Philip Glass and Steve Reich moaning about the repetitive nature of their work — now, that's something I'd watch.
Synthesizers have not ever featured so heavily before in The Divine Comedy's oeuvre, which has tended more toward acoustic ballads or sophisticated orchestral numbers. But on an album so suspicious of the threats posed to love and happiness by technology and machines, they take an unexpectedly central presence. The '80s-inflected heartbreak ballad "A Feather in Your Cap" tells of an office romance gone south, underscored with a synth palette suggestive of Berlin's "Take My Breath Away." "Infernal Machines" invokes Depeche Mode with its stomping beat, listing off "machines that do this, machines that do that"; meanwhile, "The Synthesiser Service Centre Super Summer Sale" is an electronic clamour of discombobulating burbles and blips, mocking Moog-enthusiasts and their obsession with model numbers. However, this isn't a sign that he's changed his sound completely. If anything, the electronics are used to satirical effect.
The Divine Comedy has perfected not only his distinct brand of orchestral chamber pop, but also that careful balance between silliness and sincerity. With its characteristic charm, scintillating intellect and vibrant absurdity, Office Politics artfully skewers the anxieties of contemporary living, offering a joyous respite from all the headaches and heartaches of the world today.
Similar Albums: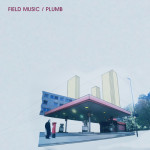 Field Music – Plumb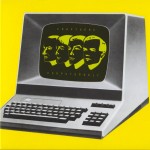 Kraftwerk – Computer World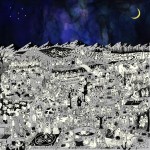 Father John Misty – Pure Comedy