DJ Q – "Trust Again" [feat. Louise Williams]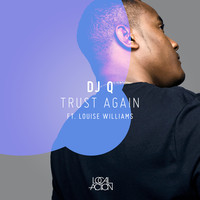 In Endless Playlist, Treble's staff helps you stock your own playlists by highlighting the best new tracks to come across our desks, laptops and ipods each week.
After last year's success with "Brandy & Coke," versatile UK producer DJ Q teamed up again with UK singer Louise Williams for the lead single off of his upcoming full-length debut. DJ Q has honed his user-friendly sound lately by reducing a lot of his flair. On "Trust Again," he brings an updated, uptempo southern groove that benefits from Williams' fluttering vocal performance, which covers up the repetition of the track's pop structure but not the depth of its sounds. Given the push from Q's label, Local Action, that of FACT editor Tom Lea, and the producer's added exposure on BBC radio, we could be hearing more of his consistently above-average output on our side of the Atlantic this year.

(Local Action; out later in Jan.)