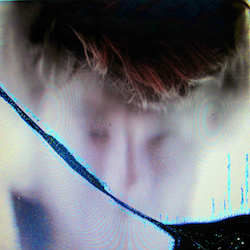 Airick Woodhead's Montreal-based project Doldrums is only the latest in a consistent stream of electro pop that has become increasingly more familiar in recent years. Not to say that the idea of an indie artist inhibiting this style was new even a decade ago, but these days the kind of music Woodhead is behind is almost as commonplace as your typical singer-songwriter. It's an interesting development, which in turn means that artists operating within the genre have to work extra hard to stand out among their peers.
What makes Doldrums so enjoyable is intriguing. Doldrums seemingly takes cues from so many other artists that playing spot the influence with their debut Lesser Evil could too easily turn into a drinking game. The deliberate, yet unusual pace of Woodhead's voice on "Painted Black" recalls Björk, "Lost in Everyone" is infused with the kind of dizzying psychedelia Of Montreal excelled at not too long ago, the spiraling melody on "Holographic Sandcastles" is reminiscent of Animal Collective. Elsewhere, vocal manipulations can bring to mind Thom Yorke, and overall there are definite similarities to the 8-bit pop of Crystal Castles. You get the picture; there's nary a note that goes by that doesn't in some way echo something you've likely heard rather recently. And yet, it all feels fairly inadvertent; to say any of the aforementioned artists even played a role in actually inspiring this record is pure speculation. Once you get past this feeling of déjà vu you realize there really isn't even a weak track to be found on it.
Doldrums gets a lot of mileage out of pop smarts, but Woodhead also gets plenty of mileage out of some pretty stellar production as well. Take "Egypt," for example; amidst the chaotic noises and blips, there is still a lot of air; if things get overcrowded, it's only long enough for Woodhead to build tension.  On "Anomaly," wordless vocal snippets provide a beautiful ambient backdrop to the soaring choruses.  Even the odd decisions — like placing a high-pitched sound approximating a tea-kettle-whistle underneath a slowed down sample at the end of "Golden Calf" — are enduring. These touches often give the album a satisfyingly disorienting quality.
From a lyrical standpoint, Lesser Evil is made up of some fascinating paradoxes. Woodhead has spoken at length about a tale he concocted of a dystopian dream world and it crops up all over the record. Echoing the dizzying, dreamlike music are lines like "if I don't see it it's not there." But countering that, Woodhead purposefully channels his inner naiveté giving his songs a childlike quality. It's these kinds of complexities that help give the record greater dimension. It's also worth noting that parts of the record were reportedly recorded on the laptop of his friend Claire Boucher, aka Grimes. It seems fitting; aside from the obvious parallels the two share with their music, they also both exhibit the same sort of restless, nomadic nature. This nature seeps through in the record's strange, across-the-globe otherworldliness.
Although Lesser Evil represents a very promising debut, one has to wonder where the permanently moving Woodhead will end up next, and if subsequent Doldrums albums will even slightly resemble this one. The record does a great job of capturing the Doldrums at this moment in time and it may be fairly unreasonable to expect him to perfect the sound he beautifully establishes here. That said, no matter what direction he decides to take, Lesser Evil is provides plenty to enjoy for now.
Similar Albums:

Grimes – Visions


Purity Ring – Shrines


Crystal Castles – (III)