Earl Sweatshirt and the Alchemist : Voir Dire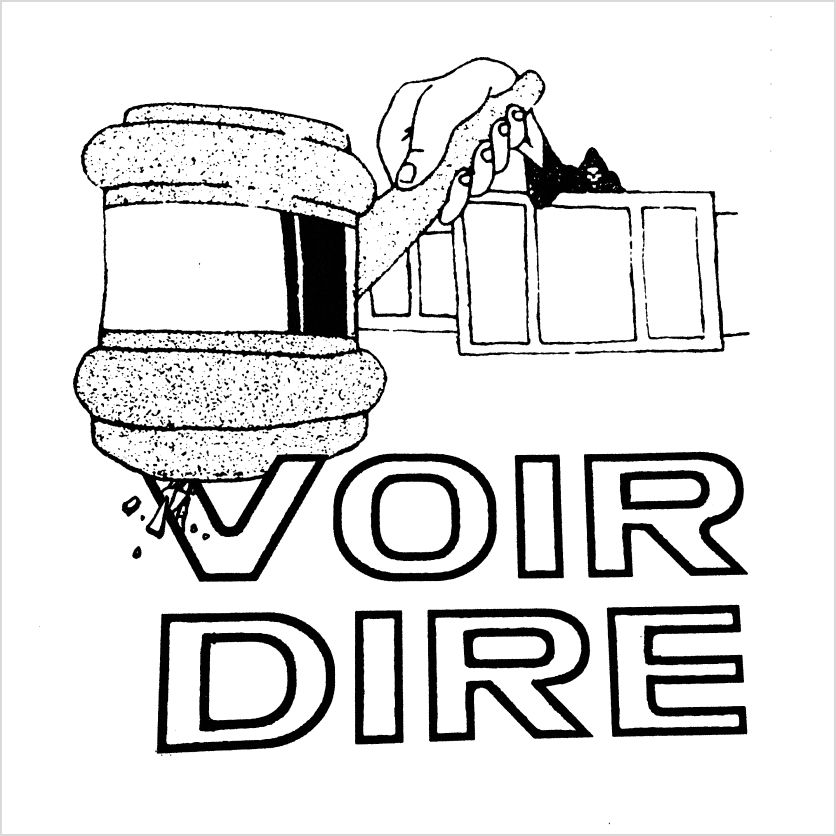 Earl Sweatshirt has done a lot of collaboration for such an insular artist. But the rappers and producers he's worked with have generally played by his rules: slow down, embrace dissonance, and don't be afraid to get a little abstract. The Alchemist is an exception. On all of his past collaborations with Earl—most recently "Old Friend" and "Lye" on Sick!—he brightens Earl's palette and brings balance. Earl's sleepy, but the beats are alive.
Voir Dire, Earl Sweatshirt and The Alchemist's long-awaited full-length team-up, is the first Earl project you could reasonably describe as breezy. These 11 short tracks envelop without oppressing. The mood is far from energetic, but it's also far from either of Earl's last two releases, Sick! and Feet of Clay. Where those records are murky and disorienting, Voir Dire keeps it light. "Geb" and "All the Small Things" sound downright blissful. "My Brother, the Wind" finds placid agreement between woodwinds and a soul loop. "Sirius Blac" is a pastoral stomp. Without any rapping, Voir Dire would still be a rich slice of instrumental hip-hop.
That's not to say Earl isn't at the top of his game. As expected, we get acrobatic musings on overcoming personal demons: "Hosin' down the problem with gin and tonic/ How to stay afloat in a bottomless pit/ The trick is to stop fallin'/ Only option to start with a step, bet," he raps in the breezy "Vin Skully." As on Feet of Clay and Sick!, we get introspection tinted with social commentary in a way that feels organic. "Free the Ruler," an homage to the late Drakeo the Ruler, addresses racist violence: "It's no free rides out here anymore/ But it never really was/ It's not normal, but I swear this shit is regular." What's more novel here is a sly sense of humor. He follows the above bars in "Vin Skully" with a Dewey Cox reference. In "Sirius Blac" he equates two-faced associates with Harvey Dent. And yes, he does quote Blink-182 in "All the Small Things."
Above all else, Earl sounds satisfied. "I'm fully paid, you can keep the fame part," he declares on "Geb." "Mac Deuce" finds him over a twinkling beat in a luxury car in Miami Beach: "I'm on Collins and I'm palmin' paper/ 740 big body driven by my lady." On the lead single, "Sentry," he "had a couple things on my chest/ That's where the demons would sit/ I took a seat at the head/ It's time to eat." At least for the moment, Earl's not running from his demons. He's sharing a meal with them.
If there's a tradeoff here, it's that Voir Dire is missing some stakes. The glitchy obscurantism of Some Rap Songs and Feet of Clay is absent, and there's no collaboration as electrifying as Sick!'s "Tabula Rasa" with Armand Hammer. But that's a sacrifice Earl's willing to make. Here, he's just coasting. No lyrics capture the vibe better than the end of "All the Small Things": "Cherish every moment, let it go/ The cherry on top: the weight off of my heavy soul." Take a load off. Throw on Voir Dire. And let two of the best hip-hop artists in the game drape you in contentment.
---
Label: Tan Cressida/ALC
Year: 2023
---
Similar Albums:
Casey Burke
Casey is thinking about modern hip-hop and 70s rock. He's written for Grandma Sophia's Cookies, Brainchild, Plaze Music and WTJU.