Essential Tracks This Week: Slowdive, MJ Lenderman, and more

We didn't get around to writing up our picks for Essential Tracks last week, so we're doing an extra long one this week. Eight songs rather than the usual five, including a couple from last week that we didn't get around to writing up. When we say Essential, we mean it, even if it means playing a little catch-up. On the docket this week: Shoegaze legends, a victory lap from one of today's best indie rock groups, an MVP singer/songwriter on the rise and a hip-hop duo who can't stop, nor will they stop.
---
Slowdive – "the slab"
Slowdive's self-titled album from 2017, which was their first new album in over two decades, was a master class in how to make a comeback. But six years later, the band continue to find new avenues and textures to explore within their own sound, finding more nuances and extremes in the process. With "the slab," they offer one of their heaviest songs to date, if perhaps not quite as monolithic as "Souvlaki Space Station," but one that feels powerful and massive regardless. There's a constant slow rise and unresolved feeling that keeps the tension high as its buzzing bass repetition ascends toward a climax that never quite feels like a release, but more like a letting go.
From everything is alive, out September 1 via Dead Oceans
---
MJ Lenderman – "Knockin'"
MJ Lenderman's "Knockin'" is technically not a new song, having previously been released on an EP in 2021 in different fashion. Its first recording was more stripped-down and lo-fi, a beautifully homespun tape-hiss ballad that fit in comfortably alongside the gems from his previous album, Boat Songs. Given the clarity of higher fidelity and a new arrangement, "Knockin'" becomes something bigger and more affecting in its new version. The song slowly makes its way toward a heroic coda that loops repetitions of the title track in a nod to Dylan and The Band that comes paired with some gorgeously powerful guitar work. This makes two incredible standalone singles from the singer/songwriter and Wednesday guitarist, and something tells me he's got a bit more up his sleeve.
Out now via Anti-
---
Raw Poetic – "Dank Ish"
To call Raw Poetic "jazz rap" seems almost redundant, given that emcee Jason Moore is the nephew of the legendary Archie Shepp—with whom he's also collaborated. Still, "Dank Ish" is jazzy boom bap with a twist of Native Tongues and Pete Rock, a laid-back and effortless slice of summertime hip-hop that finds Moore sipping on a drink only to find himself musing about a journey to Africa. It's the stuff of daydreams and good vibes, a warmly vintage sounding standout that feels only natural arriving on the week that hip-hop officially turns 50.
From Away Back In, out August 25 via Def Pressé
---
Daniel Villarreal – "Sunset Cliffs"
A fitting back-to-back with the new Raw Poetic song, Daniel Villarreal's new single is wonderfully breezy jazz for balmy summer nights. After a spectacular solo debut last year with Panamá 77, Villarreal returns with a batch of improvised companion pieces recorded as a trio with Jeff Parker and Anna Butterss, and "Sunset Cliffs" is a testament to their fluid musical language—spacious, beautiful, yet approachable in its freeness.
From Lados B, out October 6 via International Anthem
---
Armand Hammer – "Trauma Mic" (feat. Pink Siifu)
Armand Hammer's never leaned away from abrasive or abstract sounds, but they've never quite achieved the cacophony of industrial rap. "Trauma Mic" changes all that, built on a backdrop of clanging metal beats and deep, rumbling sub-bass, kicked off with an ominous warning from Pink Siifu: "Calling all motherfuckers who don't keep they word." DJ Haram's menacing production is a fitting soundscape for one of their most intense and confrontational singles to date, turning Tom Tom Club lyrics into not-so-veiled criticisms, expressing irritation at too-prolific emcees and invoking Biblical imagery in particularly bleak visions. Between this (literal) banger and their recent collaboration with Shapednoise, Armand Hammer are embracing noise, and it sounds spectacular.
From We Buy Diabetic Test Strips, out September 29 via Fat Possum
---
Mary Lattimore – "And Then He Wrapped His Wings Around Me" (feat. Meg Baird & Walt McClements)
Mary Lattimore's previous album, 2020's Silver Ladders, was a source of great beauty in a time of anxiety and confusion—which is perhaps true of every album she's released thus far. Her form of celestial ambient music made primarily through an acoustic instrument, the harp, always tends to feel otherworldly and magical despite its organic source, and "And Then He Wrapped His Arms Around Me" is no different. Featuring vocals from Meg Baird, who released her own stellar album earlier this year, as well as additional instrumentation from Walt McClements, the leadoff track from her upcoming Goodbye, Hotel Arkada is a blissful blanket of sound, at once soothing and transcendent.
From Goodbye, Hotel Arkada, out October 6 via Ghostly
---
Open Mike Eagle – "WFLD" (feat. Eshu Tune, Still Rift, Video Dave)
Less than a year after A Tape Called Component With the Auto Reverse, Open Mike Eagle continues riding a high on a stellar posse cut featuring Still Rift, Video Dave and Eshu Tune, aka Hannibal Buress (with whom Mike has collaborated in the past to fantastic results). "WFLD" rides a woozy and surreal beat from Kenny Segal that feels a little like a warped tape getting chewed in the deck, as Mike delivers a chorus with its own humorously loopy playfulness: "Particles move shit but waves got the energy/Pinky can get it cracking but Brain's got the memory." He sounds like he's having a hell of a lot of fun with wordplay, and that always results in an unstoppable track.
From Another Triumph of Ghetto Engineering, out August 25 via Auto Reverse Records
---
Ratboys – "Morning Zoo"
We don't have a rule about how many times a band can show up in Essential Tracks during the same album cycle—we tend to play it fast and loose with this stuff. But I'll freely admit that we've been seeing a lot of Ratboys in this space of late. Such is the burden of releasing one of the best albums of the year (just you wait—lots more to say about this one). "Morning Zoo" finds the band tackling gorgeously twangy alt-country with the same pop prowess as their jitteriest, jangliest rock songs. Ratboys are truly on a roll right now and it's a thrill to sit back and watch.
From The Window, out August 25 via Topshelf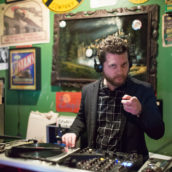 Jeff Terich
Jeff Terich is the founder and editor of Treble. He's been writing about music for 20 years and has been published at American Songwriter, Bandcamp Daily, Reverb, Spin, Stereogum, uDiscoverMusic, VinylMePlease and some others that he's forgetting right now. He's still not tired of it.