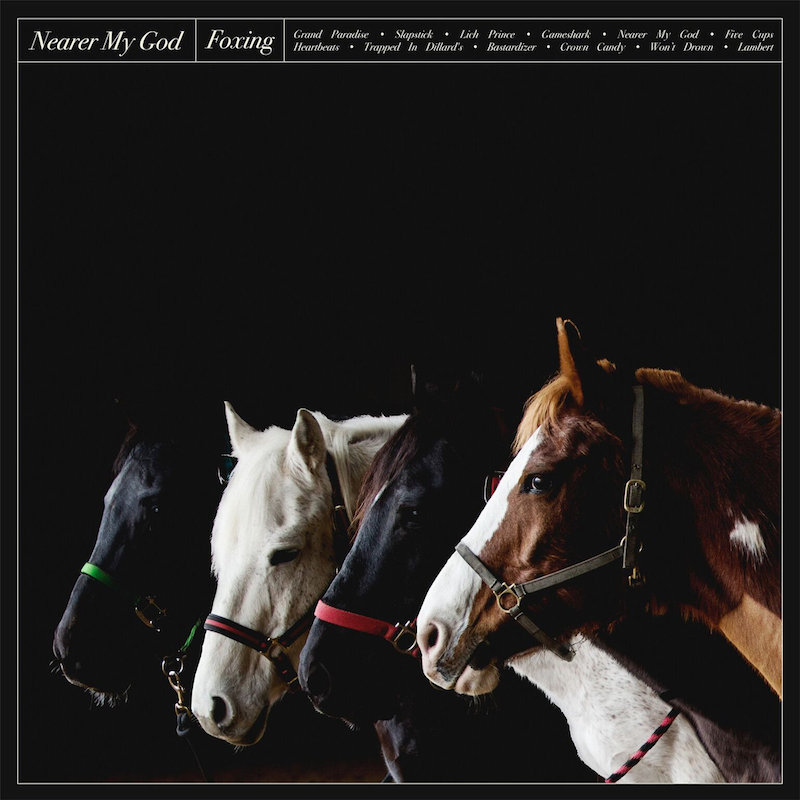 Foxing are an ambitious band, and that hasn't changed on their third album. If anything, they're aiming higher. Through a dynamic combination of synth laden and hesitant but fulfilling soundscapes, on Nearer My God Foxing once again find themselves between the realms of art rock and emo. The band's trajectory and measured growth is so much more interesting those simple genre designations, however. Through their concerted effort, they don't just leave genre as a whole, the obliterate it.
Nearer My God opens with "Grand Paradise" which is teeming with electronic laced harmonies that burn gently alongside reverb that descends into drone like peril, before breaking into an explosive and utterly chilling second movement. This is the opener that bands dream of writing, effortless and encapsulating the aesthetic of the album. But it's not just the opener that whips, it's the single that slays. "Slapstick" continues more of synth-focused soundscapes that emerged in Foxing's recent endeavors. It's also a song that betrays expectations, subverting prior tropes of expected push/pull and quiet/loud dynamics that are instead so much more intricate and layered here. When it finally gets loud, it gets loud in shining, concussive fashion. Somehow blending one part arena rock and one part post-rock hymns into vulnerable and anxious grandiosity.
All of this is possible because of frontman Connor Murphy's gorgeous vocals and lyrics that remain cryptic and evocative. "Lich Prince" benefits from Connor Murphy's dulcet and quivering vocals, where every strained or serene pitched vocalization tells a story of creeping dread. This is also used to manic effect, shifting vocals like chameleon when called for. The rest of the band are no slouches, amazingly playing parts that shouldn't fit or complement each other. It's sheer art-rock wizardry—Talking Heads' innovation intertwined with Sunny Day Real Estate-sized anthems. And perhaps that's too easy, because as much as there's appropriate measures critically to introduce and discuss Talking Heads inspirations, that doesn't do the album proper justice. Especially on "Gameshark," with its anxious tethering rhythms fed by plump bass lines and choral harmonies coursing alongside oceanic guitar progressions, always relying on the breadth of silence to transition every messy moment into something even larger than the last.
If there's any connective tissue throughout this album that heralds a bold progression into their career, it's the liberal use of synth. The title track uses a booming and at-times ethereal synth tracked against a reflective, gushing reverb with twinkly endless notes and a crescendo of extreme proportions noted by thundering drums. Foxing is deliberately experimenting with pacing throughout, finding comfort in the unusual. "Five Cups," the nine-minute epic, buffers the middle of the album with a promising first half and subtly slides into a disjointed second half that feels too long, probing without any significant sonic commitments. It's a rare misstep where only time and repeated listens could unveil its hidden contours. "Heartbeats" find the band square in glorious noise-pop territory, with a hypnotic chorus of "woah-ohs" as the track drifts between wanting to fall to bedlam and proceed into sheer pop elation. Closing track "Lambert" is the most intense on the album, moody, as interested with the sounds around the song as it is with the composition of the mostly synth-led progression. It also continues the emergent style of Foxing sewing two songs together to create a single piece, tying it back around with a familiar harmony or verse to make something deeply fragmented appear seamless.
Huge in scope, weird and possessed by an identity that was cultivated out of genuine passion and refined love of their craft, Nearer My God is an effort of the soul. It's further evidence of Connor Murphy and company's ability to forge a path apart from so many contemporary guitar-based bands and, above all, their own.
Similar Albums: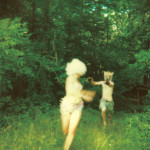 The World is a Beautiful Place… – Harmlessness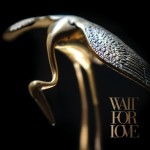 Pianos Become the Teeth – Wait for Love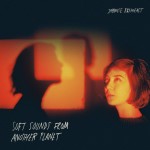 Japanese Breakfast – Soft Sounds from Another Planet