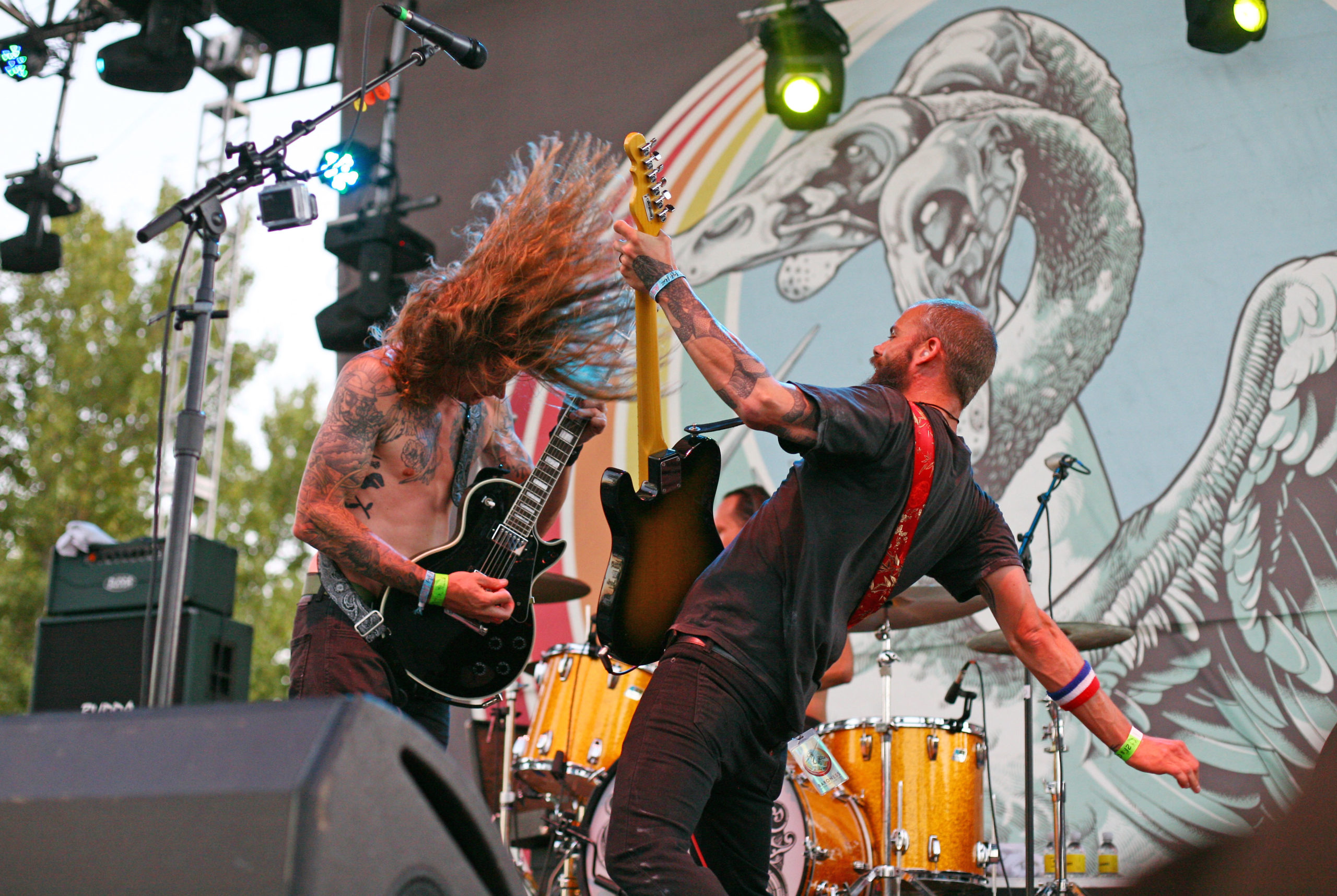 Sunday
Mac DeMarco
3:35 – Miranda Stage
Mac DeMarco pulls off the stoner goofball thing effortlessly, probably because, in real life, he's a stoner goofball. He and his band cover "Takin' Care of Business" with some regularity (as they did on this sweltering Sunday afternoon in Los Angeles), let out the occasional belch and tend to go through their set with goofy grins permanently carved on their faces. But all in all, DeMarco's style of jangle pop is a laid-back treat rather than packed with outright rippers. Not that they aren't there — DeMarco's live renditions of "I'm A Man" and the title track from last year's Rock and Roll Night Club were particularly blazing. Yet his other album from last year, 2, arguably has the better songs, and though "Ode to Viceroy," "Cookin' Up Something Good" and "Annie" are pretty chill on the whole, they made a swell-sounding welcome to that dusty, smoke-filled field.
Chelsea Wolfe
4:45 – Miranda Stage
Chelsea Wolfe's music shouldn't be performed under direct sunlight. It's such a dark, sinister form of art, so romantic and eerie that it sometimes feels like the kind of music that only belongs in the presence of tall, gothic candelabras. Still, Wolfe made her post-punk-folk work even if the natural atmospheric elements worked against it. It helps that Wolfe's live show is a carefully planned piece of art, itself, an introductory orchestral piece setting a blood-chilling mood for a powerful series of songs to follow. Wolfe — the only member of her band not dressed entirely in black — delivered an almost surreal performance, her powerful voice guiding a series of tracks from Apokalypsis and her outstanding new record Pain Is Beauty, including standout "We Hit a Wall." At a certain point she held up two sheets of flowy fabric draped along the sides of her dress, the image of which lent her the appearance of a bat, or even some kind of punk rock angel. Sunlight be damned, Wolfe sold that mid-afternoon show, and the backstage company — which included members of Baroness and Deafheaven — confirmed I was in the right place.
Kurt Vile
5:25 – Carrie Stage
A pretty sizable helping of the songs on Kurt Vile's new album, Wakin on a Pretty Daze, surpass the six-minute mark. And several go even longer than that, making them less than optimal for an abbreviated festival set. Not that Vile seemed to be all that concerned about it, kicking off a 35-minute set with "Wakin on a Pretty Day," the 9-minute opener from his new album. Yet Vile and his band The Violators, wind sweeping their long, flowing locks as they settled into their hazy groove, maintained a pretty upbeat pace, shaving a minute or two off that track before transitioning into "Jesus Fever" from 2011's Smoke Ring For My Halo, a handful of other tracks from Vile's latest album, and 2009's "Freeway." Vile, eternally chill and never one to opt for a big, dramatic gesture when simply a pretty one will do, closed his set on his own with no backing, plucking out a breezy "Peeping Tomboy" beneath the California sun.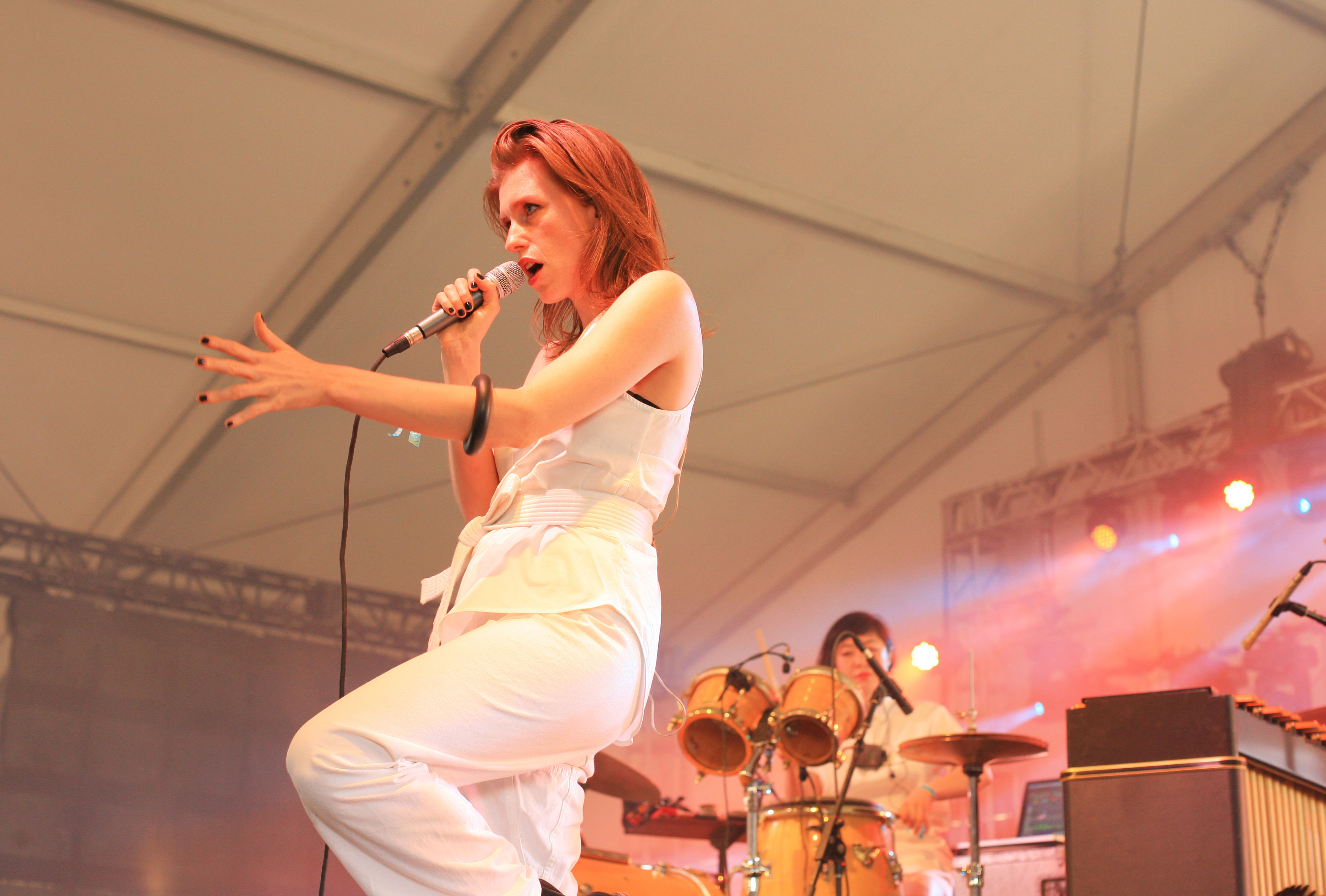 Glasser
6:20 – Samantha's Tent
With an as-of-yet untitled second album on the horizon, Glasser's Cameron Mesirow gave her audience — already hyped up from a DJ set of '90s R&B jams — a delicious taste of what she's been cooking following 2010's Ring. Performing with just a sampler and a percussionist, Mesirow crept and slid across the stage with slow, deliberate choreography, heightening the drama of her already ambitious, Björk-like sound. She and her sole bandmate were both clad all in white, which is a stark contrast to her performance at SXSW in 2011, she and her other fellow musicians draped in elaborate outfits. When an old favorite did show up in the set, however, it typically sounded a bit different than how listeners might remember it, in particular "Apply," which had its booming tribal percussion stripped away in favor of an ethereal dirge. But Mesirow, fully committed to the impassioned vocal performance — tics and all — reminded us all just how damn good that song is.
Baroness
7:05 – Miranda Stage
Baroness were scheduled to perform last year at FYF Fest, plans that were unfortunately sidelined just a few weeks beforehand when their tour bus crashed in the UK. The band spent the next six months recovering, unable to perform live, among other things, and while frontman John Baizley mentioned this fact, apologizing for the missed date, he downplayed the severity of the year they had, instead wrapping it in some good-natured self-deprecation and saving his energy for a fiery set of standouts from Yellow and Green and Blue Record. Set against a backdrop of a three-skulled swan, designed by Baizley himself, the Philadelphia-via-Savannah band tore their way through instrumentally intricate rippers, hitting heavy right off the mark with "Take My Bones Away," pairing hardcore intensity with Iron Maiden-style riff harmonization in "A Horse Called 'Golgotha'" and veering into epic psychedelic territory with "Cocainium." It was my second time seeing the band over the weekend, and I still wanted more. It feels good to have Baroness back onstage again.
Beach House
8:00 – Carrie Stage
In a setting as large as the Los Angeles Downtown Historical Park, in front of thousands of people, on a stage that could comfortably fit several of the bands' tour buses, a band like Beach House just shouldn't work. Their music is built on such subtle sounds, dreamy and gentle, that one would think they'd get swallowed whole by the sheer expanse of it all. Thankfully, that wasn't the case, but even more miraculously, they turned out to be one of the more powerful acts on Sunday evening, surrounded by twinkling lights and a waterfall lighting rig behind them. On a sheerly visual level, it seemed magical, a perfect counterpart to the gorgeous dream-pop that Victoria Legrand and Alex Scally create together. Their set, built largely of staples from their last two albums, 2010's Teen Dream and Bloom, positively beamed with sonic delights. With tracks like "Norway," "Wild" and "Lazuli," they sounded truly gorgeous, and I, for one, was pleasantly surprised at just how well a festival setting suits them.
Les Savy Fav
9:30 – Miranda Stage
For the most part, with any festival you're forced to make some scheduling choices and if you're not as entertained as you could be, you can always move on to the next thing. But when two kickass artists are in competing slots and you don't want to step away from one, it can create a kind of existential crisis. Initially, the plan was to see four or five songs of Les Savy Fav's set before heading over to groove with Solange, but since the band was running so late, that didn't work out as well as planned. Still, those couple of songs that I did see, both from 2010's Root For Ruin, were plenty kickass, a high-energy backing for Tim Harrington's characteristic antics. The singer, wearing a silk robe and a feather boa, maintained his reputation for being a ham, which is part of what makes the band so damn fun in the first place.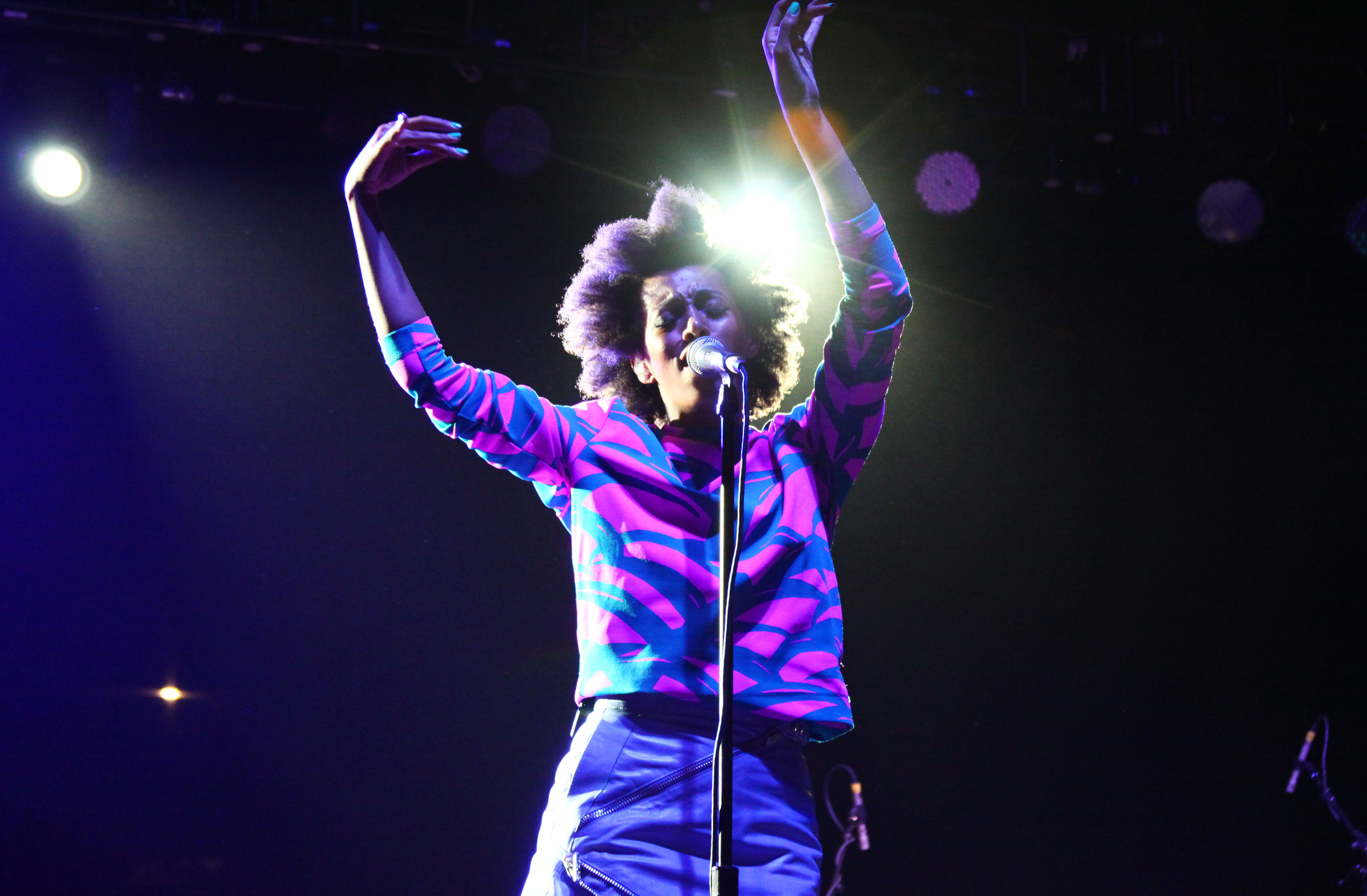 Solange
9:50 – Charlotte Stage
Abandoning Les Savy Fav early in their set to see Solange was a decision that didn't come without a little bit of reservation, but it also paid off handsome dividends, thanks to a few important factors. First of all, Solange is a natural performer, part of a showbiz family that seems to have all been born with musical talent in their veins. And second of all, Solange had the funkiest band to hit any stage the entire day, delivering lots of dance-heavy rhythms and heavy-hitting slap bass. Comprising mostly selections from her recently released True EP, Solange's set didn't offer too many glimpses of her new album to come, presumably later this year. Not that I'm complaining — I came to dance my ass off to "Losing You" and "Locked In Closets," and Ms. Knowles certainly provided a wonderful opportunity to do so. A charismatic firebug, Solange breathlessly transitioned from saying hi to her mom, who was watching from the front of the crowd, to coaxing the crowd into starting the world's largest grind session. If that weren't already a strong enough start, she worked in her cover of Dirty Projectors' "Stillness Is the Move," as well.
My Bloody Valentine
10:45 – Carrie Stage
What would have been a triumphant end to a fun, noise-filled weekend didn't get off the ground without some fits and starts. My Bloody Valentine, who just earlier this year released mbv, their long-awaited (22 years!) follow-up to 1991's Loveless, reminded fans and showed first-timers just how brain-splatteringly loud they are with a booming trip through set opener "I Only Said," which transitioned into a series of tracks plucked from throughout their catalog, including new favorite "New You" and classics like "When You Sleep." But somewhere around the badass rocker "Only Shallow," the sound cut out. And, frustratingly, it happened twice more before the band announced they were taking a five-minute break to assess the problem and get it fixed.
Staying true to their word, Kevin Shields & Co. reappeared onstage in just a few minutes, ready to unleash their jet-engine shoegaze guitar assault again with the danceable, even sorta funky standout "Soon." And thankfully, the band lost none of their volume in the process. I hope, for everyone else's sake, they took advantage of those free earplugs.