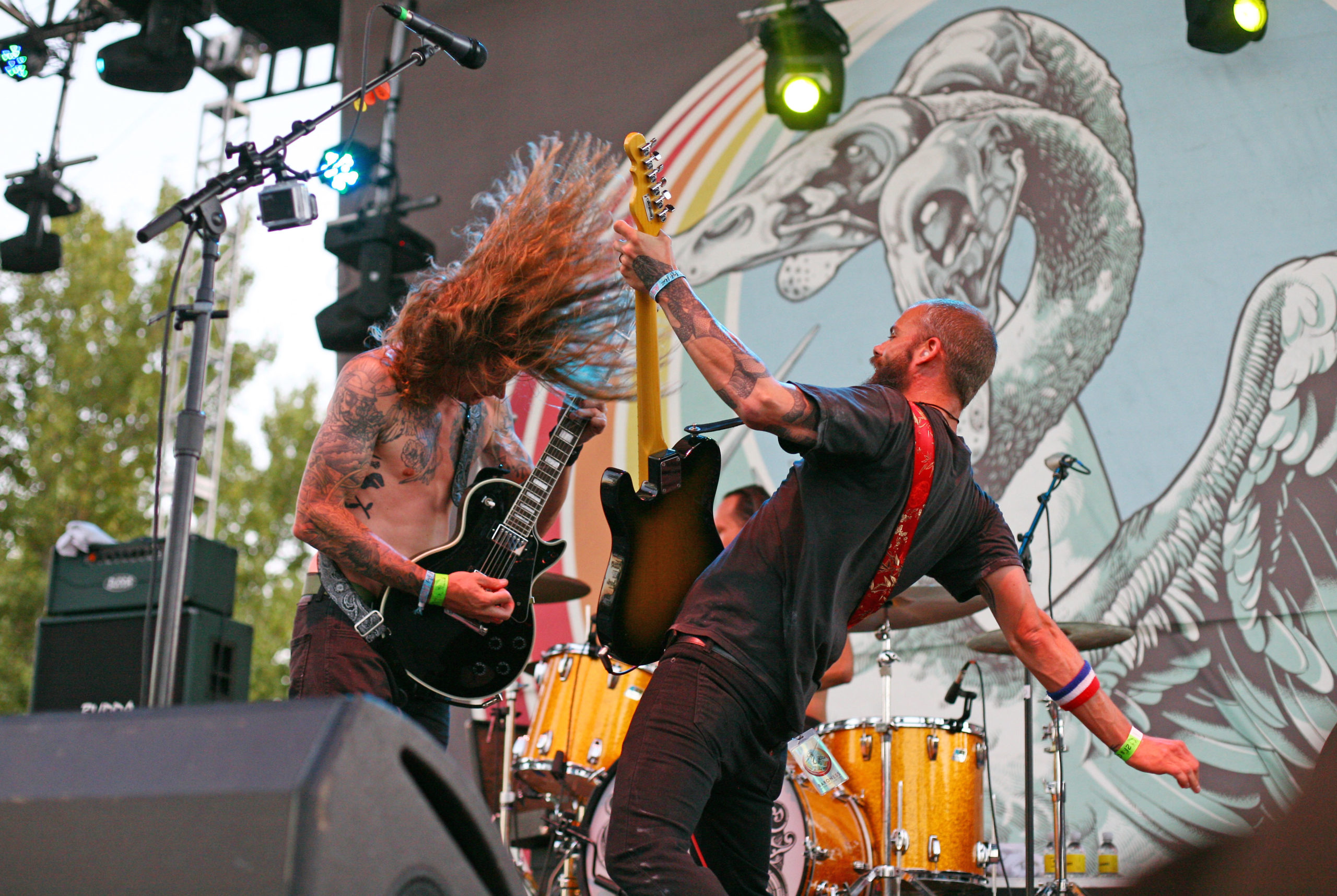 The bloom, blossom and outright overabundance of music festivals occasionally leads to some difficult decisions for music lovers planning their summer vacations around which bands are filling up parks, polo grounds or fields. On the weekend of Aug. 24 and 25, the number of options in North America alone made for tough decisions. Death, Danny Brown and Chuck D were heading up the Afropunk Fest in Brooklyn, while a reunited Replacements, Rocket From the Crypt and Dismemberment Plan were on the bill at Riot Fest in Toronto. Certainly, there was the option to watch Miley Cyrus grind her tuchus up on Robin Thicke's junk on the VMAs, if that's your thing, but Treble packed up the car and drove up to Los Angeles to catch two days of amazing music at FYF Fest.
In its 10th year, FYF Fest has come a long way from its humble, DIY beginnings. Where once the big name on the bill would be No Age, now it's acts like My Bloody Valentine. Spread out across four stages, named for Sex in the City characters for some reason, FYF provided a weekend of amazing music and good times, no matter how much dust we inhaled. (Cough) It was worth it.
Coverage is as follows — Saturday write-ups: Donny Giovannini; photos: Joe Calixto. Sunday write-ups: Jeff Terich; photos: Candice Eley.
Saturday
Lemuria
2:30 – Miranda Stage
Lemuria cut the ribbon on FYF Fest with a coy charm that melted away any pre-festival ice. Guitarist/vocalist Sheena Ozzella spent the first song with her knees locked together and bangs over her face before getting loose on the following cut, "Dogs" off their 2008 album, Get Better. Between the teenage Leonardo DiCaprio photo on the speaker, and bassist Max Gregor's faded "Texas" t-shirt, the group rocks a nostalgic '90s Americana aesthetic that jives well with Ozzella's girl-next-door demeanor. The lyrics to "Mechanical" even worked as a fitting distinction from the hardcore, rage-inducing acts that would later rip up the Miranda Stage: "I'm not like you, I get comfortable."
Waxahatchee
3:20 – Miranda Stage
After listening to 2013's Cerulean Salt a few times I was a bit ambivalent about Waxahatchee — going into Saturday I figured her live performance would either confirm my doubts or get me listening again. Onstage, her demeanor mirrored her studio personality quite well: she was emotionally guarded behind sunglasses and let out a shy smile or two between songs. Her lyrics became far more engaging with a face to match to all that emotional plight — lines such as "I'll wonder what you're doing but I won't call" were flat on record but captivating coming from the confident, young Brooklynite. If listening to Waxahatchee's albums is like reading an abandoned diary, Saturday's set added just enough color to the author to make me want to reread some of those entries I skimmed the first time around.
Mikal Cronin
4:00 – Carrie Stage
Mikal Cronin snagged the first set worth seeing on the grounds' main stage and opened his act with three cuts off his 2011 debut ("Is It Alright", "Situation" and "Apathy"). The rest of the set mostly featured material off his 2013 power pop joyride, MCII. Playing alongside two guitarists and a drummer, Cronin's songs took on a different color than their hi-fi studio counterparts — a great choice considering that the piano and viola melodies probably wouldn't have held their shape in the open-air festival setting. While some of Cronin's songs are certainly high energy, the angsty moshing that took place during "Weight" felt out of place, and when the amps did get turned up during a distorted jam session on top of "Change," the crowd was curiously placid. Confused fans aside, Cronin ended the set on a high note by putting his beach twang touch on Wreckless Eric's "(I'd Go The) Whole Wide World."
Underachievers
4:25 – Miranda Stage
Because of overlap with Cronin, I knew that I'd have to miss about half of the Underachievers' set. An unfortunate situation to begin with, but I got really confused when rap duo said "Alright this is our last song" right as I got to the stage. I didn't doubt the statement when the spacey "Herb Shuttles" beat began — a true banger and obvious choice for the closing track. The Brooklyn emcees Issa Dash and Ak each tear into the lyrics at a fever pitch; Ak hits top speed by leaning into the mic, neck veins popping, while Issa Dash looks a bit more collected, controlling his complex rhyme patterns with nonchalance. After "Herb Shuttles" the group realized that they did indeed have some time left on the game clock, so they played a couple more cuts off Indigoism before conceding "We usually end with 'Herb Shuttles,' but we did it earlier so we're gonna do it again." Luckily the track warrants a replay and the crowd was even more energized the second time around.
Ty Segall
5:00 – Charlotte Stage
Before Ty's set my friend and I debated whether or not he would be playing material off his recent, mellowed-out LP Sleeper, or the slightly older yet far more aggressive cuts off Twins and Slaughterhouse. That question was answered before the music even began as Ty and his three bandmates walked onstage and promptly sat down, instruments in hand. Having only listened to the Sleeper album a couple times via NPR, I was surprised by how familiar so many of the songs felt — a testament to Ty's songwriting chops and cool-as-ice stage presence. Ty wrapped up his Sleeper performance with "The West," a track that pairs a more Southern-tinged jangle with lyrics that are part homage to classic rock and part genuine introspection; "Where do I go home? / Is it here? / Is it here in the West?" At only 35 minutes, Sleeper doesn't quite have enough material to fill an entire set, so Ty hand-picked two cuts off 2010's Melted ("Caesar" and "Girlfriend"), one off Twins ("You're the Doctor"), and closed with a cover of Love's "Live and Let Live." For one of today's most prolific artists, this set was proof that not only is Ty Segall still at the top of his game, he's exploring new sounds and territories to entirely satisfying ends.
Joyce Manor
5:45 – Miranda Stage
In most cases I'd say it's unfair to judge a band by their audience, particularly at a festival where people find themselves at a stage due to adjacent acts or proximity to a tasty food truck. That being said, I really can't take Joyce Manor seriously after seeing scores of braces-clad teens elbow-bumping, crowd-surfing, and screaming emo lyrics with a ferocity that they've only fantasized about unleashing on their over-bearing parents. After noticing one of the fans tossed up a homemade bracelet and t-shirt, lead singer Barry Johnson responded in the most pseudo-punk way possible: "That was very nice and thoughtful of you." Really? A bracelet? Not quite the accessory I would expect from a band that sings, "I torch up your house while your kids are at home."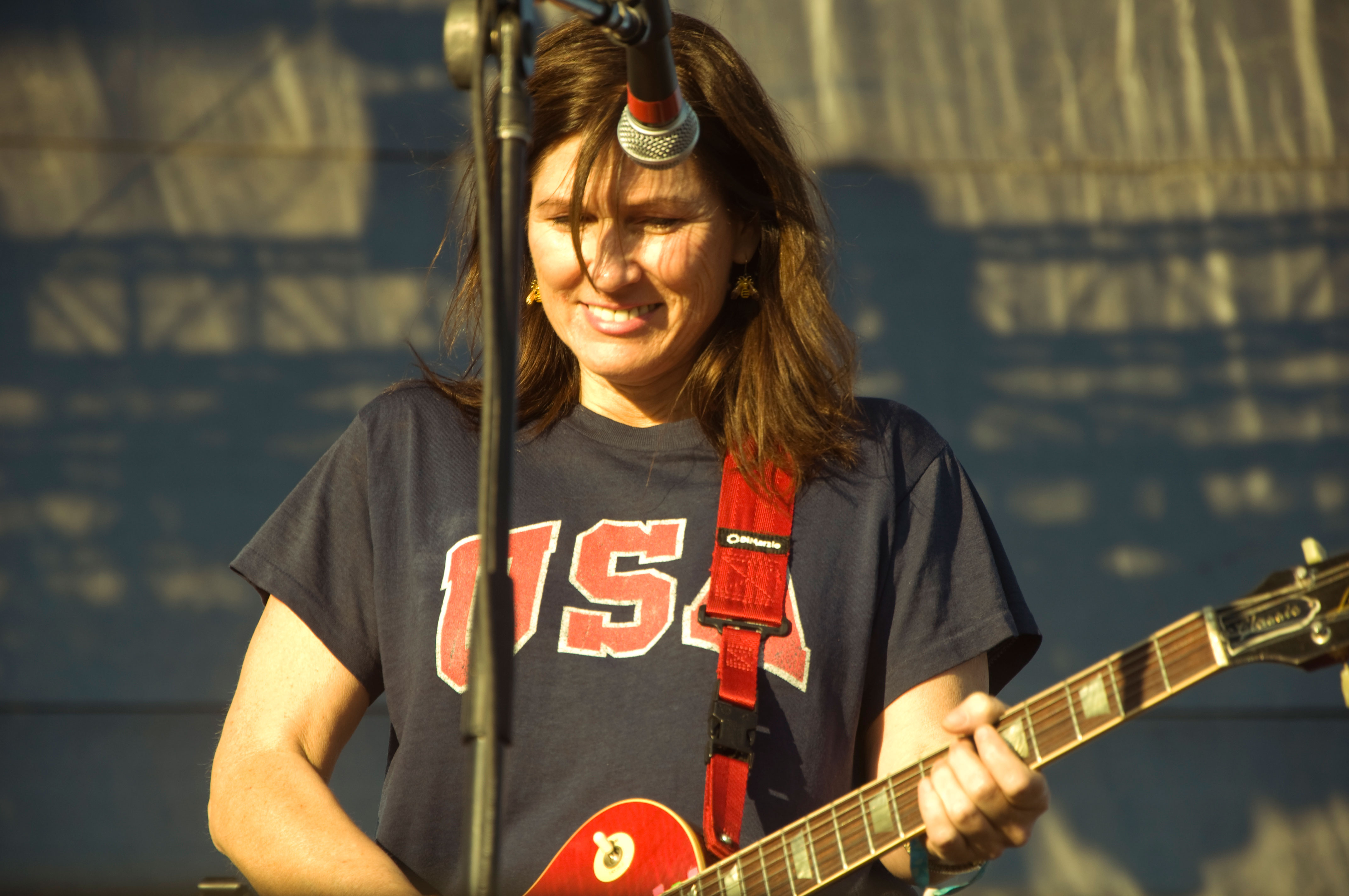 The Breeders
6:30 – Carrie Stage
To celebrate the 20-year anniversary of Last Splash, The Breeders were slated to perform the entire album during their set, front to back. For the sake of maintaining some element of surprise, the group started things off with a cover of Guided By Voices' "Shocker In Gloomtown" before rolling into the intro track, "New Year." In a normal, free-form concert setting The Breeders might have opted to save the next few tracks for the end of the set, but with the agenda already written in stone Kim Deal blazed through "Cannonball," "Invisible Man," "No Aloha" and "Roi" in quick succession. Even after more than 25 years of performing, Deal's confidence and cool swagger catalyzes the sex appeal that flowed through these tracks in the '90s. Continuing with the mini-surprises, Deerhunter singer Bradford Cox came out in a lime green polo and khaki slacks to sing the chorus of "Saints" after crouching down during the song's verses so as not to distract from the billed act. Following an emotional take on the album's anchor, "Drivin' on 9," The Breeders ended with Pod's "Fortunately Gone," which may not have been the most crowd-pleasing selection, but did seem to capture the bitter-sweet vibes that come with an anniversary tour.
Deerhunter
7:55 – Carrie Stage
Deehunter frontman Bradford Cox is quite the enigma. A true social contrarian, Cox is on a constant mission to defy expectations, skillfully devolving all of his interviews and features into yet another warped episode of the Bradford Show. Because of this regular lack of genuineness, I made sure to pay extra close attention to Bradford as he huddled up with his band before going on stage. Although I could only spy on them for a few moments, the glimpse felt real and refreshingly candid as Bradford took on a confident, managerial posture, far from the awkward, iconoclast image he paints underneath the spotlight.
Once onstage, that rebellious image was as vivid as ever with Bradford sporting a black and white cheetah print dress with a zebra shawl and black wig to match. The group ripped through "Agoraphobia" and "Neon Junkyard" before Cox pulled out an all-gold guitar for "Don't Cry." Lockett Pundt, who's matured under his Lotus Plaza solo act, carried the lead vocals for the sprawling "Desire Lines" from 2010's Halcyon Digest. Later in the set Pundt and Cox traded guitar solos during what had to have been at least a 10 minute jam session on the back of "Nothing Ever Happened." The routine ended with a string of three consecutive cuts from this year's LP, culminating with the killer title track of Monomania. After hiding underneath his black wig the entire set, Bradford dramatically ripped it off while singing "There is a man! / There is a mystery whore." Behind all of his charades, facades, and characters, there is a man; granted, that man rarely surfaces, but his enduring ambiance makes Deerhunter one of today's most engaging and infinitely interesting acts.
Thee Oh Sees
8:45 – Miranda Stage
Once the sun was completely set, it was time for the dust to fly as fans got rowdy for San Francisco garage rockers, Thee Oh Sees. The veteran group has a deep discography of 11 official studio albums, so I wasn't surprised when the selections were a bit short on this year's offering, Floating Coffin. Lead singer and guitarist John Dwyer did blast through "Strawberries 1 + 2" from the new LP, the second half of which provided one of the few down-tempo breathers of the entire performance. As a complement to his high pitch delivery, Dwyer has really perfected a collection of glass-shattering yelps and whoops that he throws into his live act, seemingly to a much more frequent degree than on record. There would be no whooping during the finale, however. Thee Oh Sees wrapped things up with "Minotaur," the Pixies-leaning, anti-white-collar ballad that's beautifully lifted by Brigid Dawson's sultry "la-la's".
TV On The Radio
9:15 – Carrie Stage
Most people who had a problem with TV on the Radio's most recent effort, Nine Types of Light, thought the full-length was a disappointingly twee and pop departure from the band's previous work. From the sound of the new single, "Mercy," TV on the Radio seem to be driving against that conception with an up-tempo, aggressive anthem in line with cuts from Return to Cookie Mountain. Rocking the main stage, lead singer Tunde Adebimpe got his fingers busy on some synth tones in the middle of "Repetition" and also noodled around with the instrument as an intro to "Wolf Like Me." The loopy melodies made the band sound more hip-hop than ever, tip-toeing toward The Roots' territory before pulling back into full-out rock mode for the closer, "Staring at the Sun."
FLAG
9:55 – Miranda Stage
Despite the lineup controversy and name disputes, the Black Flag cover group FLAG rocked the Miranda stage on Saturday night, stirring up some of the most intense crowd hijinks of the entire festival. Most moshers seemed to be having some good-natured fun, but a few pairs of wild eyes made me question the extent of L.A.'s meth problem (although that's probably a side-effect of me watching too much Breaking Bad). Anyway, lead mayhem-inducer Keith Morris absolutely crushed his vocals with so much spunk and tenacity it's hard to believe he's really 57 years old. Before ripping into the timeless anthems "Six Pack" and "Rise Above," Morris compulsively rubbed down his arms and his face; a ritual that must have scraped away years of touring dormancy, exposing a core that sounded as ripe on Saturday as it would have in '81.
Yeah Yeah Yeahs
10:45 – Carrie Stage
Honestly, I missed out on most of the Yeah Yeah Yeahs' set. I showed up late after barely making it out of the FLAG pit alive and then left early to hustle across the grounds for Death Grips. What i did see, however, encapsulated a nice sampling of the group's career arc with three consecutive album openers: "Rich," "Gold Lion" and "Zero." Karen O was in her usual, crazier-than-thou form, engaging with fans and constantly striking punk rock poses, most of which seemed to involve hip thrusts and dramatic hand raises. For a band with such a wide range of musical styles over the past decade, their live act is just crazy enough to string it all together.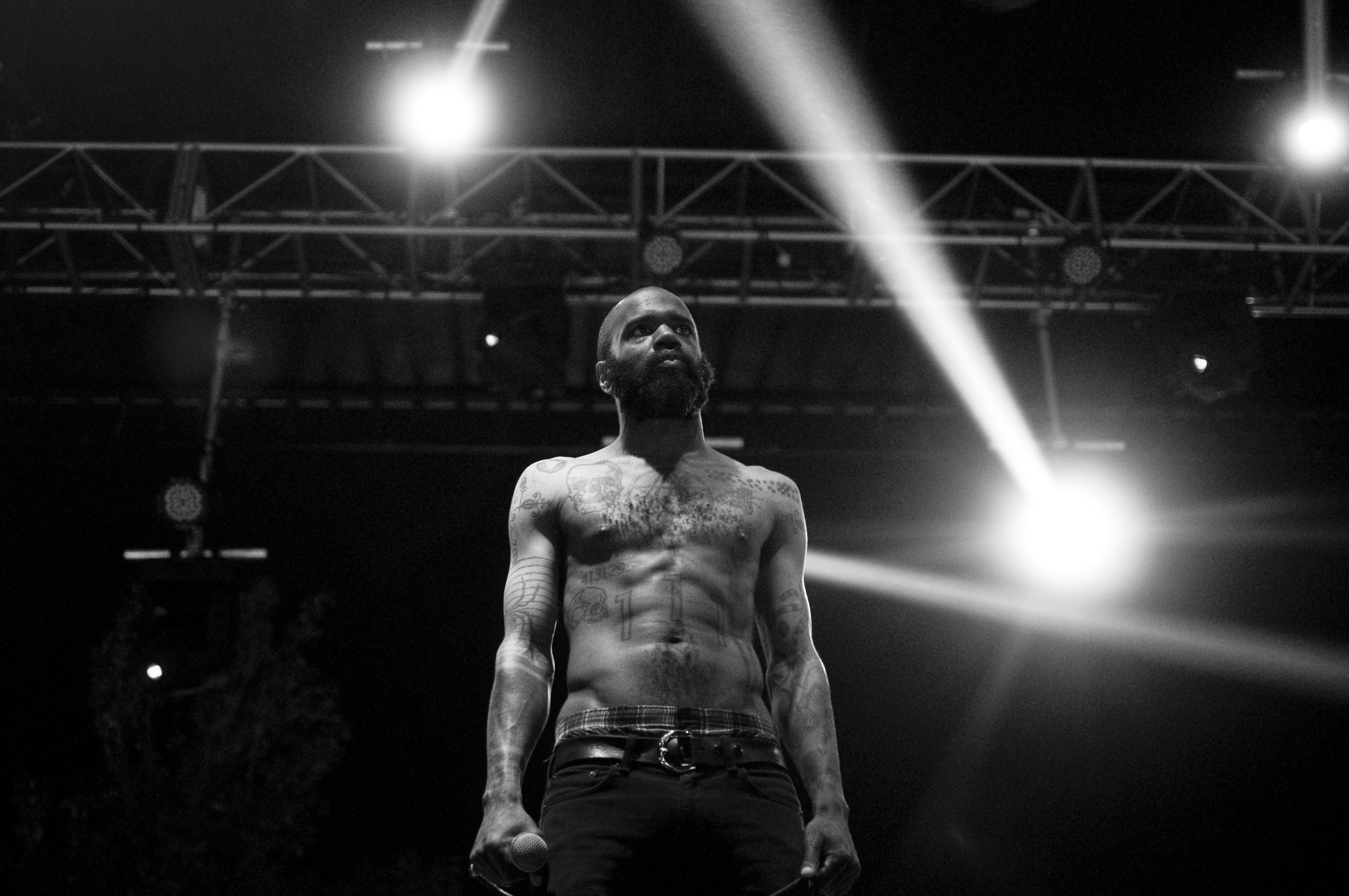 Death Grips
11:05 – Miranda Stage
After not showing up for their set at Lollapalooza and canceling a handful of subsequent shows, everyone was eager to see whether or not Death Grips would make an appearance at FYF Fest. When I finally got to the stage the question of the night had already been answered as MC Ride, drummer Zach Hill, and sampler/electrician Andy Morin were pounding into jams from 2012's The Money Store and No Love Deep Web. For all of their off-stage antics (intentional album leaks, NSFW covers, concert no-shows) the group was as raw as possible on Saturday night with level of intensity that the entire crowd felt compelled to match. The swirling, popcorn mosh pits of the FLAG set were replaced with undulating bodies that swayed left and right in 15-foot increments. With the metro train whirling behind them and L.A.'s skyline in the distance the performance took on a hyper-urban, video-game-like atmosphere that twisted the renditions of "I've Seen Footage" and "Hacker" into festival-crowning moments.
Next: Sunday — Featuring My Bloody Valentine, Baroness and Beach House.