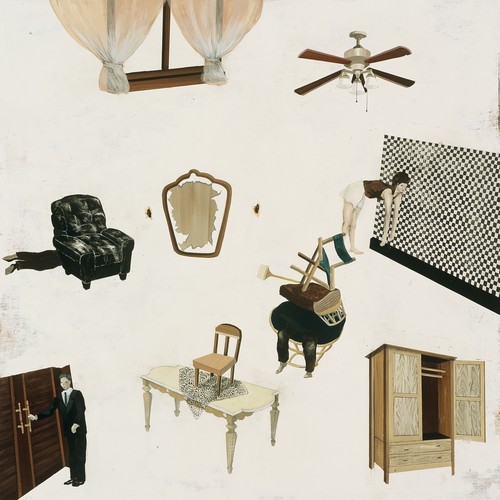 The grace of classical music and stillness from minimalist pop rarely coexist, but Gem Club use both to intimately embrace listeners. Their craft is an isolating experience and the transcending effect is solely their own.  Similar to how Perfume Genius succeeds with naked piano ballads, Gem Club excels with just a cello, keyboard, and vocals. In much the same way that Beach House's Victoria Legrand uses her vocals to draw the listener into a labyrinth by forcing her audience to hang on every syllable, Christopher Barnes whispers his lyrics like they're deep secrets that can only be heard in a separate room. And joining Barnes are vocalist Leva Berberian and cellist Kristen Drymala, who brew a subglacial soundscape on their sophomore album, In Roses.
By featuring the Magik Magik Orchestra and conductor/arranger Minna Choi, Gem Club has gently expanded their sound by moving beyond a Boston bedroom to John Vanderslice's analog Tiny Telephone studio in San Francisco. Recorded entirely to tape, In Roses sticks with the capacious formula and powerful silence of their debut LP Breakers. And where Gem Club has employed fading piano chords to extend breaks between measures before, here they are more ambitious and dramatic. The first piano-driven ballad is "First Weeks," in which a simple fading chord splits the two separate halves, resulting in a clean approach and gorgeous achievement. By lessening the dominance of the piano, songs like "Soft Season" use a distorted cello and a reverberating effect separating the song differently while also offering pleasurable results.
The cold and lonely music of In Roses is suitable for any occasion where one needs an escape for at least fifty minutes. Even the abstract cover art is a good visual for how spacious and seamless the album can feel.  However, In Roses is almost too seamless, with many of its songs resembling each other at times, but the charm of Gem Club's chamber pop is that it's never overbearing or too faint. Even with an abundance of plaintive piano melodies, In Roses offer more than pure melancholy. "Braid" stands out as one of the most beautiful songs with an uplifting light percussion, but Gem Club thrives in sorrow with "Polly" as an appropriate conclusion with its organ and poly-synth combos behind their lamenting lyrics.
Gem Club hasn't ventured too far from the winning formula on their Hardly Art debut, but their follow-up adds even more space to their music. There's more going on with background noise and layered vocals, and the improvement in production makes their gentle sound much bigger than it was before.
Similar Albums:


Perfume Genius – Learning


Beach House – Devotion

Explosions in the Sky – All of a Sudden I Miss Everyone