Gene : Drawn To the Deep End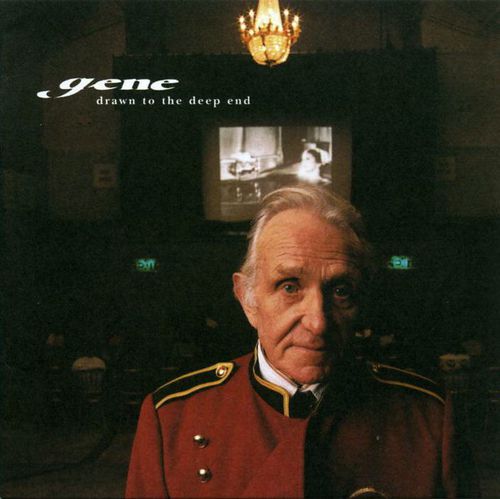 In 1997, Britpop was beginning to fade. The singles war between Blur and Oasis had all but vanished. And although "Song 2" became a huge hit, the genre was on its last legs. Electronic music was on the rise. The Prodigy had one of the biggest albums in that year with Fat of the Land while U2 experimented with dance music on Pop, Björk continued her immersion into darker electronic sounds with Homogenic and Radiohead dazzled with OK Computer. Though most of the above aren't dance albums, per se, they reveal a shift in direction for popular music, away from the traditional guitar based structures to more experimental climes. So, one might think it funny that one of my favorite albums of 1997 is from that Britpop era, and not one that ventured out of their comfort zone, but rather further embraced both the melancholia of their original music and the glorious guitar work that resulted of a love of both Johnny Marr and Paul Weller.
Gene never quite made the big time. They had hit singles, TV exposure, major label record deals and a decade long career, which is more than most, but they couldn't achieve the success of their peers. Oasis, Blur, Pulp and hordes of others seemed to continually grab the spotlight away from Gene. Furthermore, the band was initially labeled as a Smiths ripoff, which seemed odd to me considering that Oasis was essentially a Beatles ripoff, with Noel Gallagher even admitting he nicked the opening piano strains of "Imagine" for "Don't Look Back in Anger." Gene's first album, Olympian was held in high esteem thanks to the boost from their early singles, such as "For the Dead." As the American version of Olympian contained "For the Dead" as a bonus track, I was sure it was no more than an overlooked album filler. Little did I know that the song was what vaulted them into stardom, getting them a record deal and radio play. So, my heralding of "For the Dead," years after the fact, was like hearing Please Please Me in 1963 and remarking, "Oh, but have you heard that `Love Me Do' single? That's a good one, eh?"
It didn't help Gene's `Smiths' mania when they released To See the Lights, a collection of singles and b-sides that reminded most of Hatful of Hollow. But, it was with Drawn to the Deep End that Gene really showed their true talents. Singer Martin Rossiter's voice still retained its sullen baritone qualities, revealing a haughty sadness and an effete depression with every bellow, but some of the jangling chords were replaced with ripping riffs and crunching chords. "Fighting Fit," the first single from the album, charted in the UK thanks to its matching of the quavering Morrissey-like voice of Rossiter and the chugging rhythms of a Jam-like band. The next three tracks on the album were also singles, one sprung from Rossiter's depression in "Where Are They Now?" But, like many artists suffering from depression, it made for great pop music, and in Gene's case, probably only further fueled the Smiths comparisons. "Speak to Me Someone" is similar in pace to "Where Are They Now?" with its opening guitar strains finding kin with R.E.M.'s "Everybody Hurts."
My favorite single, and indeed my favorite track from the album, is "We Could Be Kings," their second highest charting song after "For the Dead." At first, the song seems to have much in common with its predecessors, melancholy and contemplative, but by the time the chorus rolls around, it becomes a chord-chunking anthem. When the bridge comes in, lasting for a full three bars, then lets up only to come roaring back, you can't help but get excited and let yourself go. Rossiter definitely lets himself go, even having a little fun with the song, as he sings after expressing that he wants to tell his friends he loves them, "These things take more than kind-ness," sounding as if he's having fun with the Smiths song "These Things Take Time." Further favorites of mine include the suicidal love song "Long Sleeves for the Summer," the Springsteen / Cash-like tragic story "The Accidental," and the Queen inspired arena thumper "I Love You, What Are You?"
Despite the fact that the Smiths had been gone for a full decade, Gene proved there was still room for well crafted yet morose pop. And although they never reached the heights of their peers, I still play Drawn to the Deep End far more than I play (What's the Story) Morning Glory? No offense to Oasis, as "Wonderwall" is one of the best songs ever written, but there's just something about Gene that I absolutely adore. Maybe I connect with the sad sack routine, or maybe I prefer a warble to a screech, but Gene's albums, on the whole, have stood up better. I know for some this is akin to someone preferring the Alarm to U2, but what are you gonna do?
---
Label: Polydor
Year: 1997
---
Similar Albums: