Björk achieved peak poignancy and innovation with 1997's Homogenic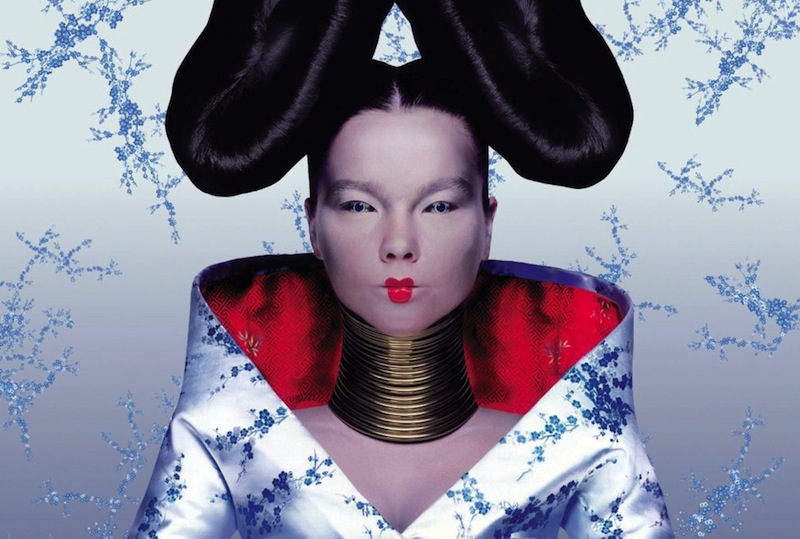 Just a few months ago, I found myself in Hvolsvöllur, Iceland, slowly becoming aware of the background music at the hostel where I was staying. At first, the vocalist was difficult to discern, with wild howls and a bombastic quality, layered on top of traditional jazz music. It had an infectiously joyous tone, filled with delight and pure bliss; it's important to note how clearly that resounded, despite the fact that I could not understand the language. It quickly occurred to me who I was hearing—it was Björk, and I was almost embarrassed that I hadn't realized it sooner, remembering that she had once recorded a jazz influenced album.
Gling Gló was released in 1990, three years before her proper international debut, the literally titled Debut. It's a far cry from the artist she became in 1997, when she had released Homogenic, when the Icelandic singer and former Sugarcubes frontwoman had made it 20 years past the release of her 1977 self-titled debut, recorded when she was only eleven. Björk, at this stage, was well into an already unpredictable career, as well as one that would continue to be. While it is easy to label her musical choices as unpredictable, Björk's have a logical quality to them. Every listen to her music takes the listener where they need to go.
While Homogenic uncovered Bjork's infatuation with the possibilities within electronic music, it also juxtaposes those electronic aesthetics against brilliant orchestral arrangements, courtesy of Eumir Deodato (who also produced "Ladies' Night"), and performed by the Icelandic String Octet. The album begins with the triumphant "Hunter," and the octet is omnipresent from then on. The instrumentals push along to a budging pace, leading quickly into the next track. Their strings add depth and darkness to Björk's velvet coos. Yet it's hard to focus on her vocals on tracks like "Joga," which feature the octet almost more than Björk herself. Here, she gives the impression of a push and pull with the octet, savoring the unrest and dissonance within as she repeats, "State of emergency, how beautiful to be."
On "All Neon Like," Bjork's vocal technique seems to imitate the imagery she sings of—when she utters the word "cocoon," her expression makes it seem as if she is weaving us directly into the insect home she describes. Throughout the album, her distinguishable delivery of each and every word is compelling, interweaving through its electronic counterparts with immense ease. Given the brilliant synth chaos of "5 years," it is no wonder Homogenic received such positive acclaim on the basis of furthering electronic music. In Slant Magazine's 2007 review of the album, writer Sal Cinquemani stated, "If not the greatest electronic album of all time, it's certainly the greatest of its decade." A bold conclusion at the time, Cinquemani's thoughts have been vindicated over the past couple decades of history, and it doesn't feel too far fetched now to say Homogenic really is one of the greatest electronic albums of all time. (And certainly one of the greatest of the '90s.)
Although characteristics of Homogenic may feel focused and contained, the subject matter does not limit itself to one emotion. Björk displays a handful of emotional routes, never limiting herself to one shade of expression throughout the album. The album's beginning is raw and unhinged, showing us a wounded Björk, bellowing to her ancestors, while the tail end begins to look inward and upward. Tracks like "Alarm Call" show upbeat and optimistic colors, as she paints herself a guide to managing the stormy forecasts. On the contrary, "Pluto" is an explosion of heartstrings, as static and dissonance reap their electronic counterparts, and Björk unleashes her guttural and gritty noises. It's the price we must pay for the beauty within her vocal range—if the grunge cannot be swallowed, we do not deserve the blue skies that come on "All Is Full Of Love."
Björk's musical intentions have always been a bit of an amalgam. However, she leaves nothing to question regarding the album's title; as an interview with SPIN explains, she unveiled the meaning, adding, "Me in one state of mind. One period of obsessions. That's why I called it Homogenic." Viewing the whole her career, it seems that 1997, the precise middle , was when she left nothing to be misconstrued—evaluating her tendencies, allowing herself to divulge one branch of her mind and being. The payoff resulted in her most well-thought-out and meaningful work, from start to finish.
***