A Beginner's Guide to the Timeless Country of George Jones

Much of George Jones' best, most enduring music is his saddest. This is reflective of a boy who suffered constant abuse at his alcoholic father's hands in the 1930s and early 1940s, then spent much of the remaining 20th century as a slave to liquor. They started calling him the greatest country singer ever almost immediately after—in some cases even before—his 1959 No. 1 Country hit "White Lightning." 
Though Jones spent most of his life making music that lived up to the hype, he always felt unworthy. Anxiety manifested as stage fright, hence the ditched concerts and "No-Show Jones" nickname. Drinking and drugs turned his depression into anger and violence.
We'll explore some biographical details more closely as they come up in the context of the albums. But let's get right to it: George Jones is country music—its soul and its raw beating heart. He is the greatest country singer ever. He is one of the greatest vocalists in any genre, full stop. He embodies how country, at its best, resonates as a singularly sincere representation of human emotion. Anyone who decides to take country music seriously arrives at Jones sooner or later, and most get hooked for life.
Choosing essential George Jones albums is difficult due to the immensity of his catalog, making this Beginner's Guide notably longer than the average. A fair number of Jones' 87 studio albums aren't available on music streaming services, CD or vinyl. You can track down many of the songs from those albums on streaming, but they're scattered across a labyrinth of compilations with overly similar cover art and titles (sometimes stealing the titles of known Jones LPs without featuring those albums' original tracklists). After finding all of this, you have to cut and paste tracks into playlists to get the right sequencing. I wanted examples from each of his critical career phases, so I couldn't avoid that irritation entirely. (Fortunately, I did the legwork for you when required.)
---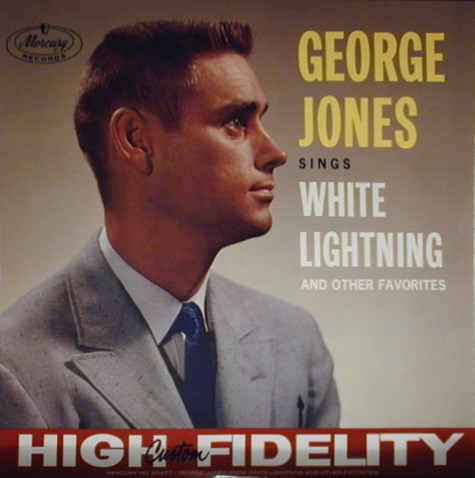 George Jones Sings White Lightning and Other Favorites (1959)
"White Lightning" is an expertly performed paean to a moonshiner, beloved by hillbillies and "city slickers" alike while carefully dodging the Feds ("G-Men, T-Men, Revenuers too/Searchin for the place where he made his brew"). The song, penned by J.P. "Big Bopper" Richardson just before his untimely death, is so flat-out incredible that its clear rockabilly sound—which wasn't always liked by country fans, including Jones—drove listeners wild. They sent it to No. 1, making it Jones' first chart-topper after several Top 10s, including "Just One More" and "Color of the Blues."
The rest of White Lightning and Other Favorites sounds nothing like "White Lightning," with the possible (and partial, at best) exception of "Nothing Can Stop Me." What it does sound like is exactly what George Jones wanted to play at that time: honky-tonk in the sonic mold of his heroes Hank Williams and Lefty Frizzell, but filtered through a voice that'd recently transcended those influences and become a unique and distinct instrument. Heartache anthems like "Don't Do This to Me" and "No Use to Cry" and the Jeannette Hicks duet "I'm With the Wrong One" are prototypes of sounds he'd eventually define. The haunting "Life to Go" is more remarkable: a remorseful murder ballad written by Jones (and an uncredited Stonewall Jackson, who would have a big hit when he recorded it) with as much detail and human empathy as any of Johnny Cash's more famous prisoners' laments. Though the lion's share of the album is Jones as king of broken hearts, stark but successful detours like "Life to Go" and the earnestness of gospel tunes "Wandering Soul" and "Jesus Wants Me" show early signs of depth and versatility.
---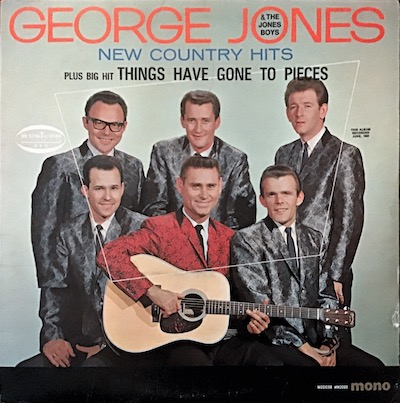 New Country Hits (with The Jones Boys, 1965)
New Country Hits, despite its generic title, documents how George Jones had grown from country star to living genre legend. It's a dozen-song set without a dud in the bunch and a wide range of moods: Uptempo, Bakersfield Sound-tinged numbers like "Love Bug," "I'd Rather Switch Than Fight" and the hilarious "Feelin' Single, Seein' Double" (all written or co-written by the underrated Wayne Kemp) sit comfortably next to traditional honky-tonk laments such as "I'm Wasting Good Paper" and "I Made Her That Way." Cheatin' song "We're Watching Our Step" shouldn't be a natural segue into the magisterial, Leon Payne-penned "Take Me" (one of Jones' best love songs), but it works.
Standing above it all—above much of country music in toto, IMO—is "Things Have Gone to Pieces." Another Payne masterpiece, the song juxtaposes the complete material collapse of a working-class man's life with objectively minor frustrations that hammer home the humiliation: "Today, the boss said 'Sorry/'I can't use you anymore'/And tonight, the lightbulb went out in the hall." What Jones' voice does on the second chorus, starting with the word "three" in the line "There ain't nothin in my pockets but three nickels and a dime," is nothing short of miraculous. He epitomizes the peak power of a genre in those perfectly sung syllables.
---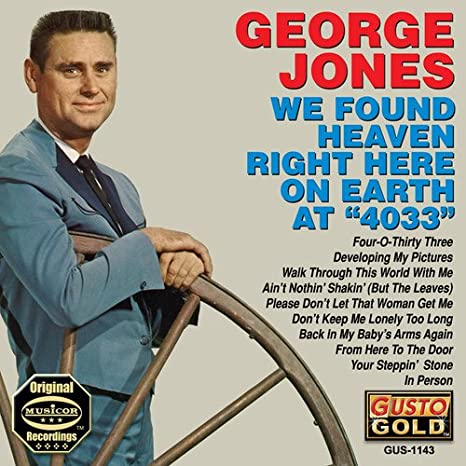 We Found Heaven Right Here on Earth at "4033" (1966)
This album begins with an uptempo, convincingly content ode to small-town family life and love. After that, bliss departs the premises. We Found Heaven Right Here on Earth at "4033" clocks in under 24 minutes, but if you're prone to be deeply affected by sad music, you'd be hard pressed to forget this album in 24 years.
Atop hybrid honky-tonk/Nashville Sound arrangements from uncredited producer and legendary A-Team bassist Bob Moore, Jones—his voice better than ever despite drinking more than ever—paints an indelible portrait of despair. Sometimes he's begging for love, as on Don Chapel's wrenching "From Here to the Door": "From here to the door is your freedom/For you, a short walk 'cross the floor/If you go now, this house will be a prison/Cause it's my lifetime, from here to the door." There are brief, near-manic intrusions of hope ("Back in My Baby's Arms Again") and flippant anger ("Please, Don't Let That Women Get Me"), but the defeat always returns.
The closing diptych of "Your Steppin' Stone" and "Don't Keep Me Lonely Too Long" is masterful and all but unbearable. In "Stone," he loves a woman so much he pledges to always be a rebound/emotional punching bag while she keeps trying to find love elsewhere. Though Jones didn't write "Stone," it's not far from his feelings for frequent duet partner and tourmate Melba Montgomery. (Montgomery cared deeply for him and never led him on like the woman in the song, but she couldn't tie herself to his trainwreck.) As for "Lonely," Jones' wrenching intonation and phrasing make the simple opening line—"It sure gets lonely/Alone"—sound like a death sentence, and things only get worse from there.
---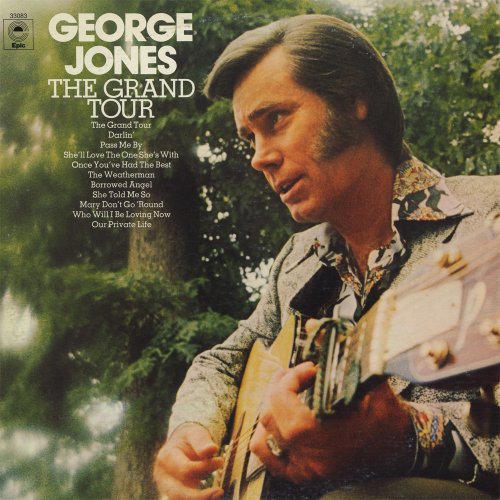 The Grand Tour (1974)
Everything is in its right place on The Grand Tour: The vocal performances and phrasing ("c'mon, how can he get better, wait, holy shit, he's better"). Songwriting from a murderer's row including Hank Cochran, Bobby Braddock, Norro Wilson, Earl "Peanut" Montgomery, Carmol Taylor, Jones and (his then-wife) Tammy Wynette. Production from Billy Sherrill that sometimes stretches the Nashville Sound to its breaking point but is ultimately perfect. (Sherrill is known, and sometimes derided, for drenching tracks in string arrangements and Jordanaires backing vocals, but his flourishes only overwhelm here when they're supposed to, like the title track.)
"The Grand Tour" stands at the pinnacle of devastating country music, whether you think it's a divorce song or a scream of grief from a man whose wife and child suddenly died. (That debate is not gonna be litigated here, but it's an interesting one.) "Step right up," Jones sings, "come on in," and we're floating through an open house with the heartbroken realtor attempting to describe the home as his grief keeps breaking through. "As you leave, you'll see the nursery/Oh, she left me, without mercy!/Taking nothing but our baby and my heart." From there, it's classic after classic: "Pass Me By," "Once You've Had the Best," "Who Will I Be Loving Now," "She Told Me So," "Borrowed Angel" … take your pick. (The inclusion of Mel Street's "Angel" is eerie in retrospect: Street would lose his battle against alcoholism and depression, and shot himself in 1978, a fate that easily could've befallen Jones.) No country music fan's life is complete without this album.
---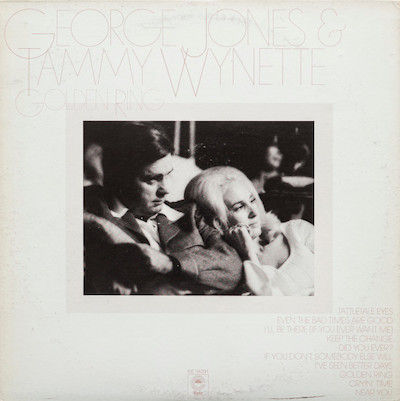 Golden Ring (with Tammy Wynette, 1976)
There's enough material about the failed marriage of George Jones and Tammy Wynette elsewhere. I don't need to recap it here. But you cannot summarize the discography of Jones or Wynette without including Golden Ring. The title track, a Bobby Braddock/Rafe Van Hoy masterpiece, belongs on any list of the top 50 country songs. It should be taught for eons as an example of perfect melodic storytelling, centering around a wedding band: bought in a pawnshop by a broke but loving couple, discarded in their post-marriage breakup and then catching the eye of another couple in another pawnshop.
Jones and Wynette were always technically mismatched as duet partners—his work with Melba Montgomery is revelatory by comparison. But Billy Sherrill, who turned the Nashville Sound into the foundation for cinematic microcosms of love, desire and heartbreak, also knew how to make the Jones/Wynette interpersonal drama the grist for a very lucrative mill. They'd been divorced in bitter acrimony since January 1975. Nevertheless, "Ring" was a No. 1 Country single, as was their take on country standard "Near You." That tune and most of the album's other tracks, including Buck Owens' classic "Cryin' Time," "Did You Ever" and "Keep The Change," exploit the will-they-or-won't-they dynamic to thrilling results.
---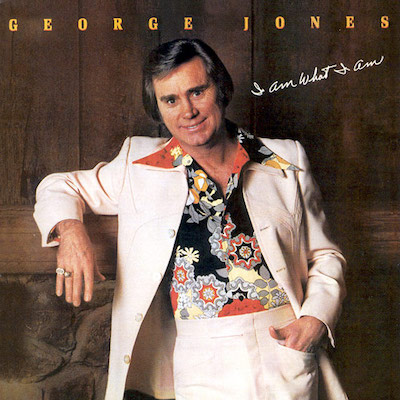 I Am What I Am (1980)
We just covered two albums overshadowed by their central hits … and neither comes close to how "He Stopped Loving Her Today" overshadows the excellence of I Am What I Am. This is not to impugn what most people consider George Jones' signature song and what is an undeniable classic of country music. It's to say that this 1980 album is a great collection of tunes that will always, fairly or unfairly, play second fiddle to the opening track, which Bobby Braddock co-wrote with fellow legend Curly Putman ("Green, Green Grass of Home"; enough said).
Jones recorded vocals for I Am What I Am while on and off booze and cocaine, trying to control a voice and mind damaged by a period of coke addiction so voluminous and crippling that would beggar belief if it wasn't demonstrably provable. (It triggered the attempted murder of songwriter Peanut Montgomery, who had him committed to a psych ward.) There is—even on "He Stopped Loving Her Today"—clear evidence of vocal decline on the album. This man, at age 49, sounded 20 years older singing the immortal ballad of a man who "said I'd love you till I die" (and then proved it) with the desperation of someone who saw a tombstone on the horizon.
Despite the hitch in his vocal quality, Jones brings that desperation-driven power to the whole album. Even novelties like "His Lovin' Her is Gettin' In My Way" hit harder than they would for any other country singer, let alone excellent songs like "I've Aged 20 Years in Five," "If Drinkin' Don't Kill Me," and the great Tom T. Hall's "I'm Not Ready Yet." Billy Sherill's production veers between ultra-maximalist ("He Stopped") and cooly subdued ("Brother to the Blues"), always suited to the material and buoyed by expert A-Team session musicians. (Charlie McCoy's harmonica and Pig Robbins' piano are particularly virtuosic.) When the record concludes with the perversely upbeat but horrific withdrawal chronicle "Bone Dry," you may wryly chuckle. But you'll do so while glancing at the precipice of hell, having heard a man who, trying to escape the inferno though he may be, cannot stop screaming of the tortures he's endured, and is only beginning to realize he brought many of them on himself. Sadly, the success of I Am What I Am didn't save George Jones. There would be more rehab stints, psych hospitalizations and violence—including against his fourth wife, Nancy Sepulvado—until he quit cocaine and binge drinking in 1983.
---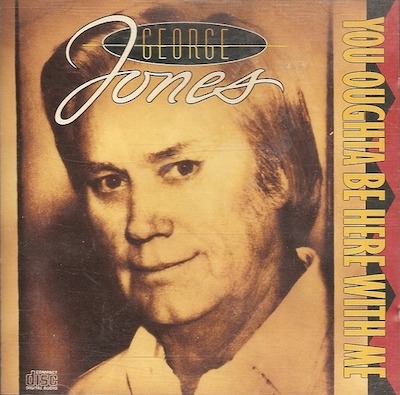 You Oughta Be Here With Me (1990)
This is my favorite George Jones album. You Oughta Be Here With Me is classic honky-tonk laden with hooks, given a modern but unslick sound by Billy Sherrill and songs that reflect everything beautiful, torturous and in-between about the human experience. It's grounded by a voice that, after he kicked coke and slowed his drinking to a crawl, regained every bit of its lost power. Few people, if any, would call this "the best" Jones album, but perhaps only because they know it very little or not at all. Neither it nor its singles charted, and Epic openly refused to promote it, yet it's an embarrassment of riches.
You Oughta is among Jones' more upbeat—or, more accurately, less downbeat—albums. Its love songs are some of the best in his catalog. There are gorgeous declarations of devotion, like Jones' take on the titular Roger Miller tune and Bobby Braddock's "I Want to Grow Old With You." Elsewhere, "Six Foot Deep, Six Foot Down" and Sherrill's "If The World Don't End Tomorrow" take a wittier but no less sincere approach to professions of love.
If seeking Jones' darker side, there's plenty of that too. "Hell Stays Open All Night Long" is among the legend's more despairing ballads, in large part because most of its lines aren't spoken by the Jones-surrogate narrator but by the woman he's scorned. "Somebody Always Paints The Wall" opens with a line that country haters might use to mock the genre—"If my old truck was a horse/I'd have to shoot it/Lord, the day my ship came in, I was waitin' for a train"—but soon morphs into one of the most complex character portraits in Jones' oeuvre. And then there's "Ol' Red," a swampy-sounding, noirish story-song about a (literal) horndog's role in a convict's prison break. It's unlike anything else in Jones' catalog and arresting as a result. Blake Shelton might've had the hit with "Ol' Red," but that's the only way anyone can say he improved on Jones' version.
---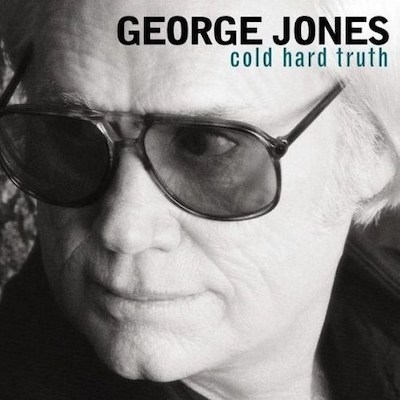 Cold Hard Truth (1999)
Some artists' late-career stripped-down albums are meant as returns to form after years of underwhelming, coasting-on-the-legacy material. Others are desperate final statements. Cold Hard Truth, finished and released months after a near-fatal car accident (a DWI, which scared Jones sober for good at last) is a bit of both. Some of its songs were in the can before the crash and likely would've sounded just as good as they do regardless. But straightforward lyrics on "Choices"—"I guess I'm paying/For the things that I have done/If I could go back, oh Lord knows I'd run"—have greater weight when you know they were this close from being posthumously released. Closing track "When The Last Curtain Falls," ostensibly an anthem of amicable breakup (shocking for a Jones album!) would've been a crushing epitaph.
Cold Hard Truth wasn't Jones' last work, but it was his last undisputed classic. Produced by Keith Stegall with the same modern-but-no-frills sound he brought to Randy Travis and Alan Jackson albums, the 10-song LP juxtaposes emotional tones and song styles with equal ease: Serious and goofy love songs stand side by side ("Day After Forever" segueing into "Ain't Love a Lot Like That") and Jones is just as capable, at long last, of pointedly evaluating his weaknesses on ballads ("Cold Hard Truth") as he is of critiquing small-town hypocrites' judgmental behavior ("Sinners and Saints"). And as always, there is That Motherfucking Voice, the one Merle Haggard once called "a Stradivarius violin" and Leonard Cohen—specifically talking about Cold Hard Truth—called "the best voice in America." He tears into barnburners like "Real Deal" and "You Never Know Just How Good You Got It" with energy and power that many country singers at 37—let alone the 67 Jones was at the time—would envy. He invests every iota of his lived experience in the painful reflections of "Choices" and "Last Curtain."
---
Next Steps: Because of the single-centric nature of early country history, more than a few of Jones' best songs aren't on any of the albums listed above. The most easily accessible solution to this is a compilation readily available on streaming called Best of George Jones that collects classic singles from the Mercury and United Artists years like "The Window Up Above," "She Thinks I Still Care," "The Race is On" and "Tender Years." Another is The Essential George Jones: The Spirit of Country, which is more comprehensive but not as easily streamable. (If you can get your hands on a physical copy, you'll be blessed with expert liner notes written by Jones expert Rich Kienzle.)
As for albums proper … did I mention he had 87? Here, roughly, are the rest of best: The streaming version of Jones' 1959 gospel compilation Country Church Time is backended by some astounding songs not on the original, labeled parenthetically as "More Songs of Depression and Despair. It includes "Mr. Fool," one of the best tunes Jones ever sang. Aside from the two albums already mentioned, Mr. Country and Western Music, George Jones Sings the Songs of Dallas Frazier and With Love are the best of Jones' Musicor Records era, especially the first two, but those two required me to make playlists on streaming services.
The best Jones duet album is his classic with Melba Montgomery, We Must Have Been Out of Our Minds, but Bluegrass Hootenany, also with Montgomery, ain't far behind. In his 1970s Epic era, A Picture of Me (Without You) (1972) is the obvious highlight for sheer quality—the title track is beautiful beyond measure. Memories of Us (1975) is among the greatest country breakup albums and Alone Again (1976) balances the pain with gallows humor. Much of what Jones recorded in the 1980s is worth listening to at least once, but Shine On, Jones Country and Wine Colored Roses easily top the list: Tyler Mahan Coe of the definitive country music history podcast Cocaine and Rhinestones ranks Shine On among Jones' best albums. Jones himself considers Roses one of his favorites. The album Jones recorded with Roy Acuff and the Smoky Mountain Boys in the 1970s, only discovered and released in 2017, is perhaps one of the biggest "holy fuck, I found 10 grand in my couch cushions" moments in country music history.
Advanced Listening: A lot of what George Jones recorded as a Starday artist is quite interesting, and it's best found on compilations that have stupidly generic names on streaming. (Bear Family Records collects this era of Jones' discography and several others into some truly fantastic box sets, including notes by Kienzle and Kevin Coffey, but they're quite pricey.) He also recorded quite a few all-covers records, the best of which are probably Sings the Hits of His Country Cousins and Sings Bob Wills. Jones' duets with 60s pop legend Gene Pitney are never anything less than listenable, though your mileage may vary on how listenable. For gospel material, aside from Country Church Time, the most compelling work is l on one of the albums he recorded just when his voice began to weaken, 2003's The Gospel Collection: George Jones Sings the Greatest Stories Ever Told, produced for a final time by Billy Sherrill. (His take on Kristofferson's "Why Me Lord" is astounding; the poignance of age giving it primacy over the much cleaner version he recorded for 1973's In A Gospel Way.)
Most of the duet albums with Wynette not named Golden Ring are inessential as wholes, but singles like "We're Not the Jet Set" and "We're Gonna Hold On" are critical. Too Wild Too Long and Who's Gonna Fill Their Shoes are his best non-aforementioned 80s albums. Finally, as lean as the 90s, 2000s and beyond were for Jones in many ways, I like a lot of I Lived To Tell it All and even The Bradley Barn Sessions. His final strong secular album was 2001's The Rock, which is high-level modern country (and features "Beer Run," a fun duet with Garth Brooks). Many people find little to like about 2005's Hits I Missed (And One I Didn't), an album mostly featuring songs Jones was offered and passed on, and I don't totally blame them. But Jones' duet on "The Blues Man" with Dolly Parton is a fitting ode to Nancy Jones for saving his life, as poignant as Alan Jackson's Under the Influence version of the Hank Williams Jr song. And his choice to finally record the (among other things) anti-racist country classic "Skip a Rope" seems like clear evidence that even septuagenarian Texans who lived long parts of their lives in sundown towns (Vidor, Texas) are capable of evolution. Maybe it's naive to think so, given everything we see today. Yet for whatever reason it makes me see a flashlight beam through oft-pervading darkness.
---
Support our Site—Subscribe to Our Patreon: Become one of our monthly patrons and help support an independent media resource while gaining access to exclusive content, shirts, playlists, mixtapes and more.