Grant Lee Phillips : nineteeneighties
I used to get confused between Boston's Buffalo Tom and California's Grant Lee Buffalo. The bands overlapped each other for a time and were influenced by some of the same artists, which made it even harder to distinguish between the two. The Boston band was left behind in the great label merger of the late '90s, while Grant-Lee Phillips, the frontman for the California band, went on to forge a critically acclaimed solo career, even being called Rolling Stone magazine's Male Vocalist of the Year. Phillips' 2004 album, Virginia Creeper, was a beautiful album and a breath of fresh air that let me finally tell the two bands apart. In my mind, the album came seemingly out of nowhere, just as his new album, the covers only filled nineteeneighties did not long ago.
Even rock snobs like myself get tired of seeing, reading and hearing that every artist was inspired by some obscure band that pressed eight albums out of their garage, never played any shows, and then either committed suicide or dropped off the face of the earth. Of course, I suppose the truth would be just as boring, that the Beatles inspired everyone. Taking a cue from David Bowie and his salute to the favorite songs and bands of his generation on Pin-Ups, Grant-Lee Phillips has put together a collection of covers that were relevant to his / my / every generation. I use the slashes there because Phillips is eight years my senior, yet it's as if he picked out my own favorite songs of the `me' decade. As my wife is eight years younger than I, and she loves these songs as well, it seems as though they defy the confines of '80s music.
Phillips starts the album off with the latest song of the decade, the Pixies' "Wave of Mutilation." He plays nearly every instrument on the album, save for violin and upright bass, which amounts to over sixteen different sounds that Phillips contributes. The keening guitars that Phillips plays on "Wave" make the song somewhat of a recall to the classic "Sea of Love," which makes me wonder if that's what Frank Black had intended in the first place. In Phillips' hands, New Order's synth brilliance of "Age of Consent" becomes "You Can't Always Get What You Want" alt-country / blues beauty. It also highlights the fact that Bernard Sumner's words were often underestimated. The same can be said for his take on the Joy Division song, "The Eternal," turning it into a cowboy funeral dirge with the faraway sound of a harmonica adding just a touch of extra melancholy.
It's difficult to do anything to Echo & the Bunnymen's "The Killing Moon" that might harm its ghostly affectations, and Phillips' version manages to maintain its eerie glory with ease. He even keeps the stirring string section (he performs it with guitars and piano) at the bridge relatively intact and still dramatic. One of my favorite takes from the album is the sometimes-overlooked Psychedelic Furs' classic, "Love My Way." Richard Butler's voice is so singular that it might be difficult to not attempt a straight impression, but Phillips keeps his own intonations while adding just the right amount of low register gruffness. "Under the Milky Way" with its signature opening acoustic guitar is another one that makes itself almost too easy to mimic note for note, and again, Phillips puts his own imprint on the haunting Church hit. Only R.E.M.'s "So. Central Rain" ends up to sound extremely similar to the original, as Stipe and company's sound is most similar to Phillips' own. The toy piano in his version of the Cure's "Boys Don't Cry" makes up for all of that. Phillips makes the song sound like something out of a John Waters directed western film, campy and sad all at the same time. The Smiths' "Last Night I Dreamt that Somebody Loved Me" is near unrecognizable until the second line, sounding more like a Devendra Banhart cover than a Morrissey / Marr number. The song still retains its aching lonesome beauty, finding Phillips delivering a falsetto not often heard in his songs.
The album is rounded out with songs by Robyn Hitchcock and Nick Cave and the Bad Seeds, making it one of the coolest covers albums ever put out. Since these songs rank among my all-time favorites, I have to say that Phillips' song choices are impeccable, and his versions sublime. Even if one weren't familiar with the songs included, and if you're not you must have been living under a rock, you could still enjoy this album as another great Grant-Lee Phillips creation, such is the unique signature he stamps on every track. To turn some of the synthesizer decade's biggest songs into alt-country twang was daring enough, but to do it this well takes an artist of singular talent. Rest assured, I'll never confuse Grant Lee Buffalo or Buffalo Tom again.
Similar Albums:
David Bowie- Pin-Ups
Sun Kil Moon- Tiny Cities
Grant-Lee Phillips- Virginia Creeper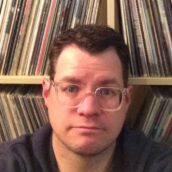 Terrance Terich
Terrance Terich firmly believes that 1985 is the best year for music. He lives near Seattle with his books, movies, and music.