Gui Boratto : Take My Breath Away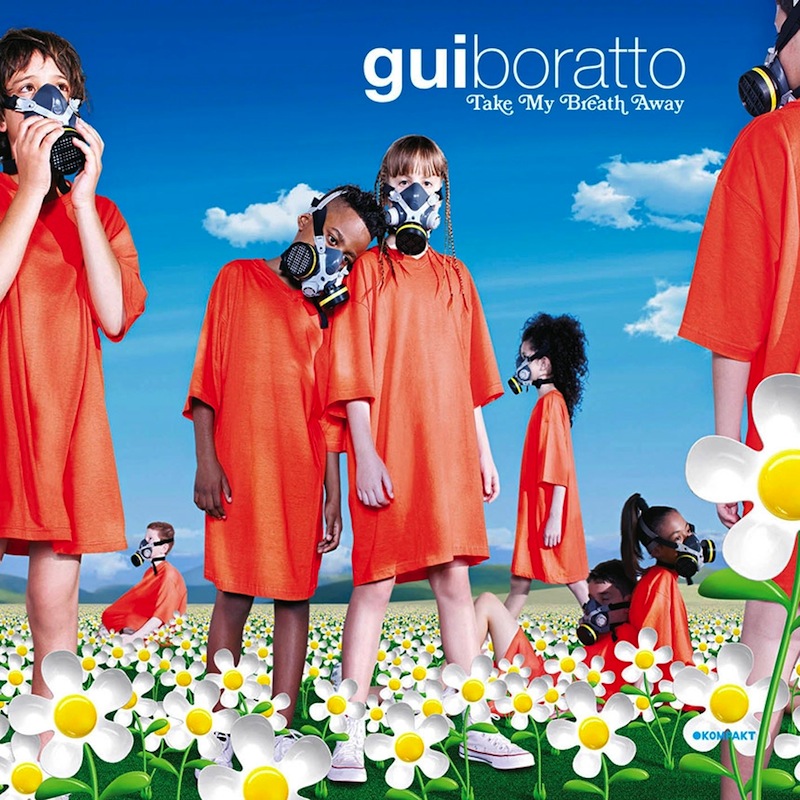 With his 2007 debut full-length, Chromophobia, Gui Boratto managed to both cement his reputation in dance circles and appeal to those that operate beyond them. It was a record that built off the thick melodies and hypnotic allure of earlier tracks like "Archipelago" and "Like You," but also traded in new wavey tracks strung along pop song structures. It sparks off altered states and melancholic contemplations in strange and shifting ratios. "Beautiful Life" served as a warm and melodic, larger-than-life celebration that projected mass euphoria without coming close to congealing into sentimental goo, inevitably and surreptitiously provoking crowds into maniacal displays of bouncing, bubbling, and embracing. Along with The Field's From Here We Go Sublime and Pantha du Prince's This Bliss (both 2007 releases, as well), it crystallized the indie scene's growing fascination with certain strands of German label techno.
Boratto's new offering is titled Take My Breath Away, and the cover depicts some kids with gas masks and orange frocks on standing and reclining among digitally rendered daisies. (I will forward no interpretation or aesthetic judgment of the artwork here, preferring to leave that task to all the someones out there with more polemical temperaments.) The title track kicks things off with a woozy, amniotic thump, building gradually but never arriving anywhere too high, instead sliding off into valleys to reconfigure and build anew. It's not dance floor ammunition, more likely to set the body nodding than exploding, to provoke a smile and a stare into colored space than bodily abandon. In this it is like "Opus 17," another of the album's best tracks which also treads the ground between the club and the living room. Headphone music. Music for wandering around town, purposeful or aimless, or sitting and staring out of train windows, like quite a few Lawrence tracks I can think of off the top of my head. It's good to make music like that (and to listen to it), but it seems to me that sometimes it has a tendency to slip through the cracks. Sometimes, like now, these days, these times. When exactly will I listen to this? When I am doing what? When I am doing nothing but listening, when I am a passenger or a traveler. A problem with music listeners (consumers), rather than the music.
"No Turning Back" features the vocals of Luciana Villanova (like "Beautiful Life" and "Like You," among others) and is the closest thing here to the unabashed grandeur of the former track. Which isn't to say it is all that much like "Beautiful Life," just that it has vocals, an anthemic feel, and New Order-sounding guitar lines drifting through certain passages. It also builds into a heavy, heady wave of sawing synths, set to cause brief but blinding spells of dream-addled euphoria. Once again, Boratto nails the bind between melancholy and mindfuck. A key figure in this song, and the album, is the drone. "Take My Breath Away," "Opus 17" and "Atomic Soda" are the other prime examples. "Atomic Soda," the first single, is a strange one, all droning synth melodies with a wacked out, pulsing breakdown that comes as a surprise the first time around but seems happily situated on subsequent listens.
"Ballroom" and "Eggplant" are the other two tracks on here made for the big room, the least melodic, the most simple and ominous. "Ballroom" is the better, propelled by a fat rolling bass line and some crackling high-hats. But, it has to be said, the other tracks here are a bit disappointing. They all tend to fold into one another and disappear into a lachrymose and overly fluffy '80s nostalgia. Some are better than others, but overall they pale in comparison to the tracks that similarly served as balances against the more full-on material on Chromophobia. But…comparisons are, of course, base. And, anyway, there is plenty on Take My Breath Away to admire and enjoy. It's a solid follow-up that covers new ground while maintaining that singular, exceptional something that marks all of Gui Boratto's work.
Similar Albums:
The Field – Yesterday and Today
Pantha du Prince – Black Noise
Matias Aguayo – Ay Ay Ay