Celebrate the Catalog: The Herbie Hancock discography (1962-1983)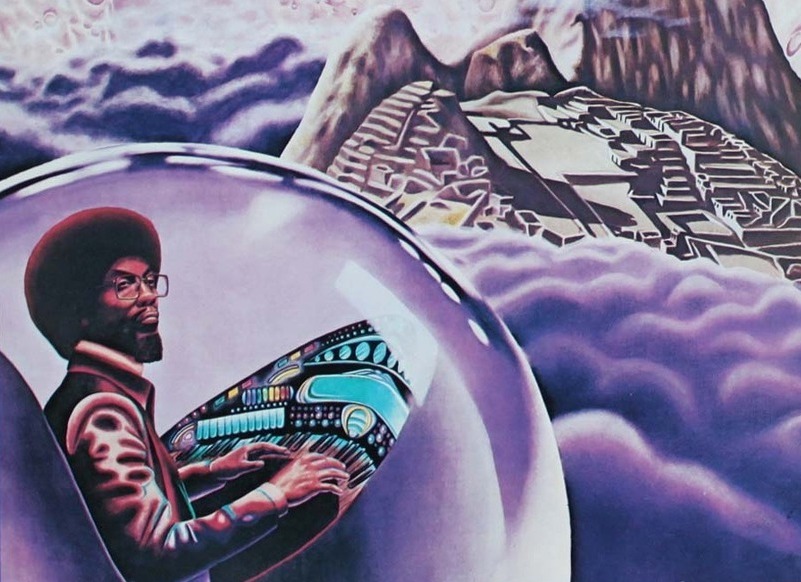 Man-Child
(1975; Columbia)
The last few times I've visited Folk Arts, one of my favorite record shops in San Diego, there have been quite a few copies of Herbie Hancock's Man-Child on the rack. In fact, that one seems to show up in the used bin more than others, which is interesting to me, and a little confusing. It's a really good album, definitely still showcasing Hancock in his element with a set of funk-heavy jams that were still in line with the sequence of albums leading up to it, including the legendary Head Hunters and the deeper grooves of Thrust. But Man-Child is a little more laid back. On "Hang Up Your Hang Ups" and "The Traitor," Hancock and his band let loose and sound like they're having a ridiculous amount of fun—no doubt because they're starting to show some of the disco flash that would later tarnish some of his late '70s albums. But here, it's electric. Then again, on tracks such as "Sun Touch" and "Bubbles," Hancock guides his band through some laid-back, late-summer chillout sessions that reveal a sexier, more subdued approach. Though there's perhaps one more obvious reason why this album seems to be a used-bin staple: It features none other than Stevie Wonder, playing harmonica no less. But anyone expecting a Stevie Wonder album might be disappointed. That being said, the personnel on the album overall is absurdly good: Louis Johnson, Benny Maupin and Wayne Shorter to name a few of the players. Maybe it's not the album anyone expected, but it's an album we're lucky to have.
Rating: 8.9
Secrets
(1976; Columbia)
The second half of the '70s mostly felt like an extended encore for Herbie Hancock. The first half yielded no fewer than four outright masterpieces, which is by no means an exaggeration. One of them was his best selling album of all time, several of them continued to expand his psychedelic funk palette, and by all rights he was one of the few successful jazz artists of the '60s who had been not only continuing to innovate and build on its legacy, but actually reach a massive audience in the process. So by the time he released Secrets, it seemed like he was, for the most part, just having some fun. And Secrets is, indeed, a lot of fun. The selection of tracks this time around leans much more toward commercial disco material, and one of the players on the album is none other than Ray Parker Jr. of "Ghostbusters" fame. While Hancock hadn't fully indulged in the more explicit pop exercises of his next few albums, he'd leaned away from some of the spiritual, avant garde textures of the albums that preceded it. So while it's not an extraordinary album in the scheme of his broader catalog, god damn does it groove.
Rating: 8.1
Third Plane
(1977; Milestone)
In the late '70s, Herbie Hancock's efforts were seemingly split into two separate, entirely contradictory directions. Though the vast majority of his albums released during that period were all disco all the time, the old-school jazz pianist in Herbie never left. Case in point: Third Plane, an album recorded with bassist Ron Carter and drummer Tony Williams, two frequent collaborators that often made some wonderful music with Hancock. Third Plane isn't even necessarily top-tier post-bop from Hancock, which is saying a lot, because it's a stellar listen. The trio find their groove early and often, making sweet, melodic jazz music that showcases the talents of the three musicians as well as their synchronicity.
Rating: 8.6
The Herbie Hancock Trio
(1977; CBS/Sony)
The first of two albums named The Herbie Hancock Trio (bear with me) is the superior of the two. In fact, it's actually pretty spectacular. Released just as Hancock's funk was starting to get him into a bit of a slump, this set of small-combo jazz grooves is actually among his most inspired moments of the late '70s. Featuring long-time collaborators Ron Carter and Tony Williams, it's in some ways a back-to-basics release. But the secret to why this record stands out is owed in large part to Carter, whose playing here is hypnotic and dazzling (and pretty loud in the mix). It's no wonder A Tribe Called Quest enlisted him to play on The Low End Theory.
Rating: 9.0
Sunlight
(1978; Columbia)
The '70s brought about some of Herbie Hancock's greatest innovations, but it also found the jazz pioneer making a transition toward accessibility that sometimes worked and sometimes didn't. Sunlight is neither a triumph nor a failure, but an enjoyable album that feels some distance away from the bolder funk experiments from earlier in the decade while never abandoning a groove. Ultimately it's a pretty good jazz-funk album that segues into more overt disco territory than Hancock had done so unabashedly before. There's an increased vocal presence on the album, which leaves something to be desired—it's mostly vocoder robot-funk stuff, and it's fine, but it feels like a half step between pop music and Hancock's patented jazz funk, without committing to either. Still, the first four tracks are all perfectly pleasant, even fun. The real treat is the final track, "Good Question," which finds Hancock delving back into some of the more exploratory funk that made his albums leading up to this point all the more stunning. Not that he was done with innovating or continuing on his psychedelic funk journey by this point—not by a longshot—he simply took this moment to ease toward more mainstream sounds.
Rating: 7.0
Directstep
(1979; CBS/Sony)
Directstep, like all of Hancock's Japan-only releases (at the time), is an interesting piece because it at least in part goes against the grain of what he was doing in the late '70s. This record retains much of the artistic, psychedelic twists on funk that he was doing earlier in the '70s. Yet it was recorded later on, as disco became Herbie's focus, which makes the more exploratory nature of the work even more interesting. That said, the three tracks here are all ones that have shown up at various points throughout Herbie Hancock's discography. "Butterfly" was originally on Thrust, though here it feels a bit more intense and jarring, while the extended version of "I Thought It Was You," originally on Sunlight, opens the track up into a sprawling electro groove. These are essentially variations on familiar material, but the execution is strong throughout, and offers some new perspectives, revealing how Herbie Hancock's material was always able to be adapted into new contexts.
Rating: 8.5
Feets Don't Fail Me Now
(1979; Columbia)
OK, so here's the thing: When you have a discography with as many items in it as Herbie Hancock's (and we're just talking as a bandleader here, not the hundreds of records he's appeared on), some of them aren't going to be triumphs. History hasn't been kind to Feets Don't Fail Me Now, and I don't imagine its bizarre stomping-on-diamonds artwork really helps matters. But considering the title is—intentionally or not—a callback to Funkadelic's "One Nation Under A Groove," it would seem that the idea behind the record was to make a mainstream funk album in the vein of Parliament, Chic or Giorgio Moroder. I'll just get to the point here: He doesn't pull it off, and it's not because the playing is bad, but rather that the ideas feel phoned in. Yeah, there's groove, but it feels kind of hollow. On an album like Head Hunters, you can practically feel the players' souls being transmitted through their instruments. Here, you can practically notice Hancock looking at his watch. It's not so much that this is boring, but for someone who has made so many transformative records, it's odd that he'd settle for retreads of music that was already popular at the time and without much of a unique spin on it. Only "Knee Deep" is redeemable in that sense, an instrumental track that's by no means among his best but still pretty fun. The rest, well, isn't.
Rating: 3.5
The Piano
(1979; CBS)
I can only imagine how much of a shock an album like The Piano might have been when it was released—not because of what it is, but because of what it isn't. It's not a funk album—miles from it, in fact, and considering that comprised most of what Hancock had been recording during the decade, The Piano is almost shocking in its starkness. Even Hancock's Blue Note material had more swing and groove to it—that's inarguably what the man does best. But The Piano finds him cutting out the organ, clavinet, slap bass and percussion, leaving nothing more than the title instrument. That's all that's on the album, in fact, the whole LP a stark session of Hancock playing piano in a studio in Japan. In fact, it wasn't even released in the U.S. initially. At one time a curiosity that was excluded from the American market—for understandable, if not justifiable reasons—The Piano is simply 31 minutes of graceful beauty, a jazz record by a technicality, sharing more in common with the stark, atmospheric sounds more commonly heard on ECM Records than Blue Note or Columbia. It's a subtle little record that doesn't demand your attention, but it'll capture it all the same.
Rating: 8.5
Monster
(1980; Columbia)
It gets harder and harder to distinguish all of the various disco albums Hancock released in the late '70s and early '80s—it was a prolific period for him, which is really no different than any past era for the composer and keyboardist. But the rewards diminished considerably, and after a certain point it becomes harder and harder to distinguish some of these more commercially oriented, dance-heavy sets from one another, particularly when Hancock's instrumental prowess begins to take a back seat to a more pop-heavy vocal presence. That said, Monster has its moments, like "Go For It," which is high-energy funk that hits all the right spots. And much like several of the other albums from this era, it features a number of guest musicians, most notably Carlos Santana. But guest features, as we know, only get you so far. The coolest thing about this album, however, is the cover illustration from famed artist Gahan Wilson, which is actually pretty great. But so much great talent in the service of an absence of inspiration still ultimately doesn't make this a great album.
Rating: 4.0
Mr. Hands
(1980; Columbia)
The late '70s and early '80s were a strange period for Herbie Hancock, not because he wasn't capable of putting out good records, they were just sandwiched between much less interesting ones. And the triumphs often came out of left-field. An album like The Piano being released immediately after something like Feets Don't Fail Me Now, I mean, what is that?! But Mr. Hands wasn't an entirely unexpected (and for that matter, market-restricted) stark reflection like the former. It's jazz fusion with some pop-friendly elements and, on a track like "Just Around the Corner," a whole lot of funk. This is a pretty diverse selection of songs on the whole, balancing some of the hypnotic grooves that defined his '70s material with Latin jazz in "Calypso" and more atmospheric jazz-fusion with a lot of gorgeous-sounding Fender Rhodes. After some of the weaker releases of the previous couple of years, Mr. Hands is proof that the deeply soulful and richly textured material of Hancock's past hadn't been left there, just that it had been temporarily shelved while he explored disco. That may or may not have been the best move for his discography, but Mr. Hands is such a stunning set of music that it's easy to overlook some of the more exhausting trips to Studio 54.
Rating: 8.9
Magic Windows
(1981; Columbia)
It's always kind of wild to see the kind of personnel that showed up on records in the '80s. More than any other decade, it seemed, genres and personalities crossed over in a way that made it a breeding ground for highly innovative musical collaborations. That's true of several of Hancock's records, in fact, including Magic Windows. While at the tail-end of his disco phase, it's still far from Hancock's creative peak, and yet, looking at the musicians involved—Adrian Belew, Sylvester, Sheila E—it seems like it would be a pretty spectacular record. And well, it's fine. It's far from Hancock's worst, but it's miles from his best. Essentially this is a Parliament record that wasn't made by Parliament, which means it's generally a pretty fun P-funk jam session, though that's not necessarily Herbie's wheelhouse. That said, it's a fun, enjoyable record for the most part, and that's all it needs to be.
Rating: 6.0
Herbie Hancock Trio (with Ron Carter + Tony Williams)
(1981; CBS/Sony)
There are two albums named Herbie Hancock Trio, which is a bit confusing. It's also the same trio: Hancock, Ron Carter and Tony Williams, three-quarters of the lineup of his classic albums Maiden Voyage and Empyrean Isles. This is the second of the two, and it's unsurprisingly enjoyable and upbeat. And when the record tells you how many people are playing, that's generally the case in the Hancock catalog. (The rule also applies for Quartet, in 1983.) And that's in part because it's such a refreshing counterpoint to the music he was making for a more commercial music marketplace. Instead of a big production with lots of players—some of them famous for other projects, like Santana—and fairly indistinctive results, these records were the product of three musicians simply having a joyous, free session that feels good to listen to. I could go into details, but really, this is a great palate cleanser that, while a minor release, still hits all the right notes.
Rating: 8.3
Lite Me Up
(1982; Columbia)
By anyone else's standards, Lite Me Up might be a perfectly passable disco/pop album. It's fairly decent, actually, with a number of immediate, accessible pop songs that hit all the pleasure centers. They're not great songs—nobody will confuse this for Prince or Michael Jackson—but they're fine. But fine for Herbie is a pretty big disappointment. And at this point his music barely resembles what it was. I don't blame him, really—his wheelhouse was in fairly non-commercial stuff that apparently only a Japanese market was interested in at the time. But whether this was to appease Columbia or simply because he was feeling disco more than anything else, Lite Me Up just isn't worth revisiting.
Rating: 3.0
Future Shock
(1983; Columbia)
Like most artists who hit the peak of their artistry in the 1970s, Herbie Hancock's transition into the '80s was stronger than expected, but not without its awkwardness. In fact, Hancock in the '80s is not all that far off from David Bowie in the '80s (though they didn't sound anything alike) in that both started the decade strong, and even adapted to the changing pop landscape before drifting into some weirder terrain, for better or for worse. Future Shock, however, was a boon for Hancock—one of two albums in his catalog to go platinum, as well as one that yielded an MTV staple in "Rockit." At the time, "Rockit" was a groundbreaking slice of electro, a much cooler entry from a legacy artist in the '80s than, say, Stevie Wonder sampling Theo Huxtable saying "jammin' on the one." And its video featured an array of dancing robots, which freaked me the fuck out when I was a kid, but now seems like the only logical visual accompaniment to a breakdancing jam like this one. The rest of the album isn't as thrilling or fun as "Rockit," though it continues a similar groove of dance-friendly, electronics-heavy funk. From Hancock, it was mostly significant on a symbolic level, though the album itself does feel like it exists solely for that one single.
Rating: 6.5
Quartet
(1983; Columbia)
This album technically was released after Future Shock, but I'm including it last for a reason. It's a return to Herbie Hancock's roots. A proper hard bop album featuring Ron Carter, Wynton Marsalis and Tony Williams, it's small-combo jazz that thrives on the chemistry between the players. By 1983, this sort of thing was long out of favor with the listening public at large, and the larger landscape of jazz itself had essentially moved on to something different. And that includes Hancock, who had embraced disco and funk, sometimes for better and sometimes for worse, but nonetheless did so along with just about everyone else. So to hear Quartet after a lot of these records above is refreshing. It's the kind of jazz that reminds us why we love jazz—the inspired takes on Thelonious Monk standards, the loose improvisations on "Eye of the Hurricane," and the overall sound of great musicians doing what they do best. It's not at the top of the list of Herbie's greatest recordings, but it's representative of why he's one of the greats.
Rating: 8.5
---
Support our Site—Subscribe to Our Patreon: Become one of our monthly patrons and help support an independent media resource while gaining access to exclusive content, shirts, playlists, mixtapes and more.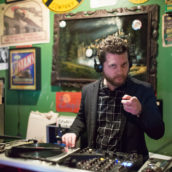 Jeff Terich
Jeff Terich is the founder and editor of Treble. He's been writing about music for 20 years and has been published at American Songwriter, Bandcamp Daily, Reverb, Spin, Stereogum, uDiscoverMusic, VinylMePlease and some others that he's forgetting right now. He's still not tired of it.