Celebrate the Catalog: The Herbie Hancock discography (1962-1983)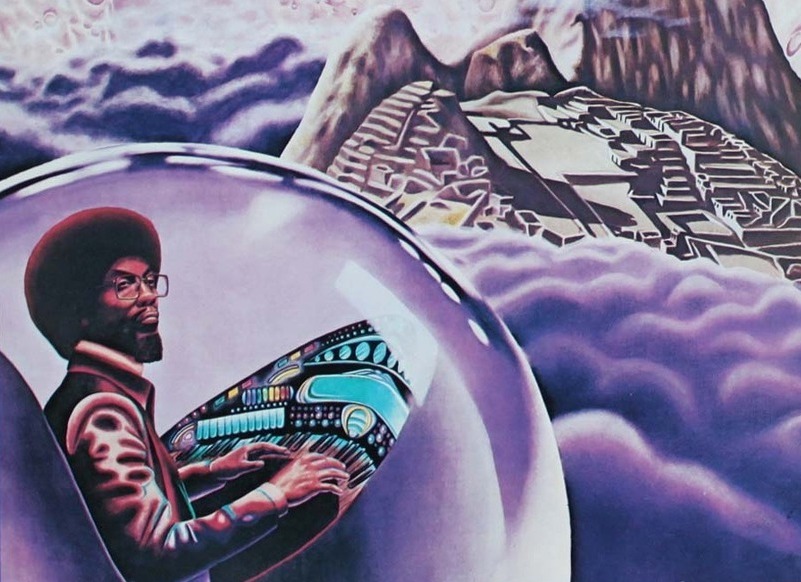 There are certain names that are synonymous with jazz: Miles Davis, John Coltrane, Thelonious Monk, Duke Ellington and Charles Mingus, to name a few. In the great pantheon of jazz giants, however, few stand as tall as Herbie Hancock, a prolific pianist and keyboardist who's appeared on nearly 1,000 albums, released dozens of his own, and has had his music performed by countless other musicians. He's an innovator and a pioneer, and as many times as his music has changed and evolved over the years, he's always pushed himself into new directions and approaches, embracing new styles throughout his career from post-bop to funk to disco and hip-hop. In fact, his music has been a frequent source for hip-hop samples, which goes to show how far his influence goes, even outside his own immediate collaborations.
Herbie Hancock was considered a child prodigy, performing Mozart with the Chicago Symphony Orchestra when he was only 11. Within 10 years, he'd sign to Blue Note Records, where he released his debut album Takin' Off. From there, he began a long and prolific career that saw him grow into his role as a bandleader while playing as a sideman for other musicians, including Miles Davis. He spent five years recording and performing with the Miles Davis Quintet, which helped him to find his own voice and style as an artist, and his own electronic piano helped to transform Davis' sound on albums such as In A Silent Way and Filles de Kilimanjaro. By the '70s, however, Hancock had began a process of wild experimentation, embracing an electric fusion sound that ranged from the spiritual (Mwandishi) to the ultra-funky (Thrust). And in this time, he brought jazz to an entirely new audience.
This month marks the 45th anniversary of the release of Hancock's landmark album, Head Hunters, one of the most commercially successful jazz albums of all time. It's also the point at which Herbie Hancock became a household name, his credit appearing on hundreds of albums since (and hundreds before that—he's a busy dude), ranging from his stellar soloing on Stevie Wonder's "As" from Songs in the Key of Life, to more recent releases from Flying Lotus and Thundercat. There's not an album that can't be made more vibrant with Hancock's presence, and he's released more than his share.
For the purposes of this feature, I'll only be exploring Hancock's catalog from his Blue Note debut on up to 1983, the year he released the hit single "Rockit," and found himself innovating and crossing over into new audiences more than two decades after first becoming a featured performer in jazz. I say only, but that's still 29 albums—many of them his absolute best albums. So much like our Celebrate the Catalog feature on Miles Davis, which featured a selection of 20 significant albums, or our feature on Van Morrison, which focused on his Warner Bros. years, this will be an abridged look at a titanic legacy in jazz and popular music. But there's also a wealth of material to cover, much of which audiences on this side of the Pacific weren't even privy to in their first issue. So get comfortable on this dive through the Herbie Hancock discography and see how he got from point A to point P or Q—the man's legacy is immense.
Takin' Off
(1962; Blue Note)
Jazz debuts aren't always remarkable. In fact, most of jazz's hall-of-famers—Miles Davis, John Coltrane, Charles Mingus—didn't release their greatest material right off the bat. Herbie Hancock didn't either, but damned if Takin' Off isn't a pretty short skip from his highest peaks. A bluesy and soulful hard bop classic anchored by a great single, Takin' Off is the sort of album that puts musicians on the map. Released when he was just 22, Takin' Off features a number of greats among its personnel—Dexter Gordon, Freddie Hubbard—and finds a groove early and often. The real treat is "Watermelon Man," a track that Hancock would record more than once in different styles and approaches, and which would become a boogaloo hit through Mongo Santamaria's Afro-Cuban reinterpretation of the track. But here it's a catchy, bluesy groove that proves how much fun jazz can be. And that goes for most of the album, with closing track "Alone and I" being a sparser ballad that revealed an entirely different side of Hancock's sound, namely a more meditative and gentle one. A solid, well-rounded debut that has lost none of its ultra-cool appeal in more than 50 years, Takin' Off is a jazz debut for the ages.
Rating: 9.0
My Point of View
(1963; Blue Note)
It's remarkable just how high a level of talent could be found on just about any Blue Note release in the '60s. My Point of View, a minor Herbie Hancock release in the scheme of things, still features a lineup of all heavyweights: Hancock, trumpeter Donald Byrd, drummer Tony Williams, trombonist Grachan Moncur III, saxophonist Hank Mobley and guitarist Grant Green—all of whom had their own outstanding releases as bandleaders. So even though none of the compositions on the album stand up to Hancock's greatest moments (which, let's be clear, is a pretty steep climb), it's an enjoyable set of music throughout. Leadoff track "Blind Man, Blind Man" has a soulful swing about it that feels a bit like an attempt to recapture the success of the previous year's "Watermelon Man," but doesn't quite have the same level of hookiness or excitement about it. All in all, it's a pleasant release of not a spectacular one, but an enjoyable stepping stone toward greater strides in creativity and innovation.
Rating: 8.0
Inventions & Dimensions
(1964; Blue Note)
Herbie Hancock's first couple of albums were strong—fresh, upbeat hard bop records that carried a soul and Latin influence. But Inventions & Dimensions (fun rhyming title!) represented a change of sorts. The Latin influence remains, but the focus is more squarely on Hancock himself. There are no horns on this record, so piano takes the lead, and as such there's a looser feel to the arrangements, with Hancock offering up some great improvisational material. The character of his first two records remains in somewhat different form, though the music itself carries a greater degree of nuance and with more material to unravel and get lost in. Released during the era in which Herbie would join Miles Davis' group and in short order release a pair of masterpieces on his own, this was the beginning of something big.
Rating: 8.7
Empyrean Isles
(1964; Blue Note)
I'd hesitate to call Empyrean Isles Herbie Hancock's first great album; that honor goes to his debut, Takin' Off, a record that by no means hit the artistic heights as his later achievements, but nonetheless presented him as a powerful force in jazz all the same. But Empyrean Isles is his first perfect album. This is the album that features his celebrated track "Cantaloupe Island," which became the source material for fellow Blue Note signings Us3's "Cantaloop" in the '90s. In fact, a good number of Herbie Hancock's recordings have been sampled, so if you've spent your share of time with '90s boom bap, you might have picked up a Hancock sample here and there. But that cool-as-hell groove is just one piece of a diverse selection of stunning compositions here, like the driving energy of "One Finger Snap," which showcases then-19-year-old drummer Tony Williams' talents, or the avant garde weirdness of "The Egg." There's an argument for every song here to be named the centerpiece, as they're all stunners, though I personally point to "Oliliqui Valley" as the real show-stopper, a mystical and exotic piece that introduces a more atmospheric melodic element.
Rating: 10
Maiden Voyage
(1966; Blue Note)
And here, Hancock follows his first perfect album with his second one. It didn't happen immediately—Maiden Voyage followed two years after Empyrean Isles, though the personnel is the same: trumpeter/cornetist Freddie Hubbard, bassist Ron Carter and drummer Tony Williams. That's an all-star lineup right there, even of some of these artists' marquee works wouldn't be released until a little bit later. Still, Maiden Voyage is something of an encore performance after the stunning Isles. In some circles, it's been viewed as slightly inferior, as Maiden Voyage isn't quite as playful or experimental; there's nothing here on the level of "The Egg," though what's here is uniformly stunning—it's still among the best Herbie Hancock albums, without question. The title track is one of Hancock's greatest openers, while "Dolphin Dance" became a staple throughout his catalog, a composition he's come to record many different times, and with good reason. The primary difference between this and its predecessor is one of ambition versus proficiency. The performances here are some of the best on any Hancock album, though it's perhaps easy to overlook when it's not as much an album about untamed vision and imagination. No matter, a perfect album is a perfect album, even if it's not necessarily his best album.
Rating: 10
Speak Like A Child
(1968; Blue Note)
Released in the aftermath of Hancock's two greatest achievements during his Blue Note tenure, Speak Like a Child tends to be overlooked to a degree. That's in part because of its placement—it's not always possible to follow two masterpieces with yet another masterpiece. Yet it's unquestionably a strong work, and an accessible one. These are subdued, incredibly gorgeous compositions that, while sophisticated instrumentally and compositionally, simply succeed for being pleasing to the ears in the most direct way. It's a pretty album, which is something that Herbie's not always acknowledged for mastering, though he's done it a lot. Some of those were his later, Japan-released albums that were somewhat in contrast to his fusion and disco period though inarguably fared much better artistically. But Speak Like A Child, while not a masterpiece by any means, proves how strong he was in the early goings. Even a more subdued Herbie was still stunning.
Rating: 8.4
The Prisoner
(1970; Blue Note)
The Prisoner is something of a rarity in Herbie Hancock's catalog: It's a political album. In the late '60s and early '70s—and truthfully even earlier than that—social activism was becoming more common in jazz, though the inherent contradiction in that is it's harder to make that message immediately apparent with instrumental music. Yet Hancock made his intent clear with the album, as the liner notes describe how Hancock wanted the title track to express "how black people have been imprisoned for a long time." As such this is music of great beauty, but also great complexity, of struggle and of a kind of intensity that wasn't always so front and center in Hancock's music. Likewise, the opening track "I Have A Dream" echoes Martin Luther King Jr., and showcases a brilliant performance by flautist Hubert Laws. As much fire and passion as there is in the album, though, it's still by no means as cacophonous or piercing as one of Pharoah Sanders' great albums. It is, however, compelling jazz music with a strong social conscience, as relevant today as it was upon release.
Rating: 8.7
Fat Albert Rotunda
(1970; Warner Bros.)
It's a little weird to discuss this release in 2018, as it was an album of music that revolved around material that Hancock had written for the Fat Albert cartoon—voiced, readers should note, by comedian Bill Cosby, who was recently sentenced to prison for sexual assault—a fairly light sentence given the circumstances. So, that's an unfortunate mark hanging over this record, but that being said, it's actually quite easy to separate from Cosby. In fact, this is a really fun, highly animated set of soulful, late-'60s/early-'70s style jazz funk. It's warm and lively, music that simply feels good when you hear it. In contrast to the heavier funk sounds of Head Hunters, it's a much more easy-going and lighthearted affair, nowhere near the deeper grooves that album would unlock. But it's a lot of fun, and on tracks like "Tell Me a Bedtime Story," even quite pretty. Yet to hear a track like "Oh! Oh! Here He Comes" is to witness the genesis of something great. Highly problematic comedy personalities be damned, Fat Albert Rotunda is funk, soul and jazz jumping rope, playing ball in the park and sharing a bottle of Coke.
Rating: 9.0
Mwandishi
(1971; Warner Bros.)
Mwandishi isn't Herbie Hancock's best album, but damn is it close. A couple of his Blue Note releases are tied with one of his fusion masterpieces for that honor, but Mwandishi is the atmospheric, ambient masterwork that paves the way for such a jazz-funk classic. The name Mwandishi is Swahili for "composer," and here, Hancock begins to intensely pursue the style of music he performed with Miles Davis on 1969's In A Silent Way and 1970's Bitches Brew, but performed with his own voice, so to speak, and characterized by his own compositional style. It's an album that maintains a groove, particularly on "Ostinato (Suite for Angela)", with some deep, sinewy basslines guiding a piece that's otherwise marked by Hancock's ghostly Rhodes. That Rhodes ends up being the defining instrument here, providing a spooky wash over everything that's at once ethereal and harboring a strange sort of mischief. On "Ostinato," it's a puckish counterpoint to the groove. On the 20-minute "Wandering Spirit Song," however, it provides a layer of mystery and spiritual intrigue. The album wasn't a commercial success, which isn't all that surprising given how much more it's about ambience than melody, but it's meant to be absorbed slowly over time, an experience more than a product. It offers repeat and delayed rewards more than most other Hancock releases, which is ultimately what makes it one of his greatest.
Rating: 9.6
Crossings
(1972; Warner Bros.)
Let's talk about "Sleeping Giant," the side-long opening track of Crossings. It's nearly 25 minutes of fiery, spiritual jazz intensity, powerful and remarkable and overflowing with life. It's some of the most incredible music that Herbie Hancock has ever recorded, and for that alone this album is at least an A minus. It's a sprawling, weird, psychedelic wonder of a track that proves just how intense and exploratory a period Hancock had entered—not that that wasn't already well established with Mwandishi. But here, Hancock goes even deeper into a space-age excursion, heavy on hypnotic percussion and a stunning interplay between his keyboards and Buster Williams' bass. It's quite something. The other two tracks on the album are also good, though they pale in comparison to "Sleeping Giant." It is, true to its title, a giant—a massive composition that overshadows the other two. Such a thing could also be said about some of Hancock's other compositions, like "Chameleon" for instance. Nonetheless, big shoes to fill, and while the second half is good, it's mostly a cool-down after such a sprawling masterpiece. That being said, good god, is this an amazing period for Herbie.
Rating: 9.2
Sextant
(1973; Columbia)
During Hancock's early '70s fusion period, he delivered a number of groundbreaking albums each notable for a completely different achievement. Head Hunters was his commercial breakthrough, making funk-fusion a household sound. Mwandishi was his atmospheric exploration of spiritual dimensions. And Thrust was proof that his groove just kept on going. Sextant, his Columbia debut, was the last with his Mwandishi band but one of his most wildly creative recordings. Definitely funky and expansive, not unlike the extended jams on the chart-topping album that followed, Sextant showed off Herbie's weird side. This is future-funk, the kind that actually seems to predict the oddball blips and bleeps of IDM in "Rain Dance." There's a spacious otherworldliness about everything here, even more peculiar and cosmic than on Mwandishi, but still grooving hard, as evident on the lengthy "Hornets." In that track, drummer Billy Hart (credited as Jabali, as all the Mwandishi players had aliases) absolutely wails, bringing the space excursion back down to earth, even if it's an unfamiliar and more alien-seeming earth than the one from whence they came.
Rating: 10
Head Hunters
(1973; Columbia)
You want a masterpiece? Well, here's a masterpiece. Just over a decade after Hancock's debut as a bandleader, he'd gone through a number of different permutations as an artist, from his gorgeous '60s post-bop records to his film scores and his more atmospheric funk records. But with Head Hunters, he'd fully arrived as a master of the groove. That alone would make Head Hunters a keeper, and likely did for most listeners—it became his best-selling album and remains his most celebrated release. With good reason, I might add: Only one minute into "Chameleon," and the power of the record becomes clear. I might go so far as to say it's the funkiest track ever recorded, 16 minutes of jazz-fusion that begins deep in the low end but soon enough finds propulsion in Hancock's synths and lifts off into a far-off galaxy. It's masterful and fun, a truly mesmerizing track. 15 out of 10. Not enough of the other tracks on the album get their due, but they're all worthy of praise, from the African-inspired rewrite of "Watermelon Man," nearly unrecognizable from the version on Herbie's debut, to the badass Rhodes chords of "Sly" and the drawn-out psychedelic dirge "Vein Melter." On some level, Hancock's music prior to this album predicted where he might go, though he'd never actually recorded anything that sounded quite like this. Put into practice, it's absolutely stunning, a balance of impeccable composition and the kind of cooking that happens when five master musicians get a session going. Furthermore, I should note that it's an incredible sounding album—Paul Jackson's bass and Harvey Mason's drums crackle with warmth, every bit as responsible for the album's deeply funky sound as Hancock's ARP synthesizers, to say nothing of Bennie Maupin's saxophones. There's a good chance most readers who see this article have heard or actually own a copy of Head Hunters. As far as I'm concerned, that's still not enough.
Rating: 10
Dedication
(1974; Sony)
Herbie Hancock offered up a wealth of material to the Japanese market in the '70s, and the U.S. didn't get a chance to hear it all until a bit later. And what's perhaps most notable about all of his Japanese releases is that they're uniformly wonderful. Dedication isn't an exception. Much like The Piano, which was released a few years later, this album is primarily solo piano and keyboard performances that Hancock laid down to tape while on tour in Tokyo, and the results are stunning (a Prince reissue recently proved that just one guy playing piano can be plenty entertaining on its own). There are some familiar tracks in new permutations here, like "Dolphin Dance," a track that Hancock was fated to record again and again, much like Jimi Hendrix with "Red House," though there's good reason for that: It's one of his best. But all the material here is performed impeccably and beautifully, and "Nobu" finds Hancock backed by a sputtering synthesizer pattern, which essentially makes this solo fusion track sound like the earliest form of techno. Two different sides of Hancock come together in this fascinating release, which might not be his most cohesive, necessarily, though definitely one with its share of musical rewards.
Rating: 8.5
Thrust
(1974; Columbia)
It's called Thrust. It tells you right what to expect in the title: movement, energy and life. Listening to Thrust is to feel something that breathes and grooves and feels utterly joyous and caught in the moment. Released not long after Head Hunters, it features much of the same personnel as that album as well as its attitude and swagger. The difference is where that album found the band engaging in some far-out cosmic funk experiments (as did the comparably great Sextant), this album is pure funk. It's a deep funk, a pocket wide enough to fit the entire personnel of Bitches Brew but with fun to spare. From the opening of "Palm Grease," the band gets cooking, and every track thereafter maintains that badass sound. Even "Butterfly," the sole slow jam here, is a supremely funky boudoir soundtrack. And the shortest track, "Spank-A-Lee," is simply an exercise in finding the fattest, most righteous synthesizer sounds possible. This isn't quite on the level of innovation as Hancock's two preceding albums, by by god, jazz hasn't produced an album this funky since.
Rating: 9.3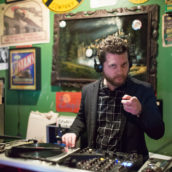 Jeff Terich
Jeff Terich is the founder and editor of Treble. He's been writing about music for 20 years and has been published at American Songwriter, Bandcamp Daily, Reverb, Spin, Stereogum, uDiscoverMusic, VinylMePlease and some others that he's forgetting right now. He's still not tired of it.