How To Destroy Angels : An Omen EP
He's fought addiction and shitty music business dealings, and come out on the other side with a seemingly stable home and award-winning, groundbreaking work. Personally and professionally, Trent Reznor looks able to handle what's thrown at him pretty coolly now. So we don't mean to put any pressure on the guy — nor can we, really — but we can't overstate things: An Omen, the second EP from his new outfit How to Destroy Angels, is kind of important for Reznor.
As a second release, it shows the Nine Inch Nails frontman is really going all-in with this new band. He has family (wife and lead singer Mariqueen) and longtime friends (Atticus Ross, Rob Sheridan) riding his long professional coattails, for better or worse. He's returning to Major Label Land after largely successful experiments in independent distribution. And How to Destroy Angels are still promising a full-length album, so An Omen has to not only fulfill promises made on 2010's self-titled debut but generate significant interest for 2013.
Across six tracks, this EP somehow manages three separate sensibilities. The first finds Trent and Mariqueen front and center as singer/songwriter cyborgs. "Keep It Together" covers insinuating, parasitic love, with Trent joining his lady in much the same muted manner as he joined Tori Amos on her cult favorite "Past the Mission." "Ice Age" is Mariqueen's warning against love disappearing, and her clearest vocal connection yet to her indie-pop roots in West Indian Girl. The production on these cuts is almost buoyant: the former has keys and guitars remade into the sounds of violin, piano, and dubstep-level bass drops, while the latter feels like HTDA's men sitting around a campfire and banging out a thorny folk piss-take on Crosby Stills & Nash.
Then we have HTDA leaning on atmospherics that could seemingly be made by Trent and anyone at the drop of a hat. "On the Wing" is a rhythmic piece with both Reznor's vocals heavily distorted to the point of sounding like they're underwater. "The Sleep of Reason Produces Monsters" is a plainly descriptive tone poem, with bright synths suggesting Raymond Scott's Soothing Sounds for Baby until the poltergeist whooshes kick in halfway through. It's cool stuff, and yet it threatens to be what might pass for predictable in the Reznor universe.
As the EP ends, HTDA start to echo what Trent and Nine Inch Nails once were. "The Loop Closes" is anchored by a hostile chant, "The beginning is the end/Keeps coming around again," and is the fastest track on the EP even if it maxes out at head-nodding instead of moshing. "Speaking in Tongues" finds Mr. and Mrs. Reznor moaning in unison "I am aberration by design," suggesting that the construction first described in "The Becoming," from The Downward Spiral, is now complete.
Nobody knows if Trent Reznor will ever again crank out the kind of death disco that helped him earn his bones. We wonder how much that would disappoint his more aggro fans who might clamor for another "Wish" or "Hurt" or "We're in This Together" or "Head Like a Hole." Yet while How to Destroy Angels may reduce NIN's volume level and speed, they pile on introspection and technical prowess for a wholly different brand of fascinating synth-pop.
Similar Albums:
Tori Amos – Under the Pink
Tom Waits – Bone Machine
Coil – The Ape of Naples
Stream: How To Destroy Angels – "Keep It Together"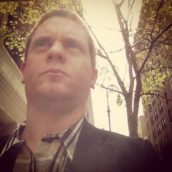 Adam Blyweiss
Adam Blyweiss is associate editor of Treble. A graphic designer and design teacher by trade, Adam has written about music since his 1990s college days and been published at MXDWN and e|i magazine. Based in Philadelphia, Adam has also DJ'd for terrestrial and streaming radio from WXPN and WKDU.