Hüsker Dü : Tonite Longhorn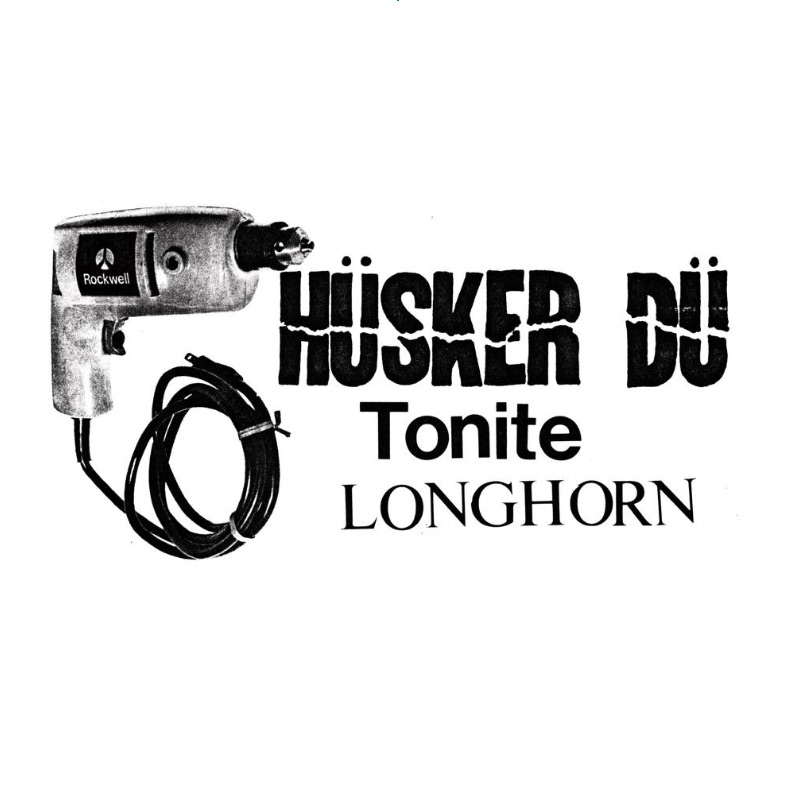 I've written before about my feelings about Hüsker Dü; it should be made plain right up front that I fully expected this to be more hagiographic than properly critical. We are in the midst of a shocking set of archival releases from the group, seemingly triggered as much by late-in-life reconciliations as by the sudden passing of Grant Hart. Numero Group, for instance, recently released another of their brilliant archival collections this time for Hüsker Dü titled Savage Young Du which included nearly 50 unreleased songs from the early days of the group splitting the difference between straight ahead punk rock, hardcore and the experimental/psych roots rock they'd later seize up in full. Tonite Longhorn follows this mold, comprising live shows of entirely original material by the group from 79 and 80, none of which made it on to their proper studio records years later.
Two things are immediately obvious: This material is markedly rougher than what would eventually comprise the main body of their recordings, starting with Land Speed Record and ending with Warehouse: Songs and Stories. This is, obviously, not an extremely fair comparison, given that those six texts comprise in a certain real way a major backbone of alternative rock and post-hardcore in its various incarnations we still haven't truthfully moved past. Many great—not good but great—bands still functionally play within that wheelhouse. The second thing is that, despite being clearly developmental toward those greater works, the pieces are all present already, even in this early stage of the group. It's clear in part that being a trio aided the group tremendously on the creative front, if not always the interpersonal end; their ability to naturally gravitate to the hoary and wild ends of punk, to not fetishize lack of skill when the point was and always is the energy, is present immediately.
Which causes a reevaluation of that first element I mentioned. "Markedly rougher" begins to undo itself: you can not only hear what would one day become Land Speed Record, perhaps their only record to really be a hardcore album in any meaningful sense, but also glinting fragments of the dissonance, swirl and psychedelia that would mark the expansive experiments on Zen Arcade and everything that was to follow, not to mention the tight pop songcraft that would dominate the post-Dü careers of these three players. It's one of the real pleasures of punk, especially being able to look back now nearly 50 years later. We see that the best of that world were always songwriters and thinkers, not just throwing on a lazy affect of lack of skill to compensate for being naff writers. Likewise, while they were still nominally a hardcore band at this point in their careers, the arthouse psychedelia and droning post-punk elements which would come to drive the back end of their career are already present, albeit in diminished form.
If anything, the only true complaint that could be made about this material, much like the archival box of similar unreleased live versions of songs that never made it to records, is that this format almost discourages precisely the kind of historical reevaluation best suited for this music. In an ideal world, the contents of that last box and this live album would have been parceled over several discs, creating a phantom first era of the band that we could rediscover, arranged as full albums might have been. Instead, rich and invigorating as this material is, ringing with the same clamor and fervor that truly great punk of the late '70s often does, it feels eerily obvious that all of this material will wind up likely overlooked by precisely the people who need it most. Hüsker Dü is a special band, very terribly special, and this kind of strong developmental work doesn't deserve to molder in archival vaults but just as much it doesn't deserve to merely be the purview of music obsessives like us who might seek our archival releases of unheard material. I hope I'm wrong here; these songs bridge precisely the gap between Springsteenian maximalist heartland rock and the burgeoning punk and hardcore spirit that would drive so much of the very best of '80s alternative and post-hardcore music.
---
Label: Reflex
Year: 2023
---
Similar Albums:
Langdon Hickman
Langdon Hickman is listening to progressive rock and death metal. He currently resides in Virginia with his partner and their two pets.