Jaboukie : All Who Can't Hear Must Feel

All Who Can't Hear Must Feel is a catchphrase for discipline in Jamaican households, in Jaboukie Young-White's telling. It doubles as the title of the artist's debut, self-produced album. Having grown up in New York comedy and 2016 primary Twitter, Young-White is no stranger to conflict, shock value, entertainment and disillusionment—and the way, where these meet, you can build an elevator to the top from retweets, likes and even dislikes. The album is a synthesis: of his, a gay man's, upbringing in an immigrant household hailing from a socially conservative country, of generational disenchantment in America's social and economic systems, and of finding joy in American blackness and its cultural figureheads.
Young-White's transition from comedy to music in some ways feels natural. His sense of humor and love for provocation is everywhere on the album, which he wrote insularly with some support from his brothers. But from interviews it's clear that Young-White was given a deal comically easily from Interscope Records, arising from separate work with Interscope on a memorial project for late rapper Juice WRLD. Having only started seriously producing during the pandemic, and even then meme songs (including one about a threesome with Senator Mitch McConnell) released on an alt twitter, the deal was presumably largely justified by his existing following.
Social media stars make for attractive A&R. The modern landscape of art increasingly hinges on individuals over institutions, with many of the old tastemakers and gatekeepers dead or dying, and consolidated corporations that can stretch your brand across all their verticals. In the new world, the spending power of 850,000 Twitter followers qualifies you: it can earn a book deal, a voice acting gig, a puffy title at a fast fashion house, an appearance on unscripted television of your choosing. You yourself get to be, as Ian Bogost writes about Kim Kardashian, "a diversified media conglomerate." (All the better if you actually have some talent.) Even now, a month before his "some stand up, some music" tour, Young-White's Instagram profile picture doesn't show him in front of a microphone but behind a camera.
The new economics of artistic success aren't the artist's fault or the album's undoing—it conspicuously manages to stand on its own two feet. But it undermines Young-White's ability to strike his most comfortable stance: the underdog. On "not_me_tho," he muddles a message on making it in entertainment, treating his own individual success with ironic and alternating distance. When he decries Hollywood as "cataract Keeblers… who left Harvey alone" on "solid states," like Greta Gerwig's Barbie movie taking sanctioned shots at Mattel, the opposition feels ritual.
Much of the album works with less dissonance, riding high on the artist's creativity in recombining familiar styles. In no mean feat for a new producer, Young-White scores a brooding, dynamic ambience, replete with daring beat switch-ups and tense synths. A love of experimental electronic music—especially made by Black artists—shines through; inspiration feels particularly keen from Childish Gambino, Kid Cudi, Yves Tumor, and '90s Chicago footwork DJs. Young-White's most personal touches elevate the album into thrilling novelty—including drops of patois, sounds recorded in his grandmother's house, a winking reclamation of the acronym "BBC," and the thrilling 26, which serves as a sort of violent rejoinder to homophobic reggae anthem "Boom Boom Bye." For all these thrills, the artist feels similarly comfortable in the meditative: at play on the Flume-like "solid states" and punchy rock trance of "Goner." When this proclivity fuels a misfire, including the irksome "LA" and "cake" interludes, it feels like a lack of experience rather than lack of ideas.
Young-White adorns these moody backdrops with lyricality holding both a disaffected humor and a palliative earnestness. A repeated, swaggering couplet immediately feels iconic on "Hit Clips pt. 1": "gays and girls, get your middle fingers up, they talking shit but they man wanna fuck." But the album feels as comfortable dropping the bluster; like on "incel," copping to "fighting to exist still / Launch a lazy punch and kick at the nothingness," or on "hit clips pt. 2," where he's doomscrolling, "drowning in that blue light." On Cranberry Sauce, an equally anxious and gorgeous nightmare of a track that would feel at home on Awaken, My Love!, he's sympathetic and funny: "How can I continue without you? My birthday suit's still in your wash."
At times, the artist's grasp exceeds his reach. The vocals often drag behind the rest of the album, whether through production or delivery, Young-White sounding coarse or muffled. "Not_me_tho" never quite feels worthy of its anthemic ambitions, with bars as unappetizing as "dripping like my cock sick" and as overwrought as "thread them fine lines through needle eyes"—all stitched together by a chorus that sounds underdeveloped. Album opener "++y" feels like ideas clashing rather than coming together. 
The album is off to a slow commercial start; the sort of trouble that labels tend to foresee for new artists before authorizing their full-length, self-produced LPs – maybe, given music as the increasingly tired landing point of breakout pop culture figures, the follower to listen ratio isn't what it used to be. If All Who Can't Hear turns rotten, you can imagine Interscope will quickly lose its interest in the Jaboukie IP. And some other executive, hungry for eyeballs of 850,000 followers, will pick it up and repackage it. Young-White is perfect for this mega-industry: whether great, he's good enough in every trade. 
---
Label: Interscope
Year: 2023
---
Similar Albums: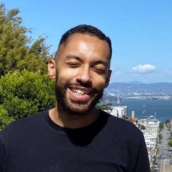 Joshua Seawell
Joshua Seawell writes about music from any city who will have him in California. He has also written for The Stanford Daily.