jaimie branch : Fly or Die Fly or Die Fly or Die ((world war))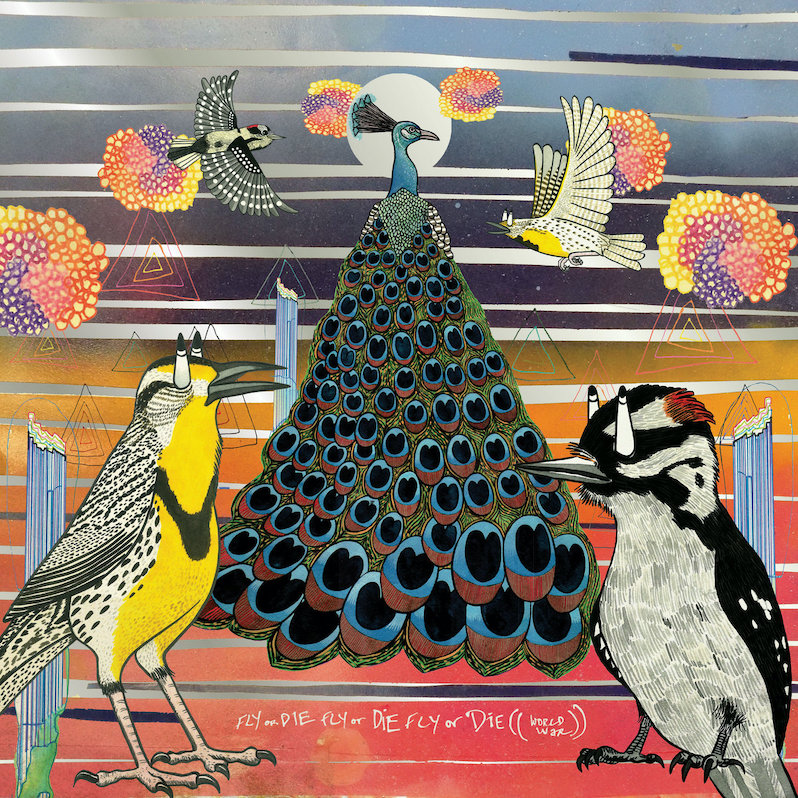 By 2022, free jazz trumpeter, arranger, and composer jaimie branch had established her own omniverse—a blend of jazz improvisation with punk aggression and post-hip-hop nonchalance. Her projects included the Fly or Die band, featuring cellist Lester St. Louis, bassist Jason Ajemian, and drummer Chad Taylor, and her electronic experimental work under the name Anteloper with Jason Nazary. Both products of her view on music—things come in psychedelic form no matter modal or cosmic genre based—pushed boundaries and created new entry points for traditional jazz and experimental electronic music. Both imaginative in scope, they had a large pedigree of "want to"; branch always played her trumpet, her music, her arrangements like it was a privilege and she would not waste it. 
As she had worked making coffee and sandwiches for minimum wage and organizing new and used vinyl at a record store, touring the world with her bands, projects, and ideology to boot was a triumph. When she would hit those segments in her charge songs that carried a conquistador vibe, drumming up the spectators, preparing them for revolution, celebration, or some type of branch revelry, you heard her joy. That's how she blindly made fans, right there, in the music. So when she wasn't rallying against a racist president, branch's music demanded listeners on both sides—traditionalists and first-time jazzers—to submit to her gravitational force.
A musician who trained at the New England Conservatory, branch saw a relationship between punk and Miles Davis. branch may not have been a household name, but she had a wide swath of contemporaries—remember that omniverse—who admired her penchant for synthesizing different types of energy into a hard-charging meter, that she'd shout, whoop and scream freely over. All the while singing and chanting about changing this world. Which she did. 
She played like her life depended on it. When she'd go into that happy conquistador trumpet mode, ripping off joyful stanzas on that horn as if she just found the exhilaration button for the first time? That was her call to church, and everybody came, transfixed by her gospel. Helado Negro, Elza Soares, Wolf Eyes, Madlib, TV on the Radio, Yo La Tengo, Spoon, The Bug, and Medicine Singers. They all dug and worked with branch. She was always seeking out musical collaborators to start mini-revolutions with. It's possible that she, along with Thundercat, Theon Cross, Nubya Garcia, Emma Jean Thackray, Lakecia Benjamin, Brandee Younger, and Irreversible Entanglements, helped to change the Grammy provisions for jazz in 2024 to include a Best Alternative Jazz Album category.
Again, not a household name, but the house got some renovations due to branch's vision and 21st Century interpretation of improvised music. Her Fly or Die bandmates Lester St. Louis, Jason Ajemian and Chad Taylor knew this: "jaimie never had small ideas. She always thought big. The minute you told her she couldn't do something, or that something would be too difficult to accomplish, the more determined and focused she became." Again, it's that "want to."
Then, she abruptly died on the night of Monday, August 22, 2022, at her home in the Red Hook neighborhood of Brooklyn. Her death was announced by International Anthem, the Chicago-based label that released her music. The statement, made in consultation with her family, did not provide a cause. She was 39.
We are told that Fly or Die Fly or Die Fly or Die ((world war)) was almost finished around the time of her death with the exception of some mixing tweaks, final titles, and artwork. As with anyone, I'm real leery of posthumous album releases. We as music fans have been burned in the past with promises of this and receiving an album of, egads, that.
Well, Fly or Die Fly or Die Fly or Die ((world war)) captures branch on the move, stirring up shit, making longer jams, applying that punk attitude to New Orleans second-line slappers that march on through the night straight to the corner store in the morning searching for the Pedialyte section. These nine songs burst about with full-throttle, hellion-rowdy, freaky consciousness-expanding shaman type verve. Not even for a nanosecond is there any color or energy shift projecting finality. If anything, it's a lovely bouillabaisse of branch's way of gathering the tribes and bringing folks together. Mostly jazz, some folky Americana twang, and inflections of branch's Colombian roots peeking through on the uptempo arrangements make this another rollicking and foxy culture clash that can take you through dubbed on blues on "Baba Louie" and wake you out of a slumber on "Take Over The World" giving back to the land with punk show glory. Cot damn, breezy.
It is far too early to tell where this third Fly or Die album will line up next to the previous two. That is something time will have to handle, the one and only thing branch so tragically ran out of.
---
Label: International Anthem
Year: 2023
---
Similar Albums:
John-Paul Shiver
John-Paul Shiver has been contributing to Treble since 2018. His work as an experienced music journalist and pop culture commentator has appeared in The Wire, 48 Hills, Resident Advisor, SF Weekly, Bandcamp Daily, PulpLab, AFROPUNK and Drowned In Sound.