Makaya McCraven : In These Times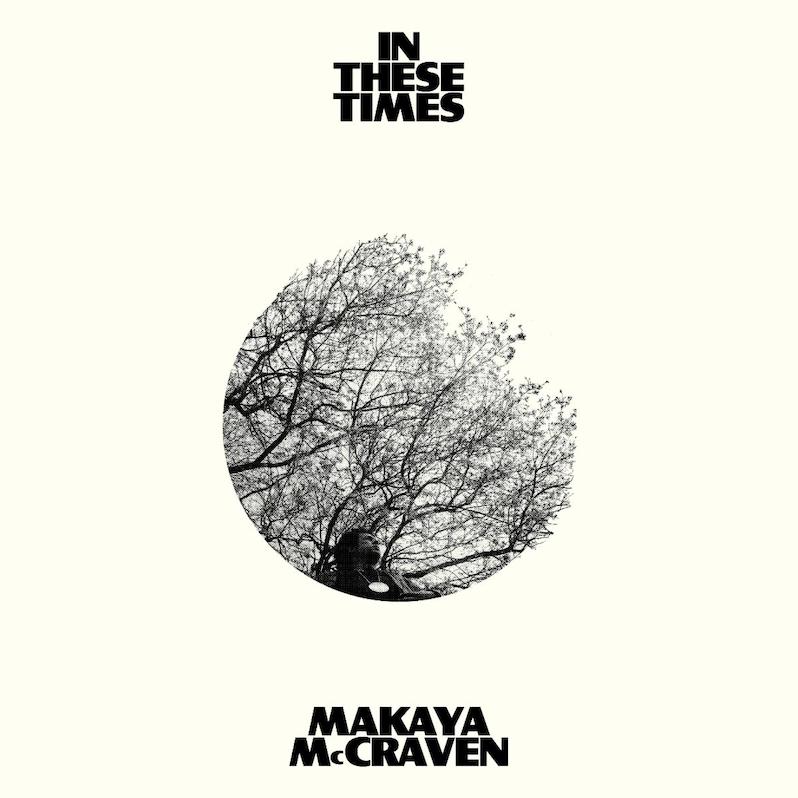 To listen to much contemporary jazz is to hear a confluence of different musics and cultures, all gathered under one tenuous and progressively broad banner. In recent years, we have heard the serene, subtly electronic ambience of Pharoah Sanders and Nala Sinephro's latest work; the looping, minimalist guitar of Jeff Parker; the cultural melange of London's jazz scene. It's safe to say that to a mid-20th century jazz purist, this music would fall well outside their definition. But from its own syncretic inception, jazz has always engaged with its surroundings. From Dizzy Gillespie's incorporation of Afro-Cuban rhythms to Miles Davis' amplified experiments; from Herbie Hancock's transition into funk to John Coltrane's obsession with Indian forms, jazz has proven time and time again that it is a malleable, versatile thing. One of the great modern arbiters of this fusion-heavy approach is Chicago drummer and soundsmith Makaya McCraven. Yet where Miles and Hancock drew from the popular genres of their time, McCraven looks to the modern equivalents.
With In These Times, McCraven returns for another offering of fidgety, multidisciplinary drumming and elaborate, organic instrumentation. One of McCraven's wonderful abilities as a drummer and composer is to make the most complex of techniques seem natural and unforced. Many seasoned drummers would be baffled by some of what he is achieving here. But McCraven understands that technical virtuosity is not an end in and of itself. Throughout the record, the unusual time signatures and rhythmic complexity are just one element of a far greater whole.
Interestingly, despite being so tapped into contemporary music, In These Times seems uniquely concerned with developing an organic tone and palette. Even when paired with the edit-intensive and detailed production, this quality remains. It is perhaps best described using McCraven's own term, "organic beat-music." Indeed, despite frequently being chopped up, almost all the instrumentation—with a few exceptions—feels distinctly un-synthesized, reliant on a specifically physical input from the musicians. Aided by endless harp runs from the magnificent Brandee Younger, sweeping string arrangements, and Jeff Parker's subtle guitar contributions, the album feels natural, warm, and intimate. The opening inference of live performance adds to this theme.
The album opens with the title track, a terrific statement of intent. Though one could plausibly argue that grand orchestral arrangements can detract from the appealing immediacy of jazz, here they add to the power of the composition. Perhaps this owes itself to McCraven's inclusion of a relatively small four-piece string ensemble. The brilliant, searching saxophone solo on the back-end fits perfectly within the dense composition. We then encounter the slightly ominous tone of "The Fours." The driving, staccato melodies and clear hip-hop influence may recall the work of London's Sons of Kemet. A few tracks on, "Lullaby" serves as a great showcase for harpist Brandee Younger and the string section. The track —based on a composition by Hungarian folk band Kolinda—is a lyrical, meditative highlight.
The eccentric "This Place That Place" returns to McCraven's frantic, busy drumming before swiftly changing direction into strange, disjointed detours. It encapsulates the LP's odyssey-like form, guiding listeners through its multi-phased arrangements. "Seventh String" is another highlight, a dense collage of relentless drums and mournful strings. When flautist De'Sean Jones enters the composition, he crafts a stirring solo. Special mention should go to Jeff Parker's terrific contribution to "The Knew Untitled," which should appeal to fans of Parker's work with post-rock innovators Tortoise.
In These Times is another striking example of McCraven's search for an organic-but-modern sound. Much like Miles Davis' many experiments in genre and production, McCraven is uncompromisingly adventurous but never alienating. For fans of this more exploratory, genre-agnostic jazz, In These Times will be well worth a listen.
---
Label: International Anthem/XL
Year: 2022
Buy this album at Turntable Lab
---
Similar Albums:
Noah Sparkes
Noah Sparkes is a UK-based culture writer specialising in film, TV, and music. With a particular interest in the intersection of culture, politics, and history, Noah has written in a variety of outlets.