Jan St. Werner : Blaze Colour Burn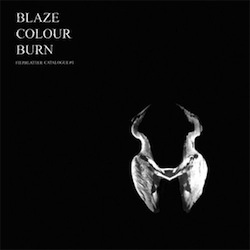 Buy at iTunes | Buy at Insound (vinyl)
German IDM maestro Jan St. Werner has taken his experimental approach to electronic fuzz to its logical next level. As half of the duo Mouse on Mars, he alternated layered lush sounds with staccato rhythms, and several albums under the moniker Lithops revealed an evolution into thoughtful compositions using different textures and beats. With his first solo effort under his own name, Blaze Colour Burn, he has eschewed structure and beats all together and created an atonal collection of symphonies designed to appeal to a small, select audience. Nonetheless, it's a collection of symphonies with a theme and direction
Lead track "Cloud Diachroma" is 13 minutes of blurry synths fading in and out with little support in either direction save the occasional key strike. "Spizzacorale B" introduces some additional sounds – wine glass rims, chimes, and other unidentified percussion. About four minutes in, some horns and woodwinds enter, easing the listener out of dreamland, and a minute later some crowded conversation is introduced, and you are fully dehypnotized. "Feed Opener" adds some footsteps and typewriter as well as strings to the existing soundscape.
"Serra Bacon" has some static along with synths reminiscent of the soundtracks of silent '60s cartoons. And just when it seems as if St. Werner is out of surprises, "Spizzacorale A" hits the listener with some marching band music at almost the three-minute mark, but it sounds more like something that's happening down the hall from you (it's interrupted by more conversation, and finally by church bells).
Blaze Colour Burn can be the soundtrack to your day, perhaps if you live in a flat in Berlin; the synths and tones are your own thoughts and colors and dreams, and the bells and voices and horns are the distractions we all face while trying to spend a nice time in our own heads. However, whether or not this is something anyone will want to listen to depends entirely on the audience. Want pop music, even electro-pop music, with a beat and a point? This is not for you. Want to get lost in your own mind for about 45 minutes? Then pick up Blaze Colour Burn, close the door, turn off the lights, and drift away.
Similar Albums:


Mouse on Mars – Parastrophics


Fennesz – Black Sea


Tim Hecker – Ravedeath 1972