Johnny Marr : The Messenger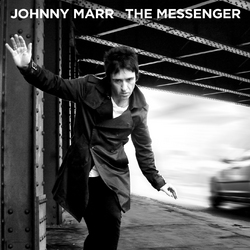 Buy at iTunes | Buy at Insound
Morrissey's current mindset on The Smiths is well known to a fault. It might be hurtful to suggest he's built his image as a solo artist at least in part on a foundation of constant reminders of his disdain for his old band's business decisions, pooh-poohing reunion plans, and music that still manages to invoke their sad, sweeping majesty at many a turn. It might also nurture a kernel of truth, making Moz the sorest winner in alternative rock and reiterating the old PR maxim that there's no such thing as bad press.
Meanwhile, his former bandmate/creative foil/frenemy Johnny Marr just plugs along, acting like he's been there on his new album The Messenger — because he has been there. After handling guitars and production throughout The Smiths' memorable catalog, Marr presaged Dave Grohl as the genre's ultimate free agent. In the quarter-century since the band's breakup, Marr's occupied himself with multi-source supergroups, studio sessions with everyone from Talking Heads to Beck, and tours and albums for other existing bands. On the surface it's amazing that The Messenger is his first true solo album. In reality, dude's been busy.
The pre-release spin on this album claimed it threw back to Marr's time with his old cronies, and even made rugby tosses over to Morrissey's solo catalog. Me, I don't hear it much past the gasping introspection of "Say Demesne" or the third-generation-Moz 4/4 stomp of "Sun & Moon." I sense my differing opinion comes from Marr's vocals being mixed deeper in and among the instruments, instead of out loud and proud. Songs like "I Want the Heartbeat" and "New Town Velocity" have more in common with R.E.M.'s mush-mouthed mystery than with Your Arsenal.
The album actually makes stronger connections to indie-rock and especially Britpop of the last 10 years or so — no big shock when you see projects like his Modest Mouse and Cribs residencies most closely in Marr's rear-view mirror. If the world were a cold, cruel place, that might make The Messenger out to be nothing special, since that time generated much fun but forgettable work (hi, Art Brut) and even the makers of the best work missed more than they hit (hi, Maximo Park). Thankfully, the world is not so cold and cruel.
There are plenty of sounds here you've heard elsewhere lately: the trilling opening and chord progressions of "European Me," the atmospherics of "Word Starts Attack," the multi-tracked vocals of "Lockdown." In lesser musicians' hands they might sound like the same musician over and over. In Johnny Marr's hands they comprise an altogether upbeat, peppy affair. Even without an obvious smash hit (I'd vote for "Generate! Generate!"), The Messenger just feels like an album you're glad he made, relying on his newest influences instead of his oldest ones.
Similar Albums:


Kaiser Chiefs – Employment


Hot Hot Heat – Elevator


Interpol – Our Love to Admire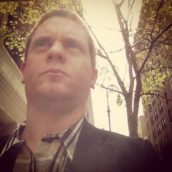 Adam Blyweiss
Adam Blyweiss is associate editor of Treble. A graphic designer and design teacher by trade, Adam has written about music since his 1990s college days and been published at MXDWN and e|i magazine. Based in Philadelphia, Adam has also DJ'd for terrestrial and streaming radio from WXPN and WKDU.