Kanye West's G.O.O.D. Fridays: In Review
When Kanye West finally started his own Twitter page, the Chicago producer/MC provided an endless stream of entertaining one-liners. My personal favorite: "What's your credenza game?" But the most exciting words the man uttered on his feed actually involved the launch of a new free music series called `G.O.O.D. Fridays,' in which, every Friday, West would make a new song available for free on his website, and would continue to add a new one each Friday up until Christmas.
West has released pre-album mixtapes in the past, and with fifth album My Beautiful Dark Twisted Fantasy hitting shelves Nov. 22, this project serves a similar purpose. However, the sheer volume involved in this project is much greater, as the end result will most certainly be, at the very least, two albums' worth of material. Some of the songs appear on his new album in some form, a couple are remixes, but the vast majority are all-new, unreleased tracks.
We took it upon ourselves to give a rundown of each of his contributions thus far, most of them good, many of them great, some of them tedious, and some of them just plain confusing (Justin Bieber anyone?). And all of them are available for download right here.
"Power" (remix ft. Jay-Z, Swizz Beatz)
Already one of the most triumphant and badass singles of 2010, Kanye West's King Crimson-sampling "Power" rocks harder than any other hip-hop song to be released this year. In remixed form, however, the song is given an added layer of confrontation and intensity, thanks to a mighty first verse from Jay-Z. He asks "is this thing on?" before rattling off a motivational speech that includes the $100 couplet, "They tryin' to Axl Rose you/ Welcome to the Jungle." And then, inexplicably, the sample bed transitions into Snap's "I've Got the Power." Unexpected, but hey, it works!
"Runaway Love" (remix ft. Justin Bieber, Raekwon)
I never thought I'd ever see the named 'Raekwon' and 'Justin Bieber' together in one place, but here we are. In this track, Kanye West bridges the glittery teen pop world with the dark Shaolin styles of the Wu-Tang. And it's not entirely objectionable but it's also not entirely successful. Mainly, it sounds like a Justin Bieber song interrupting a RZA production, and it's as bizarre as it sounds. So, noble effort, I suppose but the execution leaves something to be desired.
"Devil In a New Dress"
One of the strongest of all the Friday jams, "Devil In a New Dress" focuses on all of the things that Kanye West does best. A lush, soul sample creates a powerful backdrop for Kanye's soul searching, sentimentality and request for "some consummation." In its album form, "Devil" spans nearly six minutes, but here it's much more abbreviated, just shy of three minutes. And while the extended instrumental and Rick Ross verse on the album version certainly add more great elements to an already stellar track, here, it's essentially perfect.
"Good Friday" (ft. Common, Pusha T, Kid Cudi, Big Sean and Charlie Wilson)
Like many of Kanye West's G.O.O.D. Friday tracks, "Good Friday" is loaded with guest verses, from a fairly diverse set of emcees with a fairly diverse set of intentions. Kid Cudi, as he does so well, provides a characteristically chill vocal hook, and Kanye mainly throws out some shout-outs over an upbeat piano hook. Essentially, everyone sticks to what they know best. Common drops some positivism, Pusha T sells drugs, Charlie Wilson fucks everything with two legs. A solid mixtape track, and a fun outtake, "Good Friday" is the sound of a bunch of dudes just having a good time over an easy beat.
"Lord Lord Lord" (ft. Mos Def, Swizz Beatz, Raekwon and Charlie Wilson)
The seven-plus minute epic "Lord Lord Lord" is a feat of sprawling g-funk, a kind of old school, early '90s style jam with Kanye's gift for progression. Like a ton of other G.O.O.D. Friday tracks, Raekwon and Charlie Wilson show up, but Mos Def is the real star here, kicking off the track with his fierce and focused flow, further revealing just how on his game he's been in the last couple of years. The same can't necessarily be said for Swizz Beatz, but regardless, track jams.
"So Appalled" (ft. Jay-Z, Swizz Beatz, RZA, Pusha T and Cyhi the Prince)
One of a couple G.O.O.D. Friday tracks that also appears on My Beautiful Dark Twisted Fantasy in some form (essentially the same, for the record), "So Appalled" is another lengthy one and over its dark string melody, this gritty posse spits verse after verse celebrating excess and decrying haters. So nothing particularly novel, but it's done well enough, if redundant by around the four-minute mark. Fuckin' ridick-a-lous.
"Christian Dior Denim Flow" (ft. Kid Cudi, John Legend, Pusha T, Lloyd Banks and Ryan Leslie)
Sometimes what Kanye West does best is riff on how fly he is, and this certainly falls under that umbrella. The strings, electro beat and Kid Cudi hook add an extra element of intrigue, as well. But it does try to pack too much into one song. And it's hard to fault West for being maybe too generous. Still, the track wears out its welcome after a few minutes, which even some of the longest G.O.O.D. Friday anthems don't do.
"Don't Stop"
Here's a fun one. You may remember the hip-hop supergroup type thing formed by Kanye West, Lupe Fiasco and Pharrell, known as CRS (Child Rebel Soldier). Well, they're back here and on fire, with a beat that stands as one of the most exciting of the bunch. It's all rapid-fire spitting, high-energy grooves and the hypnotically sampled repetition of the song's title, which makes for a fun diversion from some of the more expansive G.O.O.D. Friday selections.
"Take One For the Team" (ft. Pusha T, Keri Hilson and Cyhi the Prince)
So, is Pusha T just crashing at Kanye's house now? The Clipse emcee is seemingly on half of these tracks, maybe more. Anyhow, he's on this one too. But this is really a showcase for Kanye's personality, best exemplified in the line, "You know what? I figured out I'm not a nice guy/ shook hands, kissed babies, gave it a nice try." And he seems okay with that revelation, particularly when Pusha T is the one offering to take the rap for the weed in the passenger seat. But he and Malice did some rotten shit on Hell Hath No Fury (not that it isn't worth hearing, mind you), so a good deed now and then could go a long way for absolving those sins.
"Don't Look Down" (ft. Mos Def, Lupe Fiasco and Big Sean)
It's a shame that one of the few tracks that isn't a showcase for West's obnoxious party crashers is actually one of the most boring. Nearly six minutes long, "Don't Look Down" plods and drags without much in the way of climactic shifts to keep it all that interesting. Lupe Fiasco gives a stellar effort, but this one falls a bit flat.
"The Joy" (ft. Pete Rock, Jay-Z, Charlie Wilson, Curtis Mayfield and Kid Cudi)
When West mines Curtis Mayfield's archives for inspiration, the result is typically solid, and "The Joy" is no exception. Here, West & Co., including legendary producer Pete Rock, reminisce, celebrate the simple pleasures of women and weed, and above all, a good beat. In this case, the beat rolls under a sample of Mayfield's "The Makings of You," and West sums up the overall mood with his line, "no electro/ no metro/ a little retro/ ahhh…perfecto." Certainly not the words of the same guy who dropped this aesthetic altogether for 808s and Heartbreak, but then again, Kanye is complex.
"Looking For Trouble" (ft. Pusha T, Cyhi the Prince, Big Sean and J. Cole)
Another all-star track of emcees rattling off a long list of topics, from Cyhi the Prince's tough-guy talk to Big Sean's high-speed boasting, Pusha T's drug pusher observations and Kanye's priceless "I miss the misogyny/ bad bitches massagin' me." Yeah, yeah, I know, but you gotta give him some points for originality.
"Chain Heavy" (ft. Talib Kweli and Consequence)
"Q-Tip on the beat!" Oh shit? Oh shit! That's clue number one that the track is a winner. The next is the combination of Kanye and Talib Kweli, which proved unstoppable back in 2003 with "Get By" (admittedly, the dynamic was different since Kanye didn't rap on that single, but stay with me, here). An examination of racial struggle and triumph rather than another posse track of excess and success, the song reaches its highest peak as West spits, "What color was the skin of the man who bear the cross?/ no matter how many times they lash him, they couldn't beat it off." This one's fierce.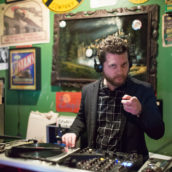 Jeff Terich
Jeff Terich is the founder and editor of Treble. He's been writing about music for 20 years and has been published at American Songwriter, Bandcamp Daily, Reverb, Spin, Stereogum, uDiscoverMusic, VinylMePlease and some others that he's forgetting right now. He's still not tired of it.